House prices in central Auckland have declined by almost $400,000 from their market peak in November 2021, with other parts of the city not far behind.
According to the Real Estate Institute of NZ's February sales report, the median selling price in Auckland's central suburbs in February was $1,142,800. That's down $397,200 from the market peak in November 2021.
That suggests properties in those suburbs could have lost just over a quarter of their value (25.8%) in the last 15 months.
Central Auckland contains all of the suburbs that previously fell within the boundaries of the former Auckland City Council and includes some of the city's most desirable locations, such as Ponsonby, Herne Bay, Parnell, Remuera, Epsom and St Heliers.
However the plunge in prices has not been limited to Auckland's most expensive suburbs, with the median selling price in Papakura in the south of Auckland dropping to $770,000 in February, down by $360,000 compared to the November 2021 peak.
That means prices in Papakura are now down by almost a third (-31.9%) compared to 15 months ago.
The median price has declined substantially from the market peak in all of Auckland, with Rodney and Franklin the only districts where the decline is less than $200,000.
The Wellington region has also experienced substantial falls in median prices since the market peak, with declines of more than $200,000 in Porirua and Upper Hutt, and Lower Hutt not far behind at -$195,000.
Other regions to show substantial declines in their median prices since the market peak were Gisborne -$110,000 and Hawke's Bay -$159,000.
The big run-up in house prices during 2020 and 2021 came with the Official Cash Rate at a record low of 0.25% and bank mortgage rates at historic lows. On top of this a government wage subsidy scheme maintained job security as the Covid-19 pandemic raged. In February 2020, just prior to the initial Covid-19 lockdown and ramping up of Reserve Bank and government responses, REINZ had the national median price at $640,000 and Auckland's median at $885,000. The respective February 2023 national and Auckland median prices, at $762,000 and $1.009 million, remain above where they were pre-Covid. 
The tables below show the regional movement in the REINZ's median price and House Price Index since the market peaked in November 2021.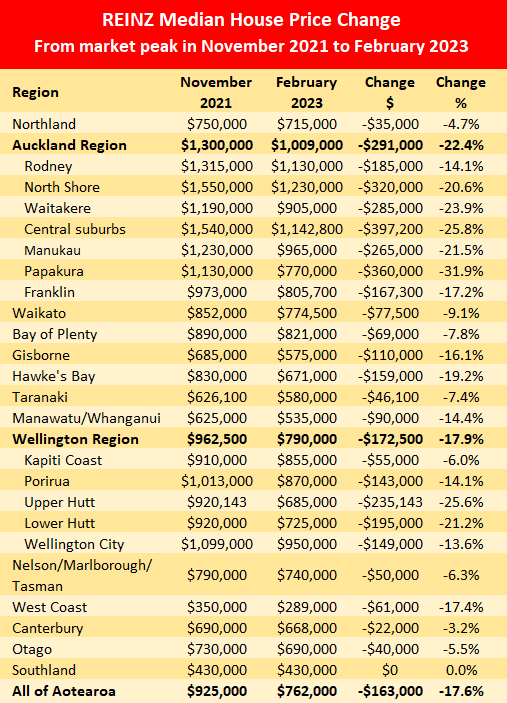 REINZ House Price Index – February 2023