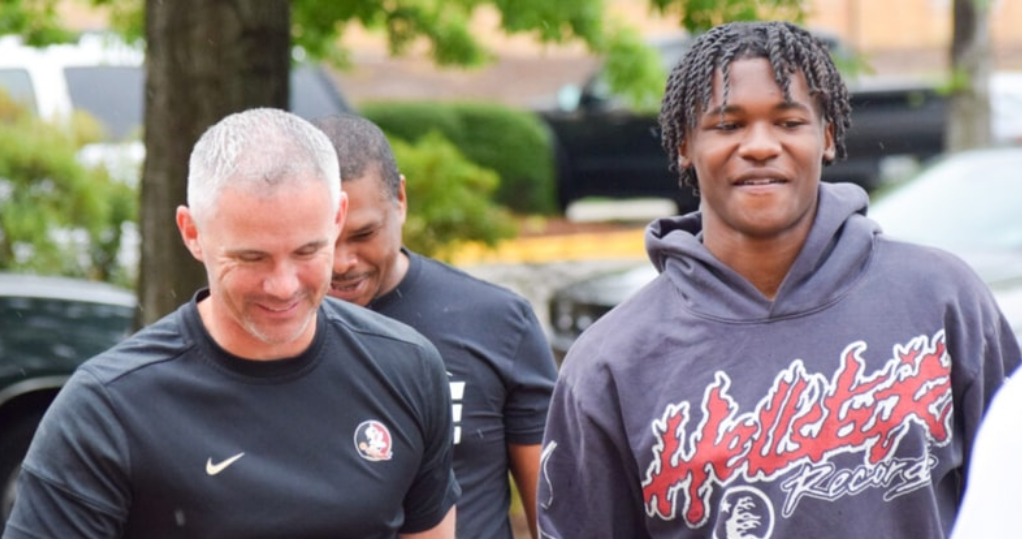 With 21 commitments in a recruiting class that ranks No. 6 in the country, there likely are only five or six spots remaining for the Seminoles to add in this 2024 class.
We now turn our attention to five potential targets to keep an eye on for this class, and where the Seminoles stand with each. On the Premium Recruiting Board, we also cover some additional names to keep an eye on for the Seminoles going forward during the season.
Five-star Plus WR Jeremiah Smith (Ohio State commit)
Smith has been one of the top overall targets for Florida State from the start, and that pursuit hasn't changed. Neither has his love for Ohio State. He knows what the Buckeyes do with receivers, and that has kept him pretty content with his commitment. However, that doesn't mean FSU isn't a strong threat, and I continue to hear that they are.
Smith has already attended one Florida State game, and I expect him to visit for multiple FSU games this fall. Smith clearly loves the Seminoles' offense and what he's seeing from Keon Coleman, who has a similar build to him. I also feel Miami made a good impression with its win over Texas A&M, but the intel still suggests that if he were to flip, Florida State would have a slight edge over the 'Canes. If he was signing today, I would still likely lean a little more toward Ohio State, but I don't think it's a slam dunk as some might suggest that it's Ohio State all the way.
FSU has been working on this recruitment for a while, and location certainly helps the cause with the Blountstown product. But Miami's strong start to the season will be a factor, as will the fact that some of Jones' family members prefer the Hurricanes. At the same time, I think he likes the way Florida State's defensive line has played the last couple of years, and I believe the 'Noles are still very much in this recruitment. I get the impression based on the latest intel that Jones will take an official visit to FSU.
It obviously won't be an easy recruitment to win, but there's no question that the FSU-Miami game will be a key one to watch. He'll be looking to see how each defensive line performs, and the result of the game will likely matter as well. I would lean at this point to Jones sticking with the 'Canes as of today, but it's certainly not a slam dunk at all. FSU is very much in the picture.
McCray had a solid visit to Miami recently, and the Hurricanes are certainly in the picture. However, Georgia and Florida are the teams that are mentioned the most to me in regards to Florida State's competition for McCray. The product on the field is a big deal with McCray, and that's the reason I hear a lot about FSU and Georgia in this recruitment. Those two are mentioned the most to me, although Miami is moving up in this recruitment as well.
The visit schedule sets up well for Florida State, as the Seminoles are likely to host McCray for an unofficial visit and an official visit in October when the 'Noles host Miami. I can't stress enough how big that visit weekend will be for FSU to make its move and potentially finish this one off. I don't get the feeling there is a clear leader just yet in this one. McCray has said himself that he goes back and forth on who he likes the best. I do feel there is work to do on these final visits because he has not visited FSU since the spring, but the 'Noles will get chances to do just that.
This is a prospect that Miami is pushing hard for, but I still like where FSU sits in this recruitment. Now if the Seminoles slip up a few times on the field, that might shift things again. But from everything I have picked up so far, FSU remains in a good spot with Howard. He's a huge fan of Florida State DBs coach Patrick Surtain and the culture that the 'Noles have developed inside the program.
It also doesn't hurt that Florida State's young defensive backs are getting opportunities to play. I don't believe Howard is in a hurry to decide, but I like where FSU sits in this one. The 'Noles and Canes both will get official visits, and I expect Howard to come back to Florida State for two or three more games this year. Florida was a team mentioned with Howard earlier, but I haven't heard as much buzz around them. I think you could also see Howard take visits to Auburn, Louisville or Rutgers later in the year. Regardless, FSU and Miami are the two teams mentioned the most, with the 'Noles still in the best spot.
Four-star DB Cai Bates (LSU commit)
The last target and certainly not the least is Orlando Edgewater standout defensive back Cai Bates, who officially visited FSU in June. This is a name I've heard for around three or four weeks as one to keep an eye on. He has a tight relationship with area recruiter David Johnson and also Surtain. I also think there is a personal bond with head coach Mike Norvell that is strong in this one. Bates is a name that I put out there for FSU to watch on the Premium Recruiting Board a little while back, and I hear that FSU is a real possibility here. I'm just waiting on a date for his visit.
I would consider Bates a pretty soft verbal commitment to LSU. There are schools like Tennessee and Alabama that are expected to be in the picture, and possibly even Texas. Bates is originally from Alabama, but I'm told that won't play into the final decision as it will be the school with the right culture and production on the field. But he continues to be a prospect that I'm keeping a close eye on.
***Discuss this article with FSU football fans on the Premium Recruiting Board.***
The post 5 Targets To Watch as Florida State puts finishing touches on 2024 recruiting class appeared first on On3.