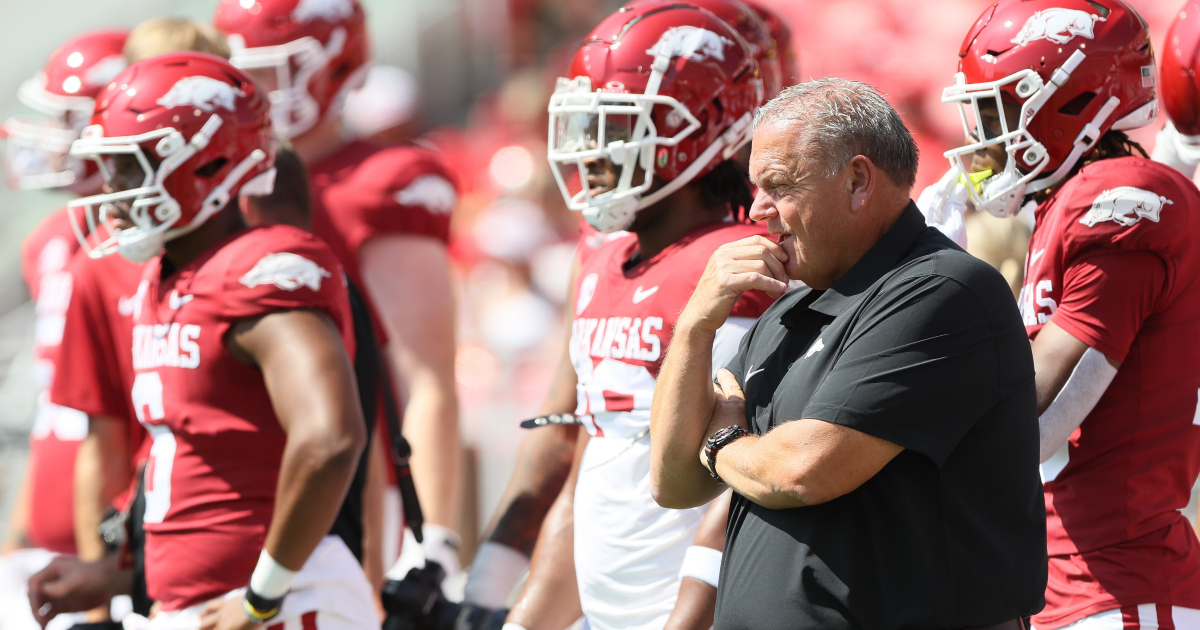 Arkansas offensive linemen Andrew Chamblee and Patrick Kutas are 'fine' after suffering late injuries vs. BYU, according to coach Sam Pittman. Both players exited the game in the fourth quarter, but thankfully they weren't of any serious nature.
Asked for an update in his Monday press conference, Pittman eliminated any worry about them heading into Week 4 against LSU. He also offered some brief information on exactly what injuries they were dealing with at the time.
"They're both fine," the coach said. "Chamblee was dealing with a cramp and then Kutas was a back, but I think they're both fine."
That's good news for the Arkansas offense as Chamblee is the starting left tackle while Kutas starts on the right side. They'll be needed to keep the pressure off of quarterback KJ Jefferson against an LSU defense that features pass rushers such as Maason Smith and Mekhi Wingo.
Both Chamblee and Kutas are in their first seasons as starters. Kutas played all 13 games last season as a true freshman while Chamblee took a redshirt in his first college season. The Razorbacks have so far allowed seven sacks this season to rank tied for the fourth-most in the SEC.
Although Arkansas got good news on the offensive lineman, it will still await new on the status of running back Raheim Sanders. He has missed the past two games with a knee injury and would be a big boost if he is able to go.
Kickoff between the Razorbacks and Tigers is set for 6 p.m. CT on Saturday in Baton Rouge.
Sam Pittman calls KJ Jefferson 'fine' after being injured
KJ Jefferson isn't your typical quarterback. Standing at 6-foot-3, 247 pounds, the senior QB doesn't fear contact. Yet, you wouldn't know that if you watched him in Arkansas' narrow 38-31 loss to BYU on Saturday.
In the loss, Jefferson dipped toward the sideline to avoid clashes with defenders several times. The uncharacteristic behavior raised questions after the game.
"He's fine. He was a little banged up going into the game. We wondered the same but we knew the answer of why," Pittman said. "A lot of times you're telling guys to run out of bounds, but we have not told him that because I didn't think he'd do it if we did. But I'm sure that had a little bit to do with how he was feeling."
Despite his setbacks, Jefferson still put up a solid performance on Saturday, completing 24-of-35 (68.6%) pass attempts for 247 yards and a touchdown. Jefferson also rushed for 21 yards in the contest.