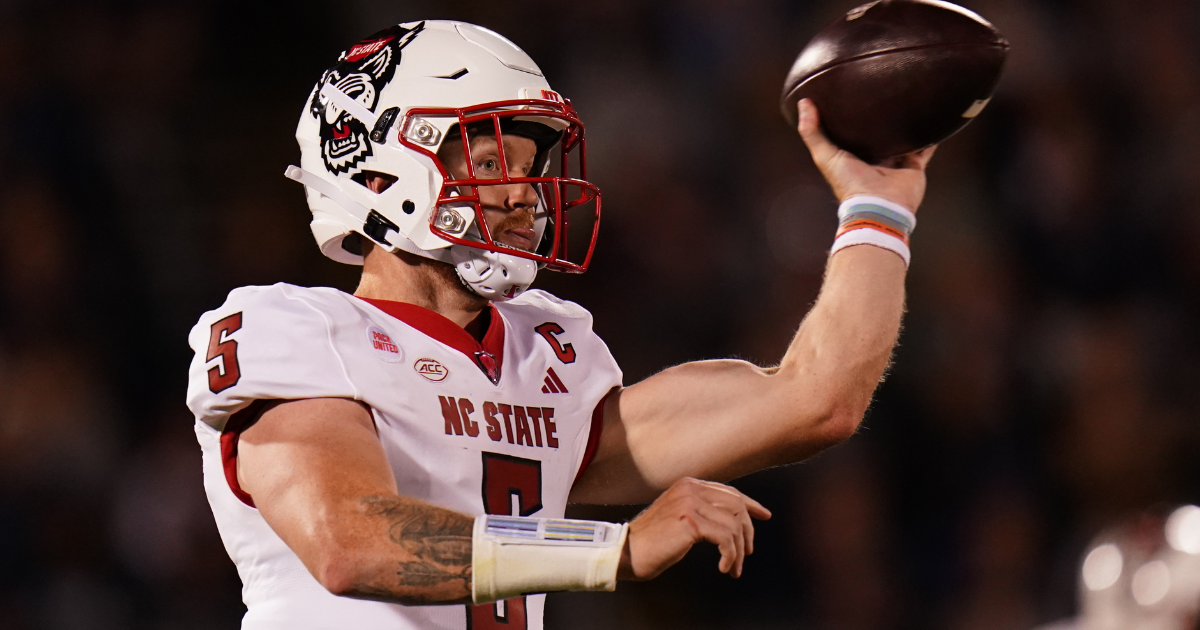 It's a unique week for NC State quarterback Brennan Armstrong, who is set to return to Virginia's Scott Stadium in Charlottesville for the first time since he transferred to the Wolfpack in January.
Armstrong spent his first five years of college football in the blue and orange, during most of which he dazzled with 'Hoos. His name is littered all over the Cavaliers' record book, where he holds 15 different program records. 
His 554 passing yards against North Carolina in 2021 were the most in a single game for the 'Hoos, while his 9,034 yards through the air over his five seasons are the most by any Cavaliers' quarterback in their career. 
Armstrong is used to playing inside the 92-year-old stadium, but this time he won't have the Virginia logo on his helmet. Instead, he'll don NC State's red and white in the place he used to call home.
"It's a cool week for me, going back and playing in Scott Stadium," Armstrong said Tuesday afternoon. "I think I'll have a bunch of emotions when I get out there when we get to the field. I'm just going to refocus and do my job. My job is to go in there and win, right?"
Winning in Charlottesville isn't anything new to Armstrong, who led the Cavaliers to 14 wins in his three years as the team's starting quarterback. 
The Shelby, Ohio, native spent his first four years at Virginia playing for Bronco Mendenhall before former Clemson offensive coordinator Tony Elliott took over as the Cavaliers' head coach prior to last season. 
Virginia went 3-7 a year ago before its final two games were canceled after an on-campus shooting took the lives of three Cavaliers: Devin Chandler, D'Sean Perry and Lavel Davis Jr. 
Armstrong said he has a few ideas of how to honor his fallen teammates in his first time playing in Scott Stadium without them, but he'll leave it to game day to unveil those.
This year with NC State, Armstrong was reunited with offensive coordinator Robert Anae, who spent six seasons on staff with the Cavaliers and helped the signal-caller throw all over the field for most of his time with the 'Hoos. 
Elliott, Virginia's current coach, watching his former quarterback on film, he "looks a lot like the BA that we saw to a certain extent in just being a football player with his confidence."
"You can see that he looks comfortable back with Robert," Elliott said of Armstrong. "Don't know if the system is totally what was being done here before because I see some similar concepts to some of the things we do as well. But he looks comfortable in what he's doing. He's finding his open receivers, he is checking the ball down a little bit more, which is good for them, not so much for us."
As Armstrong has looked at Virginia on film, there's a group of familiar faces on the defense that will be eager to have their shot at him since they couldn't hit him in practice. 
The Cavaliers' defensive line is full of veteran faces, including defensive end Kam Butler and bandit Chico Bennett, so when Armstrong heard the question about them, he smiled. 
"It's an opportunity I've never experienced before," Armstrong said. "You compete with them in practice. In a game-like scenario, it's a lot different I think than in practice. They didn't get to hit me, so this is their chance to try to get a piece back of me."
With what's due to have high emotions in Armstrong's return to Virginia, NC State coach Dave Doeren knows that his quarterback can channel it the right way, even though he added that it truly doesn't matter what teams some players have played for, or some coaches have coached for.
At the end of the day, Doeren said, it comes down to winning an ACC game — something both teams are clawing at the opportunity to do.
"Regardless of who he's playing, that kid is uber competitive," Doeren said of Armstrong. "He's going to be that way no matter what. … It's just a game once that whistle blows. Now, when he gets in that stadium for the first time, I'm sure he's going to have some feelings. He loved that place. But he's playing for our team, and he knows that. And he's going in there to win a football game."
Armstrong isn't sure what kind of reception he'll get from those clad in blue and orange Friday night, but he added that he's prepared for both cheers and boos. 
"I put blood, sweat and tears into that place for five years, so hopefully they're not too hard on me," Armstrong said with a grin. "And if they are, it's no big deal. I'll be ready for it."
While the visitors' locker room in Charlottesville will be a new setting for Armstrong, he said the best feeling would be leaving his former university with a win. But to do that, Armstrong will need to play with a clear mind. 
And by the way he spoke, being focused on playing football to win the game shouldn't be an issue once the game gets going.
"At the end of the day, my job is to try to win a game," Armstrong said. "I'll try to keep my mind on that, and keep it simple."