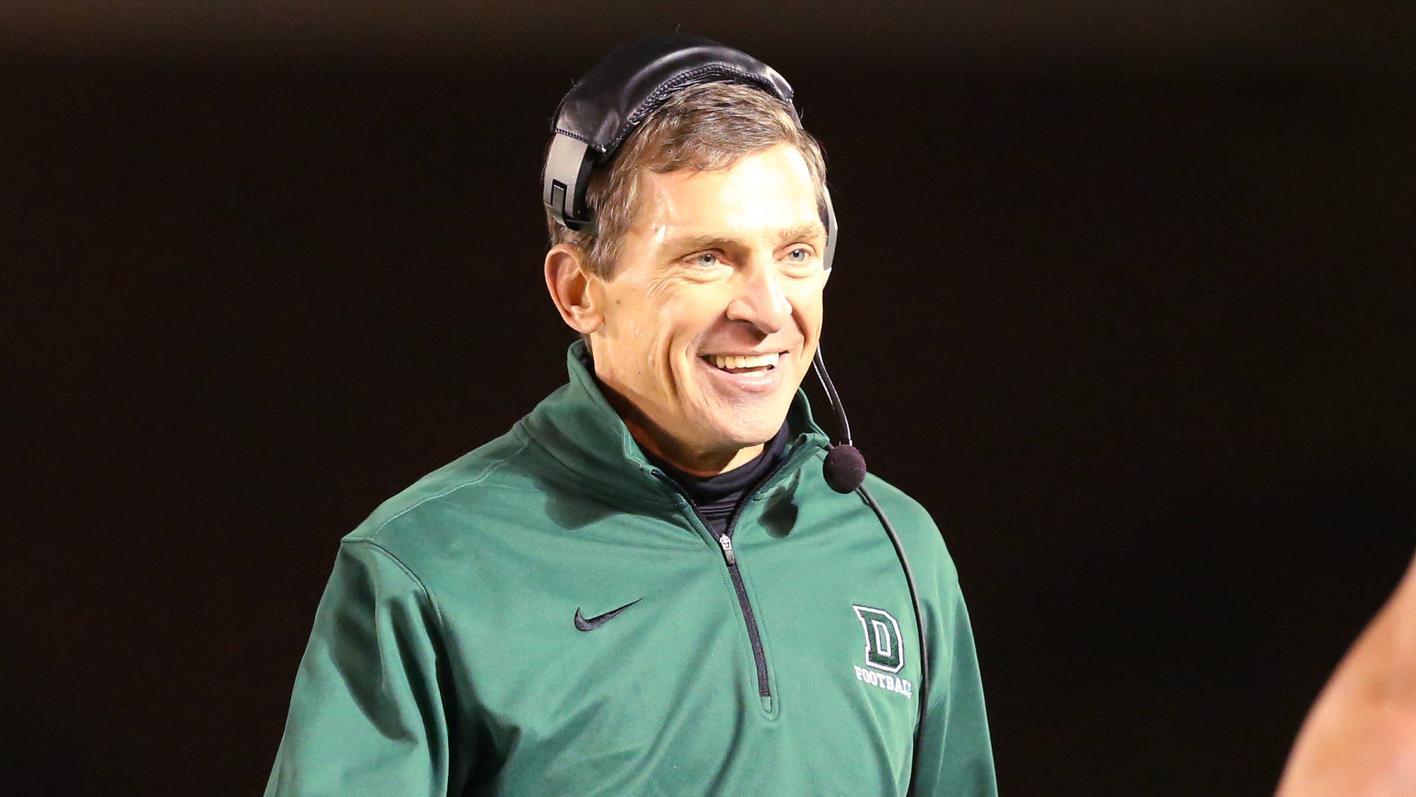 Dartmouth football coach Buddy Teevens has died following a battle with complications from a serious bicycle accident suffered earlier this year.
A death announcement was posted on the Dartmouth Office of the President's website.
Teevens, 66, was struck by a pickup truck going 50 miles per hour while he was attempting to cross state road A1A on his bicycle in St. Augustine, Fla. The site of the accident was not at a crosswalk or designated crossing area, and Teevens' bicycle had no lighting.
Following the crash, Teevens had his right leg amputated and suffered spinal cord injuries.
His legacy as a football coach and leader will not soon be forgotten, though. The head coach at Dartmouth for the past 19 years, Teevens pioneered several new ways to do things.
He is credited with being the first coach to move toward eliminating live tackling from practice, pioneering the use of remote controlled tackling dummies to help take additional wear and tear off his players.
He's also credited with being the first to hire a full-time female coach at the Division I level, doing so when he tapped Callie Brownson to be an offensive quality control coach in 2018. Teevens has since had assistants, including Brownson, move on to roles in the NFL.
Brownson is now with the Cleveland Browns as an assistant receivers coach. Meanwhile, Jennifer King, whom Teevens hired in 2019, is now the assistant running backs coach for the Washington Commanders.
If there was an envelope to be pushed and an innovative new way of potentially doing things, Teevens usually wasn't far behind.
Arizona coach Jedd Fisch fondly recalled making a name for himself by working with Teevens on Florida's coaching staff in the late '90s to make the playbook digital. Prior to that, Steve Spurrier and his staff were as old-school as it got.
"They did it coach's way, and coach was hand-written drawings, everything was old school, stapled, maybe you would get a playbook, maybe most of the time you wouldn't," Fisch told On3's Andy Staples. "If you could add some new stuff, I remember Buddy Teevens and I created the first-ever Florida Gator passing playbook on the computer. That took us like a year to do and coach looked at it, 'Hey, yeah, this looks nice, OK."
"But what it did was it just kept you employed, No. 1. And No. 2, when you're doing that stuff, you're learning a lot more than if you're just clicking on the computer now and saying, 'Give me this, or give me that.' Doing the legwork makes you a better coach, and I'll never not think that."
The bottom line is college football has lost one of its sharpest minds, a coach hundreds of players had the joy of playing for over the years.
After playing at Dartmouth from 1975-78, Teevens began his coaching career at DePauw. He'd eventually take head coaching jobs at Maine (1985-86), Dartmouth (1987-91, 2005-2023), Tulane (1992-96) and Stanford (2002-04).
Teevens is survived by his wife, Kirsten, daughter, Lindsay, and son Eugene IV.