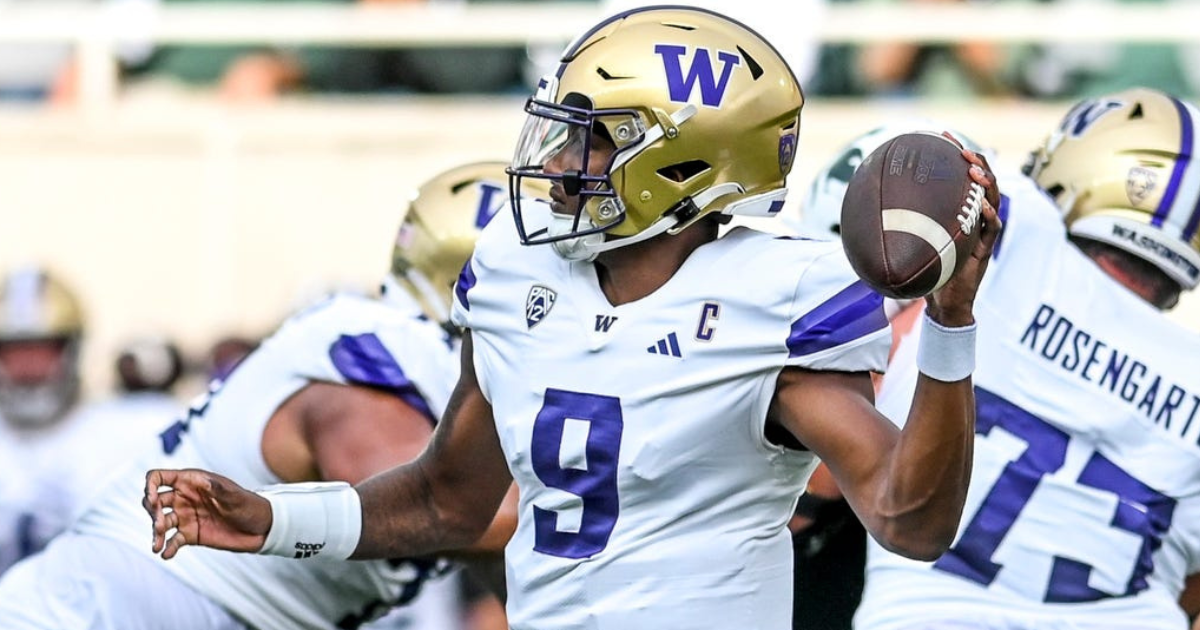 Sometimes there's nothing wrong with losing to a better opponent. That's what Michigan State's Harlon Barnett conceded when speaking about Washington after this weekend, specifically their offense.
The Spartan's interim head coach gave the Husky offense their acclaim during the aftermath of their 41-7 loss on Saturday. Simply put, he said they put on a performance in his debut that he won't soon, if ever, forget.
"First of all, give them credit. They're a good football team," said Barnett. "I didn't realize that (but) I'll never forget that. The first time being a head coach in a game and I'll remember all this. I promise you I'll remember every single bit of it."
The focus of the Washington offense is on the passing game. QB Michael Penix Jr., who is firmly in the early Heisman Trophy buzz, runs the scheme of OC Ryan Grubb efficiently with several receiving weapons to work with as the Husky's passing game is completely 74.4% of its throws for an average of nearly 500 yards and over four touchdowns a game.
In East Lansing this weekend, Penix completed 77.1% of his passes, a season-best to this point, for his most passing yards so far in 2023 with 473. That led to four of Washington's five touchdowns overall as WR Ja'Lynn Polk caught one and TE Jack Westover caught three. That's not even including the night from WR Rome Odunze as he caught eight passes for 180 yards.
From his point of view, Barnett just saw an offense that works, a unit that works well together, and one that is used to dealing with whatever defense is in front of them.
"The quarterback, the receivers, and the OC? You can tell, like, they have a real good understanding of that offense. They know where to be, they know they trust each other," explained Barnett. "The receivers have great hands, they go up and get the ball, strong hands. The quarterback is a good player, knows where to go with the ball."
"They've probably seen all kinds of different schemes over the years so they vibe well together," Barnett said.
With Penix as the engine, Washington's offense is one of the best units in the country through three games. That's why, after giving up 40-plus, Barnett was fine with acknowledging that Michigan State's gameplan just wasn't good enough.
"Credit to them. They did it," said Barnett. "We definitely went into the game thinking, 'Hey, this is what we have to do'. We thought we had a plan but (it was) not good enough."