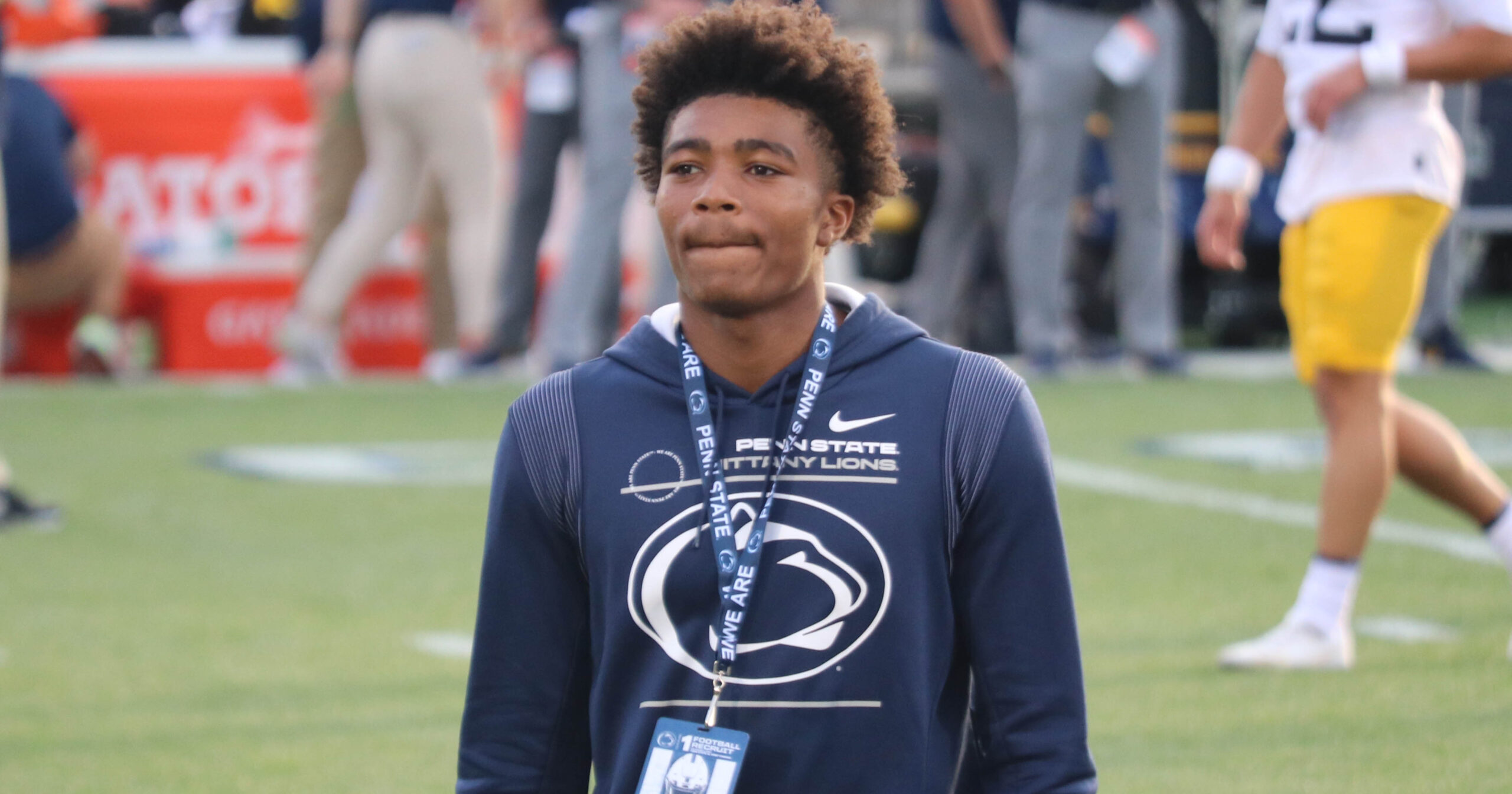 By Ryan Snyder
It's going to be a busy weekend for not just Penn State head coach James Franklin and his assistant coaches but also those in the recruiting department. As of Monday evening, Blue White Illustrated had confirmed 57 prospects expected to attend.
Now, six more players have confirmed their plans to attend, including one of the region's most intriguing 2024 prospects in New Jersey edge rusher Ugo Nwotite. Checking in at 6-foot-3, 205 pounds, Nwotite has only earned FCS offers to this point, but his camp performance in July was one of the most impressive of any player this summer, as Nwotite ran a 4.7-second 40-yard dash, broad jumped over 11 feet and had a sub-4.5-second shuttle. How he performs on film will determine how hard Penn State pushes in the months ahead, but athletically, there's no denying his potential.
Speaking of intriguing players, 2026 defensive lineman Preston Carey also fits that mold. Already checking in at 6-foot-5, 290 pounds as a sophomore, the New York native has earned more than 20 scholarship offers. His list includes some of the nation's top programs, too, with Florida State, Georgia, LSU, Michigan, Ohio State, Tennessee and Texas already recruiting him heavily. This weekend's visit would be his third to Penn State. He's one of just 100 players so far in the 2026 class to earn a four-star rating.
In the Class of 2025, Atlantic City, N.J. wide receiver Sah'nye Degraffenreidt also confirmed that he plans to attend. Listed at 6-foot, 200 pounds, Degraffenreidt has earned a dozen scholarship offers, with Cincinnati, Duke, Maryland, Michigan, Pitt, South Carolina and West Virginia all offering. He's previously visited Penn State twice, attending a spring practice in March and the Lasch Bash in July.
The final three confirmations are all 2026 prospects, one of whom just earned an offer from the Nittany Lions last week in Knoxville, Tenn., offensive lineman Brody Smith. Listed at 6-foot-6, 255 pounds, Smith earned an offer from Tennessee in June after camping at his hometown school. That's the only offer he had earned until last week when Penn State became his second. That'll surely grow in the months ahead.
Rochester, N.Y., wide receiver Messiah Hampton has also confirmed his plans. Listed at 6-foot, 170 pounds, Hampton holds five early Power Five offers from Penn State, Pitt, Rutgers, Syracuse and West Virginia. He attended the game against the Mountaineers on Sept. 2.
Finally, Central Valley lineman Brendan Alexander also confirmed he'll be in attendance. Listed at 6-foot-4, 260 pounds, the Monaca, Pa., native earned an offer from Penn State just a few weeks ago on Sept. 4.
Updated Penn State vs. Iowa Visitor List
* – Already earned Penn State scholarship offer
Penn State Commits
Cooper Cousins – OL – Erie, Pa. – McDowell
Peter Gonzalez – WR – Pittsburgh, Pa. – Central Catholic
Ethan Grunkemeyer – QB – Lewis Center, Ohio – Olentangy
Kari Jackson – LB – Bloomfield Hills, Mich. – West Bloomfield
Dejuan Lane – Saf. – Baltimore, Md. – Gilman
Quinton Martin – RB – Belle Vernon, Pa. – Belle Vernon
Garrett Sexton – OL – Hartland, Wisc. – Arrowhead
Anthony Speca – LB – Pittsburgh, Pa. – Central Catholic
Vaboue Toure – Saf. – Irvington, N.J. – Irvington
Kenny Woseley – CB – Philadelphia, Pa. – Imhotep
Messiah Mickens – RB – Camp Hill, Pa. – Trinity (2026)
2024
Jaylen Harvey – DE – Gaithersburg, Md. – Quince Orchard *
Ernest Willor – DL – Baltimore, Md. – Concordia Prep *
Ugo Nwotite – DE – Richland, N.J. – St. Augustine Prep *
2025
Dilan Battle – DL – Arlington, Texas – Mansfield Timberview *
Axavier Bridges-Brooks – Saf. – Upper Marlboro, Md. – Rock Creek Christian *
Brett Clatterbaugh – LB – Culpepper, Va. – Eastern View *
Linkon Cure – TE – Goodland, Kan. – Goodland *
Lex Cyrus – WR – Harrisburg, Pa. – Susquehanna Twp. *
Sah'nye Degraffenreidt – WR – Atlantic City, N.J. – Atlantic City *
Elijah Dotson – WR – Detroit, Mich. – University of Detroit Jesuit *
Jake Flores – OL – San Juan Capistrano, Calif. – J Serra Catholic *
Avery Gach – OL – Franklin, Mich. – Wylie E. Groves *
Ryan Ghea – TE – Alpharetta, Ga. – Milton *
Alex Graham – CB – Detroit, Mich. – IMG Academy * 
Marcus Harris – WR – Santa Ana, Calif. – Mater Dei *
Tiqwai Hayes – RB – Aliquippa, Pa. Aliquippa *
Brady O'Hara – TE – Pittsburgh, Pa. – North Catholic *
De'zie Jones – WR – Wayne, N.J. – DePaul Catholic *
JuJu Preston – WR – Woodbridge, Va. – Freedom *
Nate Roberts – TE – Washington, Okla. – Washington *
Braswell Thomas – Saf. – Cape May, N.J. – Lower Cape May * 
Malik Washington – QB – Baltimore, Md. – Archbishop Spalding *
Joshua Williams – OL – Haverford, Pa. – Haverford School *
Isaiah West – Ath. – Philadelphia, Pa. – St. Joseph's Prep *
Kainoa Winston – Saf. – Washington, D.C. – Gonzaga *
Trent Wilson – DL – Baltimore, Md. – St. Frances *
Ziyyon Bredell – WR – Philadelphia, Pa. – Lincoln
Emmanuel Dyson – WR – Hyattsville, Md. – DeMatha
Andrew Olesh – TE – Center Valley, Pa. – Southern Lehigh
Jared Porter – CB – Harrisburg, Pa. – Central Dauphin East
Pedro Reyes – WR – Absecon, N.J. – Absegami
Saxton Suchanic – CB – York, Pa. – Central York
Alijah Turner – WR – Philadelphia, Pa. – St. Joseph's Prep
Amil Way – CB – Camp Hill, Pa. – Trinity
Jackson Wiley – WR – Lewis Center, Ohio – Olentangy
Matt Zollers – QB – Royersford, Pa. – Spring-Ford
2026
Brendan Alexander – OL – Monaca, Pa. – Central Valley *
Dia Bell – QB – Ft. Lauderdale, Fla. – American Heritage *
Preston Carey – QB – East Northport, N.Y. – St. Anthony's *
Colsen Gatten – LB – Pittsburgh, Pa. – Central Catholic *
Messiah Hampton – WR – Rochester, N.Y. – James Monroe *
Kendre Harrison – TE – Reidsville, N.C. – Reidsville *
Nyqir Helton – WR – Atco, N.J. – Winslow Twp. *
AJ Marks – Ath. – Farmington, Mich. – IMG Academy *
Tyler Merrill – OL – Harrisburg, Pa. – Cumberland Valley *
Jordan Pile – WR – Southlake, Texas – Southlake Carroll *
Maxwell Riley – OL – Avon Lake, Ohio – Avon Lake *
Brody Smith – OL – Knoxville, Tenn. – Bearden *
Daiveon Taylor – LB – Pittsburgh, Pa. – Bishop Canevin *
Marcello Vitti – Saf. – Detroit, Mich. – Divine Child *
Dante Carr – QB – Minersville, Pa. – Minersville
Amir Morelan – CB – Port Huron, Mich. – Northern 
2027
Larry Moon III – CB – Pittsburgh, Pa. – Central Catholic *