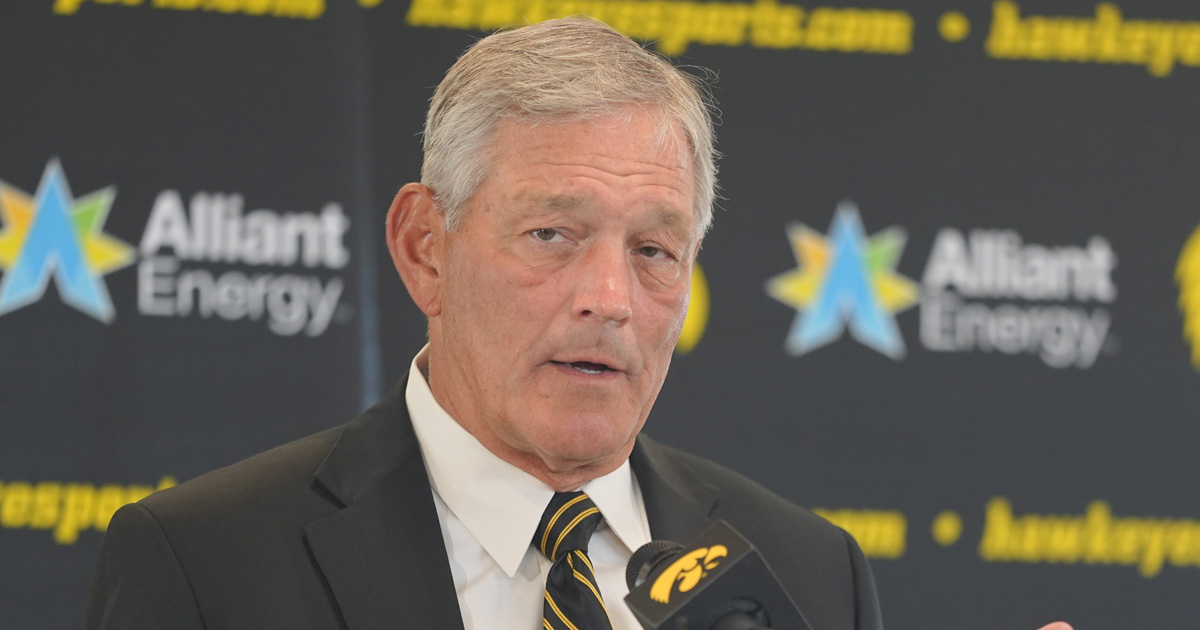 Iowa will be without three key players on offense when it invades Beaver Stadium for a 7:30 p.m. showdown with Penn State on Saturday at Beaver Stadium. Star tight end Luke Lachey is out for the season after suffering a gruesome lower leg injury last week. And, top running backs Kaleb Johnson and Jaziun Patterson will also be unavailable for the contest, which will air on CBS.
"Certainly not happy about losing Luke Lachey," Ferentz said. "Feel most badly for him. He's the person most affected. It's an unfortunate development. But he'll be fine in time, but it is a significant injury. He's going to be out for quite a while.
"And then the more week-to-week type basis, both Jaz and Kaleb won't be available this week. So we'll evaluate it each week as we go forward, but they're both going to be out Saturday. We'll go with the guys we finished up with the other day."
The Hawkeyes finished their 41-10 win over Western Michigan with Leshon Williams and Kamari Moulton. The former rushed for 145 yards and the latter scored twice in the Iowa win. Terrell Washington Jr., also ran for 34 yards.
Iowa coach Kirk Ferentz previews Penn State
Ferentz had plenty to say about Penn State during his news conference. Highlights include:
Opening statement comments on the Lions:
"Looking forward now, we're playing a good football team. Everybody expected Penn State to be an outstanding team. After three games that's certainly what it looks like watching them perform on film. They're really good, 3-0 and 1-0 in the Big Ten now.
"As expected, Penn State is a really good football team. Can't remember a year where they weren't talented. Certainly the case with this team. And they're well-coached on top of it. They've done a great job recruiting. Take a lot of pride in that. And then they do a great job coaching in all three phases.
Offensively, it's pretty much what it's looked like for quite some time which has been pretty impressive.
They have a defensive coordinator and a special teams coordinator that are in their second years with the program. They had great success last year being Rose Bowl champions and had tremendous year. And you can see that carrying over moving forward. They've lost some good players. Think about the quarterback graduating, and about Joey Porter in the back end. As is customary with Penn State, the next guys up do a great job. That's what we're seeing on film.
"Offensively they run the ball, throw the ball, do that very well. Basically two personnel groups. But either way they run it effectively. They run it effectively. They've got good players out wide. Two really good tight ends and two young backs.
"The young quarterback's done a great job running things for them, and looks very composed back there. And their offensive line is big, strong and very experienced, very veteran. They're good there.
"Defensively, same thing, really successful there. Been playing great defense. Give up 11 points a game. Really athletic guys at every position. The line up front, the linebackers and the secondary got a lot of good players and they're very active and very dangerous because their athleticism and, again, aggressive in their approach and for good reason.
"And then with the kick game, like you would expect, they're pretty good in all phases and that's no big surprise."
What memories does Ferentz have of the Iowa-Penn State White Out game in 2009?
"We always talk about getting off to a good start, especially on the road, just try to take the crowd out of it," Ferentz said. "We did the exact opposite of that in '09. And the next thing you know it's 17-0. We're looking up, the place is going crazy. But the rest of the story there it's a 60-minute game. When you're playing a team that's as talented as these guys are and as good as they are, well-coached as they are, there's going to be some lows, too, during — hopefully we create some highs but there's going to be some lows. And you have to keep playing.
"And if you're fortunate you can make it a 60-minute game. That's the whole idea. But easier said than done because these guys haven't played in a close game yet. And so that first things first is make it close, and you have to try to figure out how to make it go in the fourth quarter. But to play in a raucous environment, it's good to be the home team for sure."
On how the Hawkeyes kept their composure in the 2009 matchup in general and the impact of Adrian Clayborn's blocked punt
"You have no choice," Ferentz said. "You have to try to keep your composure. It's easier said than done. It's easy to buckle in a situation like that. That was a good football team we had. And those guys hung tough. You find a way, [and] you make a couple of plays. You never know how it's going to come, where it's going to come from. And Clayborn's thing it was one guy's outstanding effort basically, because it wasn't a punt block that called.
"He was doing his job. We had one guy pressing the punter, make sure the guy gets the ball out. He beat his guy that was supposed to block him. It was a great sound. Never forget that sound. It's a good sound or a bad sound, depending what sideline you're on. And the ball comes right up to his breadbasket and he took it and ran. He's a special player and a special person. And it's funny how that works sometimes, too. Guys like that just spark a team. And after that we had a little different demeanor the rest of the way."
On what the game means being that Ferentz is from Pennsylvania
"I carry a chip on my shoulder because they didn't recruit me," Ferentz said. "I always joke about that. Obvious reason was they were trying to win. They were trying to win then, trying to win now. They didn't recruit guys that ran 5-flat 40s at linebacker that weighed 200 pounds. I've forgiven them. It's 50 years later. I'm over that, I think (laughter).
I've always had great respect for the program. It's always represented what football should be like. And they've been very good. I'll go back for trivia, in 1969 they played Kansas in the Orange Bowl. And they stopped Penn State like two or three plays in a row down on the goal line. And the refs figured out they had 12 guys on the field. They got penalized. They got another crack and Penn State won the game. It was like 15-14. How to go three plays without anybody detecting that? The officials didn't figure it out.
"But I remember that game vividly. I think Denny Onkotz might have been a linebacker. It was Linebacker U. And Steve Smear and Mike Reid might have been playing. I was a fan of theirs as a kid obviously, because they were good and Pitt wasn't any good. That's the way it is. But yeah, I've gotten over that nonrecruitment part."
What has made recent Penn State-Iowa games so competitive?
"I don't know," Ferentz said. "It's one of those deals. It's funny in conference play, sometimes some teams match up that way and some don't. The 2016 games is a real good reminder what it can be like if we're not ready to go. That was really ugly really fast. It's just a reminder. They have a talented football team right now but that's not totally new to them. If we're ranked or not ranked, where we're ranked, if you're past probably eight or 10 right now it doesn't matter at this time of year. It will be more significant in November.
"But if you're in the top 10, you're probably a top-10 team, I don't think anybody is surprised Penn State is up there right now just because of the way they played last year, the way they finished. And, again, it was a good quarterback, but they have a guy that might be better right now. When you're in a position to do that kind of stuff, it's not a surprise they're ranked the way they are. But, again, we're at the other end and we need to be thinking about the what-ifs and we better be ready to go here."
On Iowa fans thinking Penn State was faking injuries in the 2021 game and if that will create more juice for the Lions in addition to if he addressed it with James Franklin
"Not really," Ferentz said. "I don't know how many of their players were here in '21. I don't know how many of our guys were here either. And then probably, like me, not many of them remember much about it other than it was a tough game. We had to make a big play to really get back into it.
And once you play the game, it's usually pretty much like the rest, you move on to the next season, next game, I don't think it's a big game deal there.
"There's nothing to talk about other than congratulations or good luck. In fact, there's no good thing to — I'll share this with you. After 20 some years of being a head coach, I don't know of a good thing to say afterwards other than good luck. What do you say? If you win, lose, what do you say? Not much to say. So good luck."
Will Iowa emphasize its run game because of how good Penn State's secondary is?
"It would be helpful in general if we can do that," Ferentz said. "We're better if we can play balanced, at least have the threat of being balanced. And if they make you, especially this team, if they make you one dimensional, they can get after the quarterback very aggressively, and they've got a bunch of guys up front that can move and they're really slippery and just crafty.
"So if it gets into one of those games, I don't think it's a good thing for us. Better if we could. But then easier said than done."
What impresses Kirk Ferentz about Lions' quarterback Drew Allar?
"Composure," Ferentz said. "He's very talented. Big guy. Can run and throw. But just seems very relaxed and in command and very composed back there. And I'll go back to he got extensive playing time in the opening game a year ago.
"First game of the Big Ten last year against Purdue, on that Thursday night he played a lot and really did a good job. He didn't look like he was out of place at all, and now he's got the keys to the car, so he's doing a really good job with it."