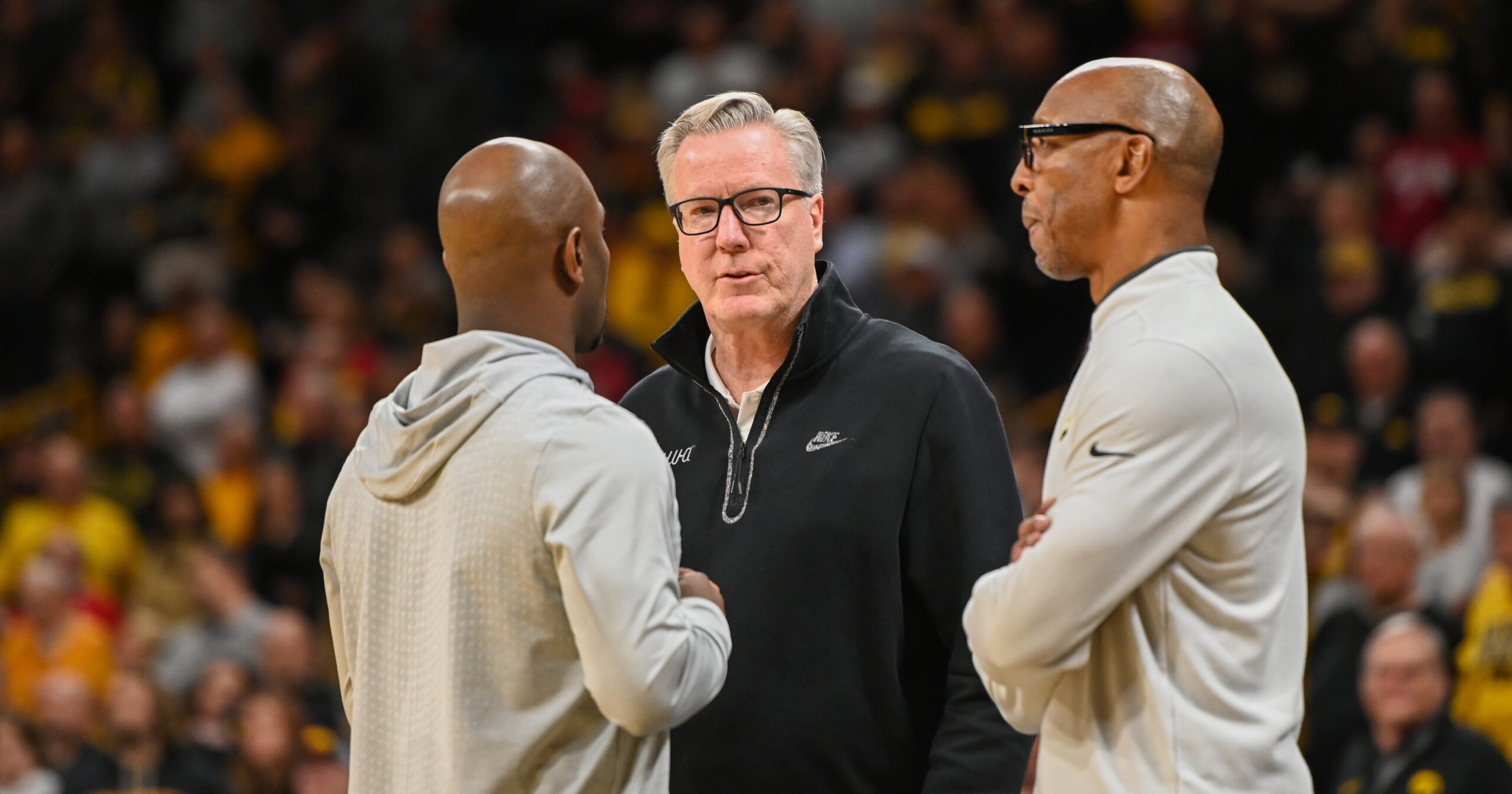 The Iowa men's basketball team released their full 2023-24 schedule on Tuesday. The Hawkeyes return three starters (Tony Perkins, Payton Sandfort, and Patrick McCaffery) from a team that made the NCAA Tournament for the fourth straight year and finished fifth in the Big Ten Conference.
The non-conference slate is highlighted by trips to nationally ranked Creighton and in-state rival Iowa State, along with a tournament in San Diego where the Hawkeyes will face Oklahoma and then either USC or Seton Hall.
Iowa opens conference play in December with a trip to Purdue to face national player of the year Zach Edey and the Boilermakers and then they will also host Michigan, along with playing at Iowa State in the same week.
The Hawkeyes will once again play on Super Bowl Sunday, this time hosting Minnesota. Speaking of Minnesota, the Big Ten Tournament will be played in the Twin Cities this year on March 13-17.
Here is the complete schedule
Mon., Oct. 30                                          Quincy (exhibition)                                        IOWA CITY, Iowa                         TBD                                                                      TBD
Tues., Nov. 7                                           North Dakota                                                    IOWA CITY, Iowa                         TBD                                                                      TBD
Fri., Nov. 10                                             Alabama State                                                  IOWA CITY, Iowa                         TBD                                                                      TBD
Tues., Nov. 14                                          at Creighton%                                                   Omaha, Neb.                                 TBD                                                                      TBD
Fri., Nov. 17                                             Arkansas State                                                 IOWA CITY, Iowa                         TBD                                                                      TBD
Thurs., Nov. 23                                        vs. Oklahoma#                                                  San Diego, Calif.                           2 p.m.                                                                      FS1
Fri., Nov. 24                                              vs. Seton Hall/USC#                                        San Diego, Calif.                           5 p.m.                                                                      FOX
Wed., Nov. 29                                         North Florida                                                    IOWA CITY, Iowa                         TBD                                                                      TBD
Mon., Dec. 4                                            at Purdue*                                                         West Lafayette, Ind.                   TBA                                                                      TBD
Thurs., Dec. 7                                           at Iowa State+                                                  Ames, Iowa                                    TBD                                                                      TBD
Sun., Dec. 10                                            Michigan*                                                          IOWA CITY, Iowa                         TBD                                                                      TBD
Sat., Dec. 16                                             vs. Florida A&M                                                Des Moines, Iowa                        TBD                                                                      TBD
Wed., Dec. 20                                          UMBC                                                                   IOWA CITY, Iowa                         TBD                                                                      TBD
Fri., Dec. 29                                              Northern Illinois                                              IOWA CITY, Iowa                         TBD                                                                      TBD
Tues., Jan. 2                                             at Wisconsin*                                                    Madison, Wis.                               TBD                                                                      TBD
Sat., Jan. 6                                                Rutgers*                                                              IOWA CITY, Iowa                         TBD                                                                      TBD
Fri., Jan. 12                                               Nebraska*                                                          IOWA CITY, Iowa                         TBD                                                                      TBD
Mon., Jan. 15                                           at Minnesota*                                                  Minneapolis                                   TBD                                                                      TBD
Sat., Jan. 20                                              Purdue*                                                              IOWA CITY, Iowa                         TBD                                                                      TBD
Wed., Jan. 24                                           Maryland*                                                          IOWA CITY, Iowa                         TBD                                                                      TBD
Sat., Jan. 27                                              at Michigan*                                                      Ann Arbor, Mich.                         TBD                                                                      TBD
Tues., Jan. 30                                           at Indiana*                                                         Bloomington, Ind.                       TBD                                                                      TBD
Fri., Feb. 2                                                 Ohio State*                                                        IOWA CITY, Iowa                         TBD                                                                      TBD
Thurs., Feb. 8                                           at Penn State*                                                  University Park, Pa.                     TBD                                                                      TBD
Sun., Feb. 11                                            Minnesota*                                                       IOWA CITY, Iowa                         TBD                                                                      TBD
Wed., Feb. 14                                          at Maryland*                                                     College Park, Md.                        TBD                                                                      TBD
Sat., Feb. 17                                             Wisconsin*                                                        IOWA CITY, Iowa                         TBD                                                                      TBD
Tues., Feb. 20                                          at Michigan State*                                          EAST LANSING, Mich.                 TBD                                                                      TBD
Sat., Feb. 24                                             at Illinois*                                                           Champaign, Ill.                              TBD                                                                      TBD
Tues., Feb. 27                                          Penn State*                                                       IOWA CITY, Iowa                         TBD                                                                      TBD
Sat., March 2                                           at Northwestern*                                           Evanston, Ill.                                  TBD                                                                      TBD
Sun., March 10                                       Illinois*                                                               IOWA CITY, Iowa                         TBD                                                                      TBD
Wed.-Sun., March 13-17                     at Big Ten Tournament                                 Minneapolis
Note:  All times listed are Central and subject to change