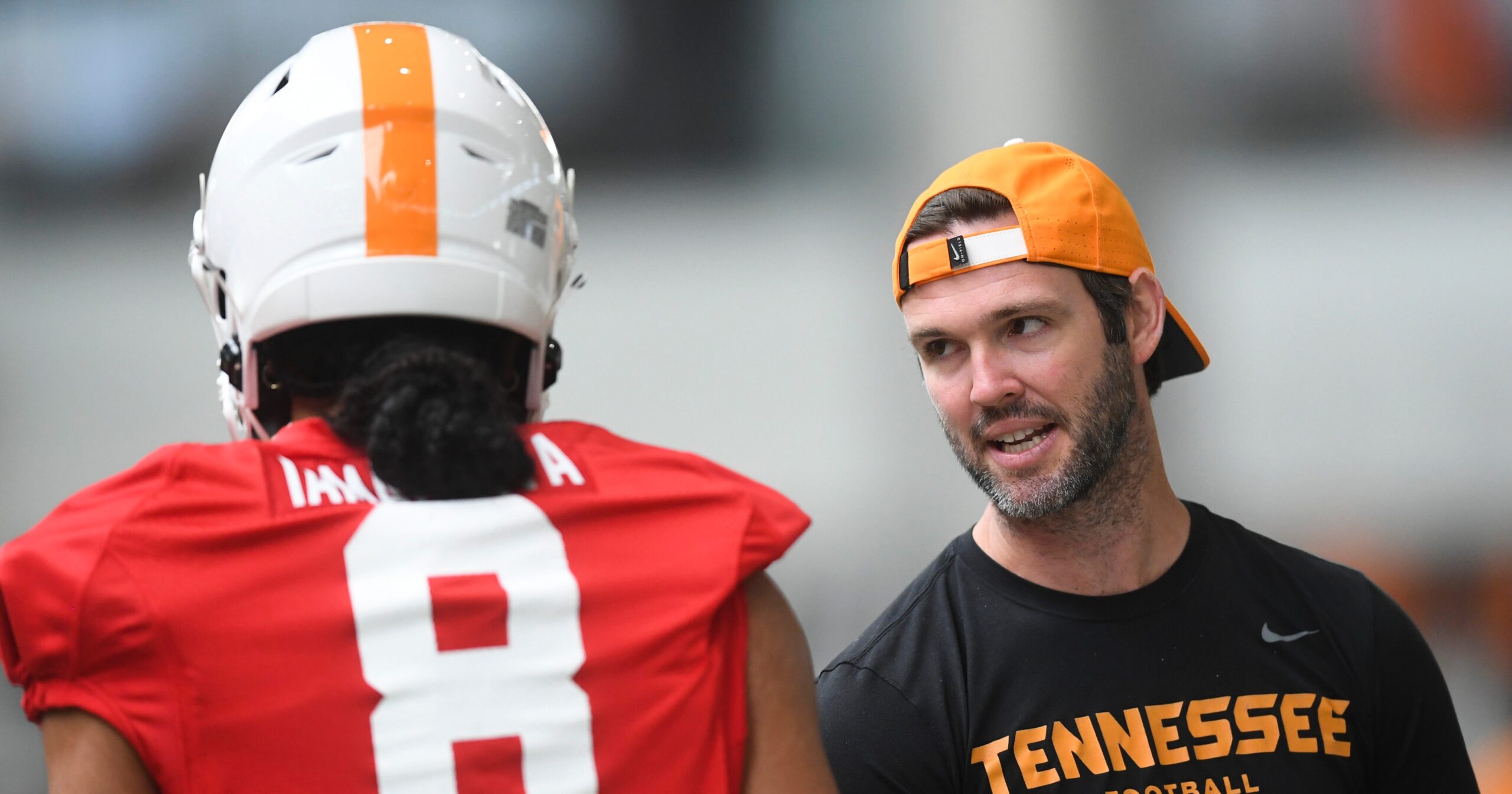 Nico Iamaleava is not the answer to solving Tennessee's offensive efficiency problems. At least not according to Tennessee offensive coordinator and quarterbacks coach Joey Halzle. 
Halzle, during his press conference on Tuesday, asked if the offense would be running at a higher level with Iamaleava, the five-star freshman, playing in place of starter Joe Milton III.
"No," Halzle said. 
Halzle was then asked why that was his answer.
"Because it's operation," he said. "Joe's operating at a really high level."
Joe Milton at Florida: 20-34, 287 yards, 2 TDs, 1 INT
Milton completed 20 of 34 for 287 yards and two touchdowns and an interception in Tennessee's 29-16 loss to Florida Saturday night at Ben Hill Griffin Stadium in Gainesville.
Pre-snap penalties and other mistakes — 10 penalties for 79 yards and a costly interception in the second quarter — plagued the Vols in the first half, while the Gators built a 26-7 halftime lead.
After going 71 yards in six plays for a touchdown on Tennessee's first offensive possession, the Vols finished the first half with three punts and the interception. The pick was returned 39 yards and set up one of four straight Florida touchdown drives.
Still, Halzle said Milton "was really good" despite the adversity through the first two quarters.
"His decision making, his calmness on the sidelines," Halzle said, "he kept the calm within the storm out there, talking to him on the headset. Man, he was after every single drive, he was like, all right, cool, like, move on. What we gotta coming next? So the guy's really even keeled , his decision-making is really good, was accurate with the football. The guy played a good game, was happy with that. 
"Obviously we can always be better," Halzle added. "We can be pushing for our communication, for how we all get on the same page in an environment like that when it's harder to hear and it's not the friendly confines. So that's where we can keep pushing to grow. But his overall game management was very good."
Up next: Tennessee vs. UTSA, Saturday, 4 p.m. ET, SEC Network
No. 23 Tennessee (2-1) returns home to host UTSA (1-2) on Saturday (4 p.m. Eastern Time, SEC Network) at Neyland Stadium. It's the first of three home games over the next four weeks, with an open date on October 7. 
Iamaleava hasn't played since the fourth quarter of the 49-13 win over Virginia to open the season on September 2 at Nissan Stadium in Nashville. He completed 2 of 3 passes for 11 yards and ran once for eight yards over two drives in mop-up duty against the Cavaliers. He was the No. 1 overall prospect in the 2023 recruiting class out of Long Beach, Calif.
But the Vols are sticking with Milton after some sluggish moments over the first three games. Head coach Josh Heupel had similar feedback for his starting quarterback during his press conference on Monday. He likes what he has seen and knows where Milton needs to be better.
"He did some really good things the other night," Heupel said. "The pick, we can't just throw it up. He'd like to have that one back. And we gotta be better in protection too in that situation. 
"The decision making, where he's going with the football, I said it before the game, I'll say after the game too, he was in the right spots. Accuracy, wide receivers being exact in their routes, all those things gotta continue to improve for us to be as efficient as we need to be."