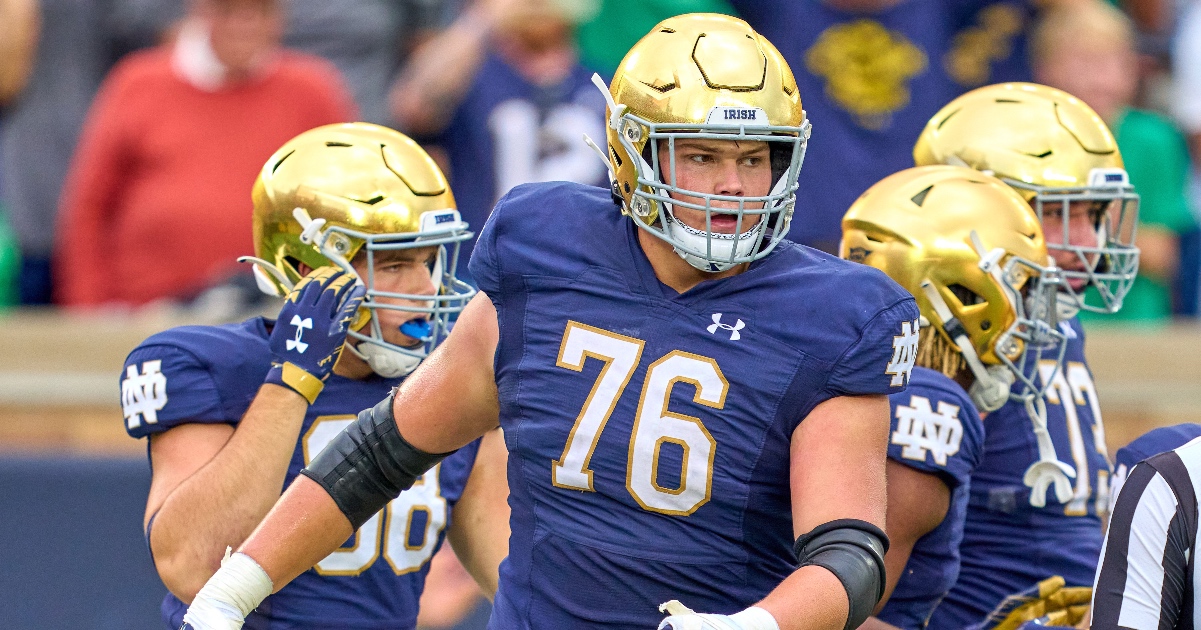 Besides the game itself, the sense of anticipation on a college campus might be the best part of college football. Whenever a massive opponent is coming into town, you can feel the buzz grow as the week goes by. South Bend is experiencing such at the moment, with Notre Dame and Ohio State facing off in a top-10 showdown on Saturday.
Notre Dame offensive tackle Joe Alt says he can feel the energy when walking around campus. He knows it will go to another level on Thursday as fans from across the country start to arrive. Big games can be a huge distraction at times but Alt is just attempting to stay focused.
"You kind of go out there and you can kind of feel it," Alt said during Tuesday's episode of Andy Staples On3. "Nothing is happening yet but you can see the preparation beginning. Right in front of Touchdown Jesus, where it's going to be, what's going to be going on there.
"I don't know what the word is but you can just feel it on campus. It's definitely different. Come Thursday, people will start showing up, start getting busy. You're going to class, trying to not get distracted, but you got to stay in it."
With a program such as Ohio State on your schedule, Notre Dame could have easily looked ahead on the schedule. But there was a trip to Dublin to face Navy in a rivalry matchup, a road game against NC State, plus nonconference games against Tennessee State and Central Michigan to get through first.
Now, the game is here and the Fighting Irish are 4-0 on the schedule. Even so, Alt is not letting the excitement build up quite yet. There is still an entire week of preparation to get through, taking everything one moment at a time.
"It's a big game on the schedule," Alt said. "But you got to focus on one game at a time. One game at a time, focusing on your opponent, taking care of business each and every week, playing to your full potential, and that's our goal.
"Now we're officially on Ohio State week. It's time to focus on this game. Big focus this week has been 'Win today. Win one moment at a time.' We're going to get to Saturday and it's all about reaching our full potential. But right now, let's just stay in the moment, block out the noise, and win today."
By the time things kick off in Notre Dame Stadium on Saturday, Alt is going to be ready to go. There will be no more noise to block out — it will be game time. Alt is going up against a tough Ohio State defensive front, possibly getting his biggest challenge of the year.
Just four days remain but for Alt, his top priority will be attacking Wednesday's prep the best he can.