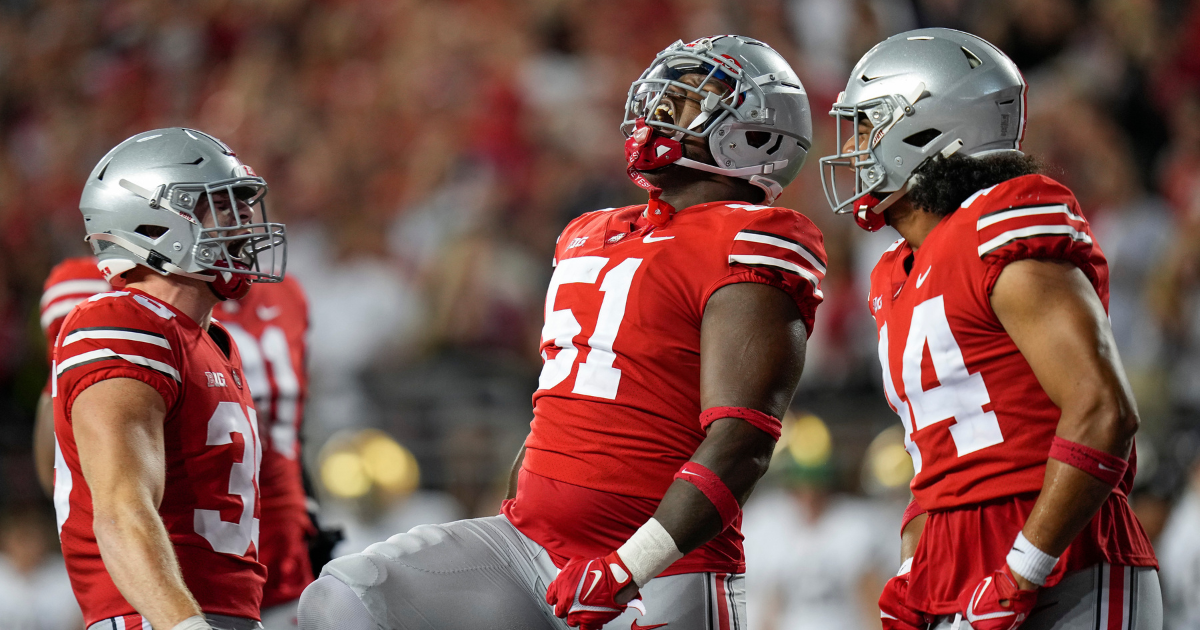 This Notre Dame football article was written last week in advance of Ohio State's 63-10 victory over Western Kentucky and the Fighting Irish's 41-17 win over Central Michigan but has been slightly modified to include updates from those games. It was packaged and included in the most recent edition of Blue & Gold Illustrated the magazine, which you can subscribe to or buy single issues of right here.
1. Figuring It Out At Quarterback
Ohio State had everything it wanted at quarterback from 2018-22. The Buckeyes enjoyed the services of three Heisman Trophy finalists in that stretch from Dwayne Haskins (2018) to Justin Fields (2019-20) to CJ Stroud (2021-22). Former five-star recruit Kyle McCord has a long way to go to follow in their footsteps.
There is definitely still time for him to turn it around, but he did not get off to a start worthy of showing up in New York City in December. In his first two starts of 2023, McCord completed 34 of 53 passes for 497 yards with 3 touchdowns and 1 interception.
McCord, a junior with three years of eligibility remaining, still has a rifle of an arm. He was the No. 5 quarterback recruit in the country in 2021 according to the On3 Industry Ranking. Notre Dame still has to be careful. The Irish do not want to be responsible for his coming-out party, if he didn't already have it by completing 19-of-23 passes for 318 yards and 3 touchdowns against Western Kentucky this past weekend.
2. Three-Headed Running Back Attack
Junior TreVeyon Henderson and senior Miyan Williams have had to make room in the backfield for senior Chip Trayanum, an Arizona State transfer who split time at running back and linebacker in his first year in Columbus in 2022. Trayanum played 46 offensive snaps in all of 2022. He played 50 in the first two games in 2023.
Henderson had 17 carries through two games to lead the team. Trayanum had 14 to slightly edge 13 for Williams. He also averaged 5.5 yards per carry to Williams' 3.8. Through three games, the split is 30 carries for Henderson, 19 for Trayanum and 18 for Williams. Trayanum leads the way with 7.0 yards per carry. Henderson is at 6.4 and Williams is at 4.1.
Henderson will likely continue to distance himself as the lead back, and Williams has a role as a short-yardage specialist. But with such high usage and productive results in two games, Trayanum has to be watched by the Notre Dame defense. He's an athletic 5-foot-11, 233-pound player who can hurt an opposing defense.
3. Talent In The Front Seven
Ohio State linebackers Steele Chambers and Tommy Eichenberg could start anywhere in the country. They pose all sorts of problems for opposing quarterbacks, running backs and even tight ends and wide receivers. Notre Dame quarterback Sam Hartman mentioned that duo first when he was asked broadly about the Ohio State defense Monday.
The one-two punch of Michael Hall Jr. and Tyleik Williams at defensive tackle is going to make it difficult for Notre Dame ball carriers to even reach Chambers and Eichenberg. Williams, who actually out-snapped Hall, 65 to 52, in the first two games of the season per Pro Football Focus, was the top-graded player on the Ohio State defense per PFF through Week 2. Hall came in at No. 3, with cornerback Denzel Burke sandwiched between them at No. 2.
There is certainly not a shortage of defensive talent for the Buckeyes. While breaking in a new quarterback, the Buckeyes will probably have to lean on this side of the ball a little more than usual.
The post Notre Dame football: Three things to know about Ohio State appeared first on On3.