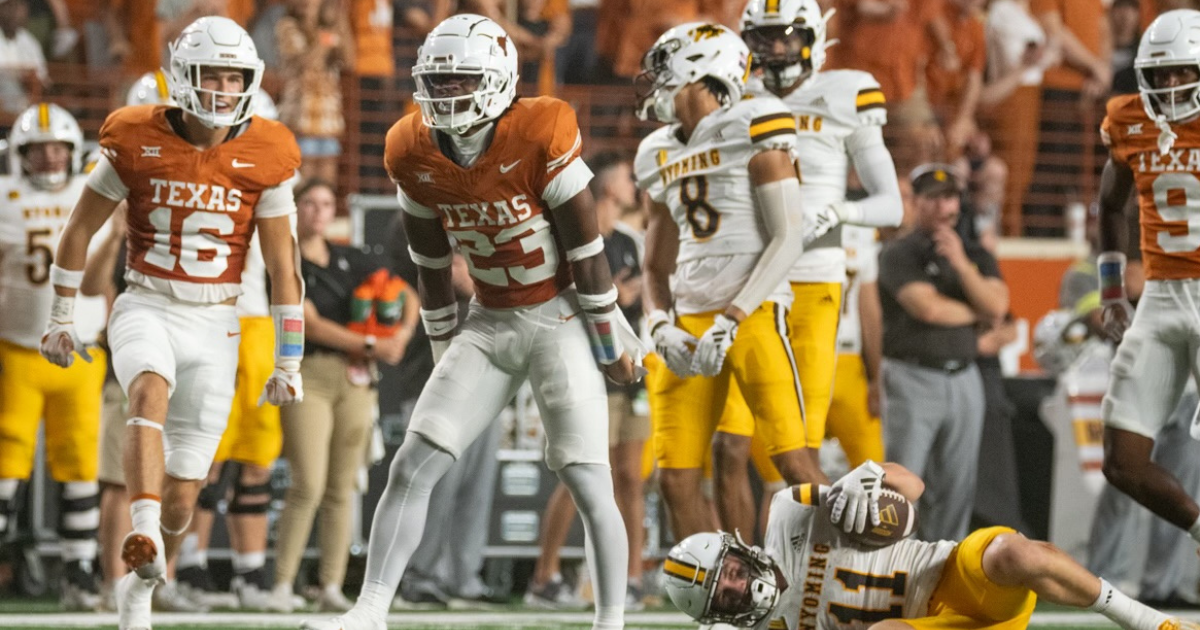 Texas is in the fortunate position of being 3-0 with a road win in Tuscaloosa but also not riding too high headed into conference play after a couple of clumsy games versus Rice and Wyoming. 
In many ways that Alabama game affected all three games. Steve Sarkisian obviously had his team more focused on Alabama than Rice, and then after the Alabama win the team seemed to bask in the afterglow rather than show up focused. Hopefully Wyoming has re-focused the team because nearly every game from here on out is losable depending on which Texas team, to include the coaches, shows up.
We'll start with the defense because it has shown up in all three games. That's not to say they've been perfect but they have been much more consistent than the offense. Not only are they keeping offenses in check but they're helping with field position and points, best illustrated by Texas outscoring its opponents 42-8 in the 4th quarter the last two games. Jerrin Thompson alone is good for 7 of those points and also extremely good field position leading to another 7.
Right now defense is undeniably the strength of the team and the strength of the defense is the defensive line.
Defensive Line: A-
During the offseason the discrepancies between the interior defensive line and Edges were such that I felt the need to separate them. With the continued good play of Barryn Sorrell and emergence of Ethan Burke and Anthony Hill (in his sub package), I no longer feel the need to divide them. 
Alfred Collins, T'Vondre Sweat, and Byron Murphy have been as good as advertised. Vernon Broughton has played well also, the long touchdown run to Wyoming notwithstanding. Broughton is the highest effort iDL when it comes to pursuit. Trill Carter received his most snaps this past week.
Kristopher Ross and Jaray Bledsoe have played defensive end and been effective, Ross in particular. His loss to an elbow injury will be felt unless Bledsoe steps up.
Sorrell had his most noticeable game this past weekend but he has been solid throughout. Often he's been subbed off in pass rushing situations but he's a three-down player if they need him. Burke has made some mistakes on containment due to inexperience but he's made up for them and then some, sometimes on the same play thanks to his effort pursuing the ball.
This group is playing the run well and getting the quarterback on the ground when the passing game presents the opportunity like in the first two games. Wyoming knew its O-line had no chance of holding up and got the ball out quick.
For the first time since this staff has been here you can consistently see the complementary nature of the D-line and secondary.
Teams are averaging 2.9 yards per carry in the run game and only a 55% completion percentage. It all starts up front with the team strength.
Linebacker: B+
Jaylan Ford appears to be keying the run a little faster than last year. Of course the D-line helps him tremendously but that group might actually hurt his tackle production, which is a good thing. 
David Gbenda leads the team in tackles and has been an effective blitzer. He's athletic in coverage but not always in the right position, meaning, he's still learning on the job. He's cleaned up his tendency for over-playing the run. It's clear to me he can be better than league average if he minimizes his mistakes in coverage. 
Anthony Hill demonstrated the gamble of playing young linebackers on Wyoming's 62-yard touchdown but he seemed to already learn from that within the game. It happens and you'd rather it happen against Wyoming than anyone else. After only three games into his career he's been very active. He's a game-changer coming off the edge which was a major need coming into the season. As advertised. He's one who will keep DC's up at night.
Jett Bush does a whole lot of dirty work typically from the edge at Sam linebacker. He doesn't lose ground and has made a few plays, not all of which show up in the box score.
It'll be good to get Morice Blackwell back. He brings even more athleticism to the field. 
Safety: B
Jalen Catalon hasn't necessarily had a breakout game but he's been good playing downhill. He led the team with 7 tackles against Alabama while also being on a low pitch count. It's clear the coaches are preserving him.
Jerrin Thompson has already doubled his interception total from last year but his lack of speed has shown up on a couple of big plays. Still, he's a good open field tackler and has been a mainstay at safety while Catalon and Kitan Crawford share reps. 
It's impossible to miss Crawford's athleticism and he's much improved over last year, but he still gets lost in zone coverage at times. He's the safety athlete you want tracking receivers in man coverage but boundary safety doesn't find itself in that position often. 
Michael Taaffe has played limited snaps, but, like Crawford, he is instrumental on special teams. 
Freshman Derek Williams has given us a glimpse of a fully optimized safety room down the road. He's athletic, long, and physical and is getting valuable reps for next year. He might be getting valuable reps for this year.
Corner/Star: A-
This group has yet to be challenged by a proficient passing attack that can consistently push the ball down field. If you look at the schedule you might wonder where that challenge will come from.
There haven't been a lot of busts or missed assignments from the corners. They've covered well and have been physical.
Jahdae Barron remains one of college football's most underrated players. I don't know what he has to do to create more noise. He plays for DBU for crying out loud. He has a big time interception on center stage. He's a physical tackling machine at a mentally and physically taxing position. I don't get it.
Every year in camp we hear about Ryan Watts being a bit of a concern in coverage but he never gets beat over the top. He's fourth on the team in tackles behind Barron and the two starting linebackers. 
Terrance Brooks has been pretty quiet, but is that a bad thing for a corner?
Like Williams and Hill, Malik Muhammad is announcing him as a likely future star. 
Summary
This is a deep, experienced, and pretty damn talented unit. Points of concern entering this season don't appear debilitating. If they can tighten up in zone coverage and allow fewer outlier plays like the long Wyoming touchdown this could end up one of the best defenses in college football.
This unit's consistency could mean the difference between heartbreak and playoff glory.
The post Quarterly report: Texas non-conference defensive grades appeared first on On3.