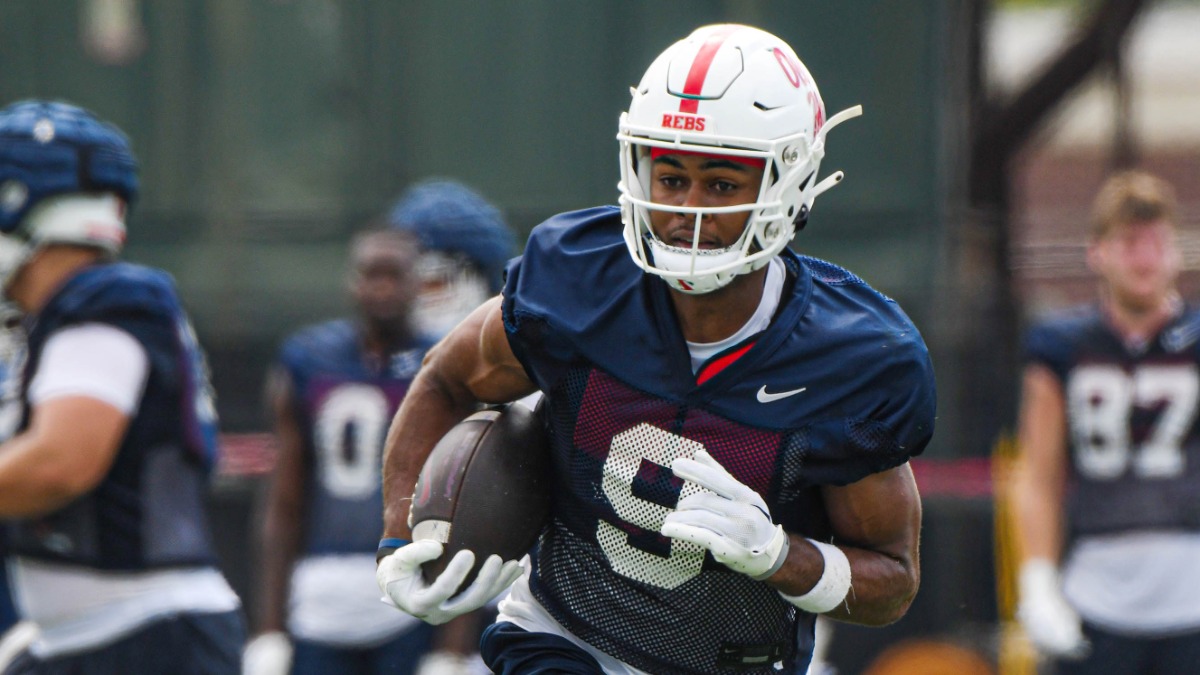 There are a lot of questions that will be answered Saturday in Tuscaloosa when Ole Miss and Alabama clash at 2:30 p.m.
But basically, it will all boil down to how good are the Rebels and how good is Bama? For now, nobody is quite sure. A lot of prognosticators, pollsters, talking heads and fans think they know, but nobody really does until the dust settles late Saturday afternoon.
As every Rebel is aware, this matchup last year came down to a Reb possession in the Bama Red Zone that Ole Miss could not finish and a six-point Alabama win in Oxford. Many expect the same kind of game this year with the ending being determined by who executes best at the end and finishes strong.
For now, however, there is only one major question from the Rebel personnel perspective that has to be explored and answered.
Will Tight End Caden Prieskorn, Wide Receiver Tre Harris and Wide Receiver Zakhari Franklin be available?
Any or all of them?
The media got a few minutes at Tuesday's practice to try and find out. It was a full pad practice in The Manning Center.
Prieskorn, the highly-touted and productive veteran from Memphis who tightened his hold on the starting spot into August prior to his injury, suffered a broken toe and has been in a boot since late August. He has not played a snap for the Rebels yet and it was predicted when the injury occurred he would return somewhere around the Alabama game.
Tuesday, Prieskorn was dressed in black signifying no contact, but he was in full pads, he ran half-speed plays with the number one offense and he did not seem to be favoring his injured toe. After that period, he retired to the training room for treatment, but there is some encouragement he may make his debut this week.
Harris, who caught five touchdown passes in one game plus a few minutes of the Tulane game, tweak his knee against the Green Wave and has not been seen since. In a text exchange with Harris, he gave this reporter a thumbs up, but did not go into any specifics. Some predicted he too would be ready around the Alabama game.
Tuesday, Harris was dressed in full pads and had a soft brace on his left knee.
However, he did not participate in any drills, which doesn't look promising for Saturday. It is still 96 hours until kickoff, so who knows? It was a positive just to see him dressed out.
Franklin, who had his knee operated on the first of August, was expected to be out 4-6 weeks. Six weeks have now passed and he's into his seventh week of rehab, but it appeared to be some good news today.
Tuesday, he was in a white jersey, which means full go, we saw him running half-speed routes in early drills and he looked good. We confess we did not get to stay long enough to see him run full speed, but we doubt he'd be in white if he wasn't ready to play. We shall see.
A wild guess – Franklin will play, Prieskorn will play and Harris will not play.
That could be totally wrong, but we're working in an arena where guessing is all we get to do when it comes to injuries.
We wondered why WR Jalen Knox didn't see action against Georgia Tech. We may have found out the answer at practice – he was in a black jersey. He was not participating in any drills the media was allowed to watch. The man has just been snakebit in his time at Ole Miss when it comes to his health. Hopefully he will have a speedy recovery.
Linebackers Ashanti Cistrunk and Ladarius Tennison were also in black jerseys, but they were taking part in non-contact drills.
CB Zamari Walton looked to have hurt his shoulder in the game against Georgia Tech, but he was full speed at practice with a red (defensive) jersey on working out with the first team.
The only potential lineup changes we saw the Rebels working on were getting more time for Defensive Tackle Akelo Stone, who worked some with the number one defense, and Victor Curne working some at left guard as well as at the number one left tackle slot.
The media will have no more viewing privileges this week.
The post Questions about Ole Miss football practice were narrowed to three players and their availability appeared first on On3.