What would movies be without music? Film scores have been essential to the movie-watching experience since the birth of the medium; even silent films – the "silent" part referring to their lack of sync sound (so no sound effects, dialogue, or "built-in" music) – were intended to be accompanied by music, either via phonograph or real, live musicians playing in a corner of the theater. It is and always has been a vital aspect of cinema that helps to convey the story, themes, or tone of a movie.
Naturally, music is very important to the Western genre. A number of motifs have come to define the soundscapes of western films, including coyote howls, gunshots, and steel-string guitars. In the list below, we've counted down the top 14 Western film scores ever made, some making use of these tried-and-true motifs and others pioneering new sounds.
14
3:10 to Yuma (2007)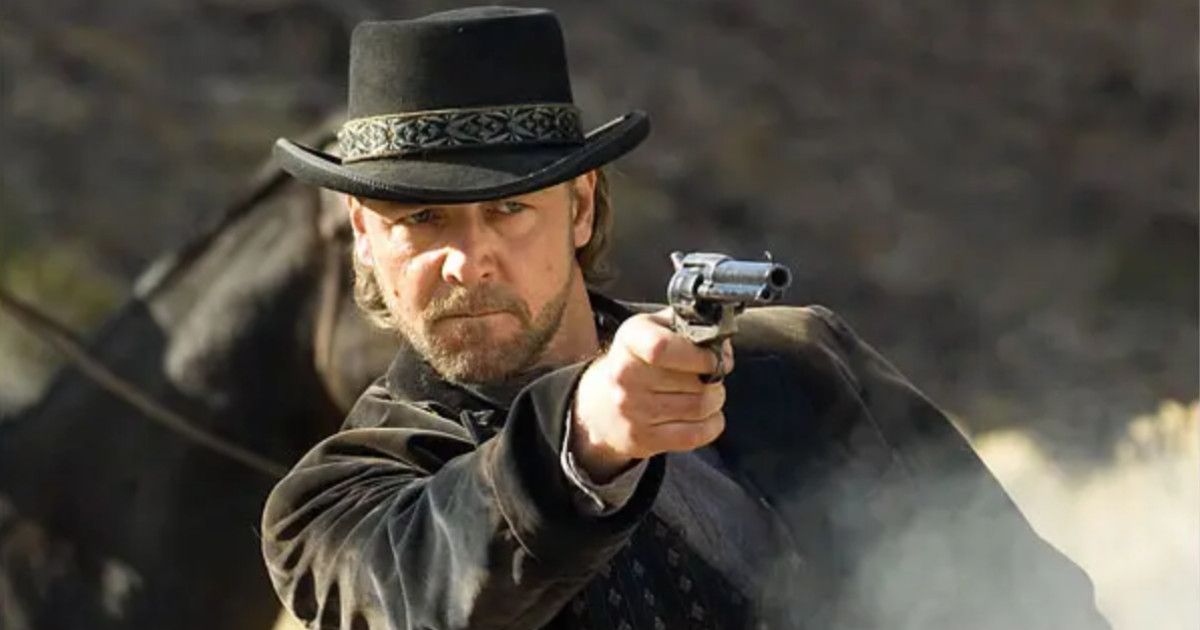 3:10 to Yuma is a remake of a 1957 classic Western and one of director James Mangold's best films. In many ways, the movie is better than its predecessor, as Mangold's signature style and the incredible lead performances bring out the best of the 1953 Elmore Leonard story that inspired both cinematic adaptations.
Another top-notch element that elevates this stylish western to modern classic status is its memorable music by Marco Beltrami. According to Collider, "Beltrami focused on taking inspiration from many of the great Western soundtracks from the 1960s without being derivative of them, finding ways to innovate the score, such as using nature in the music." The unique soundtrack bagged an Academy Award nomination and numerous other accolades for Beltrami.
13
Red River (1948)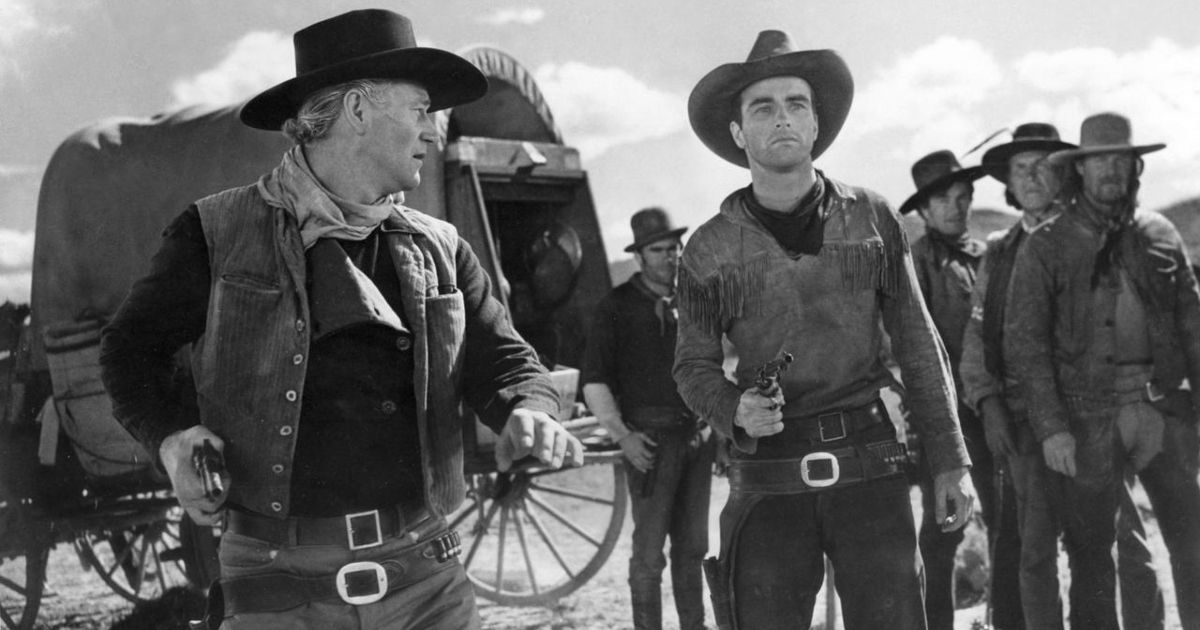 An essential John Wayne classic, Red River is a sweeping, genre-defining Western about a major cattle drive from Texas to Kansas via the Chisholm Trail. It was based on the Borden Chase short story "Blazing Guns on the Chisholm Trail," and was an instant hit, becoming a landmark movie for Wayne and frequent collaborator Howard Hawks.
Red River has been labeled one of the greatest westerns ever made by many outlets, and that no doubt is due in part to its wonderful score by Dimitri Tiomkin. The gorgeous strings and riveting percussion compliment the on-screen action perfectly, and the heartfelt and folk-y theme tune "Settle Down" became a legendary piece in western movie history when it was adapted and used again in the fantastic 1959 movie Rio Bravo.
12
The Wild Bunch (1969)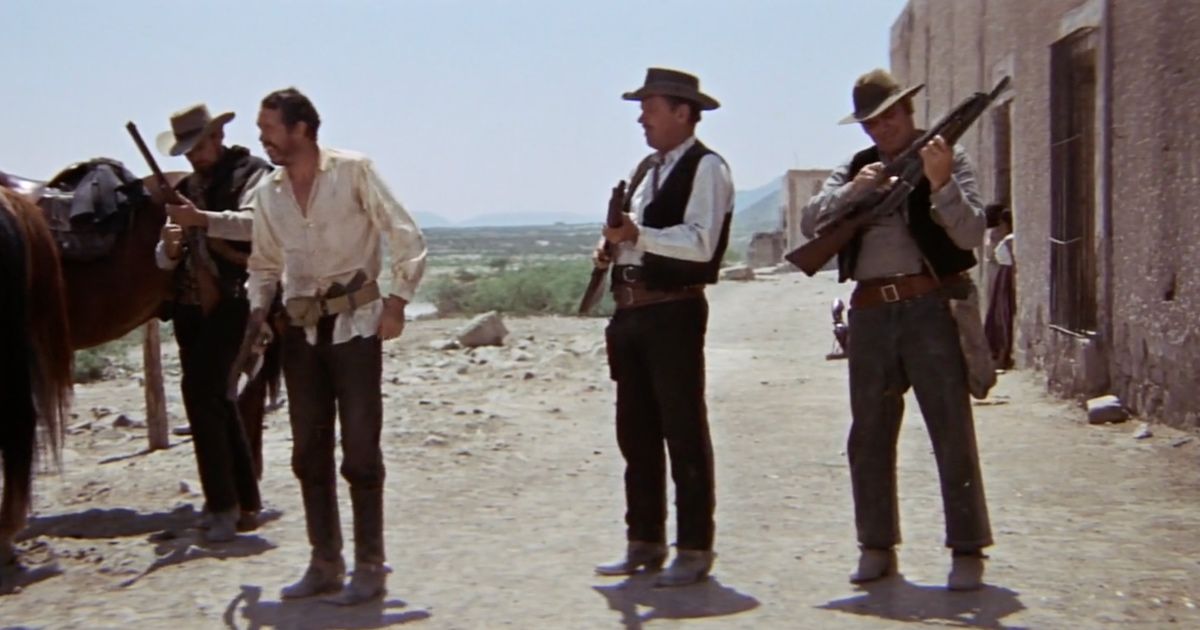 The Wild Bunch is a quintessential revisionist Western from gruff Hollywood iconoclast Sam Peckinpah. It follows a team of aging outlaws – played by William Holden, Robert Ryan, Ben Johnson, Warren Oates, Edmond O'Brien, and Ernest Borgnine – who decide to pull off one last heist before throwing in the towel. Things go horribly awry, and a series of perilous skirmishes and heartless betrayals culminate in a shockingly violent final firefight that would inspire many future filmmakers, such as the great Quentin Tarantino.
Just as iconic as its bloody climax is its fantastic music by Jerry Fielding. The score was nominated for the Academy Award for Best Original Score, and received numerous other high-profile accolades during its award season run. The powerful soundtrack is highly unique, and perfectly paired with the energetic yet dour atmosphere of The Wild Bunch, and ranks among Fielding's greatest compositions.
11
Death Rides a Horse (1967)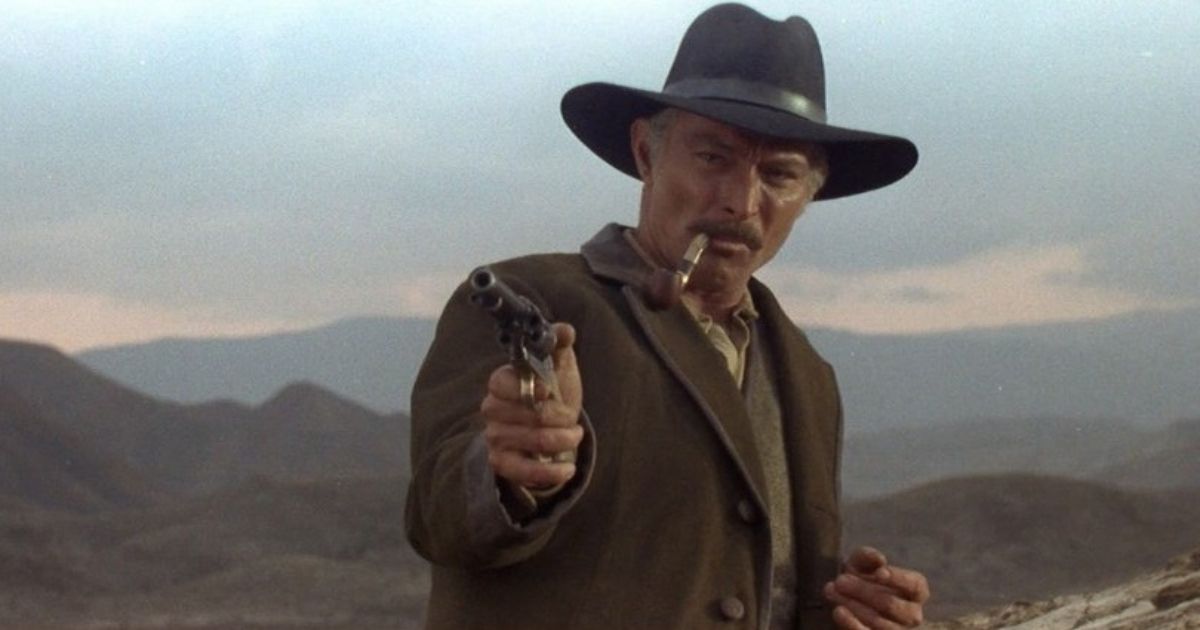 Death Rides a Horse is an underrated spaghetti Western about a young gunslinger who teams up with a seasoned bounty hunter to find the men who killed his family 15 years earlier. The lead duo is brought to life by John Phillip Law and the great Lee Van Cleef, and their chemistry together is part of what makes the film such a joy to watch.
Another element that makes Death Rides a Horse a must-see spaghetti western is the memorable score by Ennio Morricone, who was a force to be reckoned with in the field of western soundtracks and will feature many times on this list. The catchy main theme song – with its haunting repetition of "death is coming!" and spooky flutes – is a legendary piece of music that was repurposed to great effect in Quentin Tarantino's Kill Bill: Vol. 1.
10
Brokeback Mountain (2005)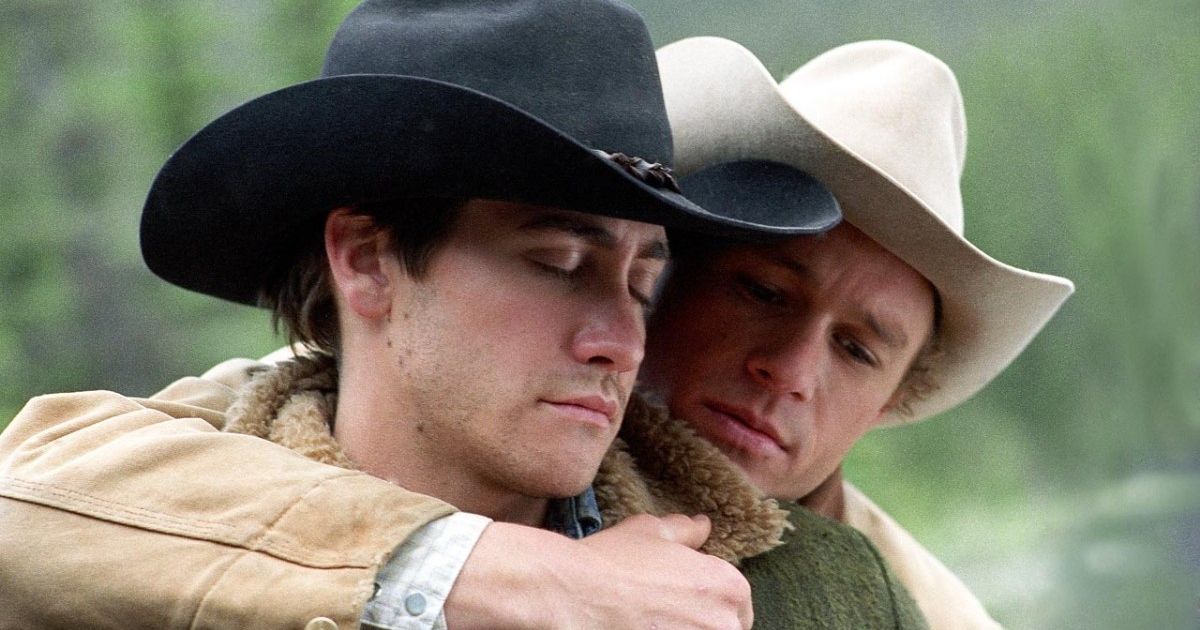 Brokeback Mountain is a brilliant romantic neo-Western from Academy Award winner Ang Lee. It stars Heath Ledger and Jake Gyllenhaal as a pair of ranch hands in Wyoming who become embroiled in a secret love affair.
Complimenting the equal parts heartwarming and heart-wrenching story, excellent performances, and complex themes is a delicate and stirring soundtrack from composer Gustavo Santaolalla. According to Screen Rant, "Santaolalla actually scored the music before filming even began, just by reading the story and talking to Ang Lee once. Santaolalla would go on to be nominated at the Academy Awards, the Golden Globes, and the BAFTAs for his work on the film (winning the Academy Award)."
Related: Brokeback Mountain: Looking Back at the Groundbreaking LGBTQ+ Movie
9
Duck, You Sucker! (1971)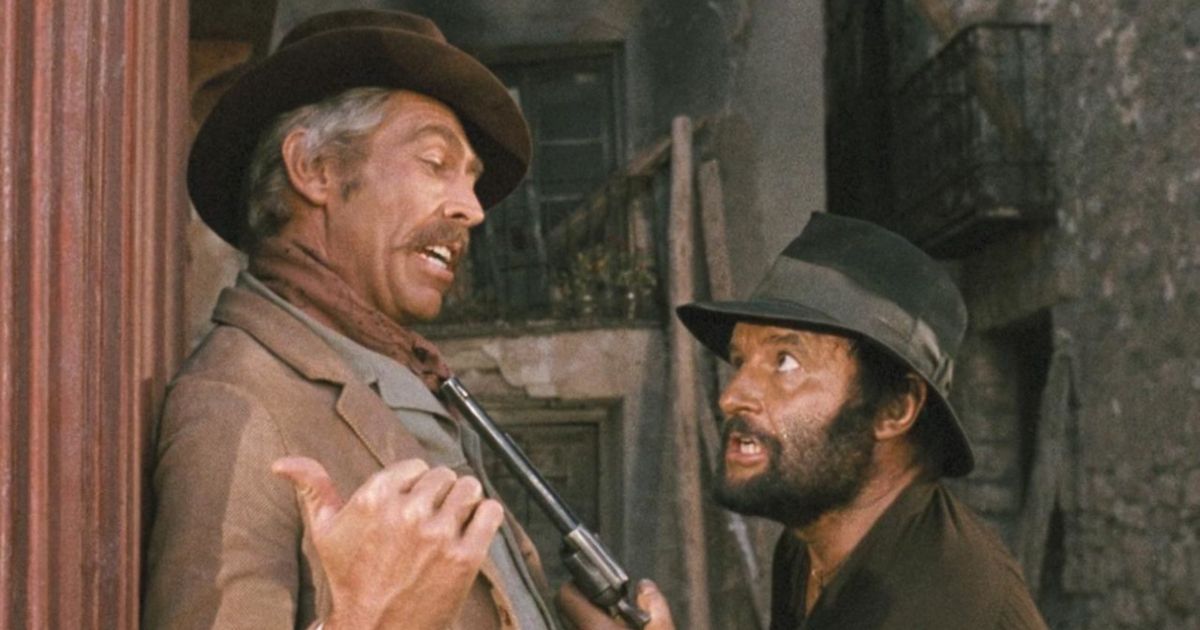 Duck, You Sucker! is a rip-roaring spaghetti Western from the master of the genre, Sergio Leone. Also known as A Fistful of Dynamite, this sweeping Zapata Western takes place during the Mexican Revolution of the 1910s and follows a pair of outlaws who use their combined expertise in explosives and swindling to aid in the fight for a free Mexico.
One of Leone's most overlooked films, Duck, You Sucker! features an incredible soundtrack from Ennio Morricone. At times grand and inspiring, at others heartfelt and tender, Morricone's score is the perfect accompaniment to a revolution, and one of his most underrated assortments of tracks.
8
The Searchers (1956)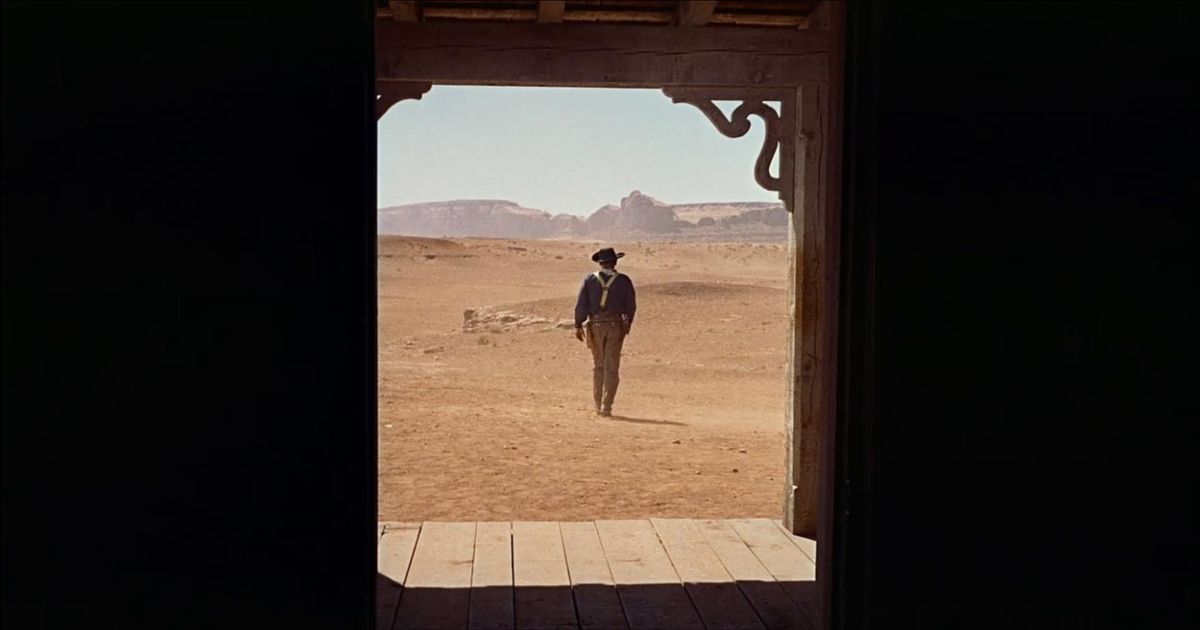 Quite possibly the greatest film in the collaboration between genre icons John Wayne and John Ford, The Searchers is an amazing epic Western about a Civil War veteran who goes in desperate search of his abducted niece on the Texas frontier.
The highly successful film is generally regarded today to be one of the greatest Westerns – if not one of the greatest films – of all time. One of the keys to the film's success is its terrific score by Max Steiner. Both mournful and rousing, the soundtrack is flawless in nearly every aspect.
7
For a Few Dollars More (1965)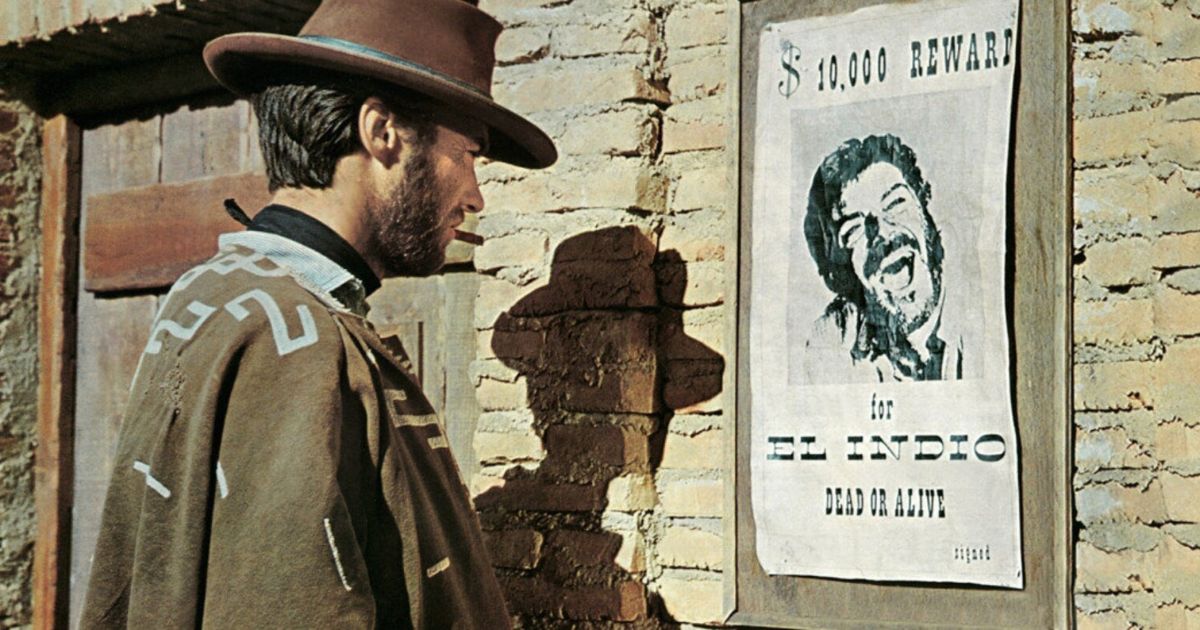 For a Few Dollars More is the second film in Sergio Leone's amazing "Dollars" trilogy, and features Clint Eastwood as a bounty hunter on the trail of a vicious outlaw by the name of El Indio. Along the way, Eastwood teams up with another bounty hunter, played by genre favorite Lee Van Cleef.
In typical Leone Western fashion, the epic visuals are matched perfectly with a spirited score by Ennio Morricone. Its recurring motif of a haunting watch chime tune and invigorating use of Spanish horns make it an unforgettable selection of songs that would go on to inspire untold numbers of later Western film composers.
Related: Best Clint Eastwood Westerns, Ranked
6
The Great Silence (1968)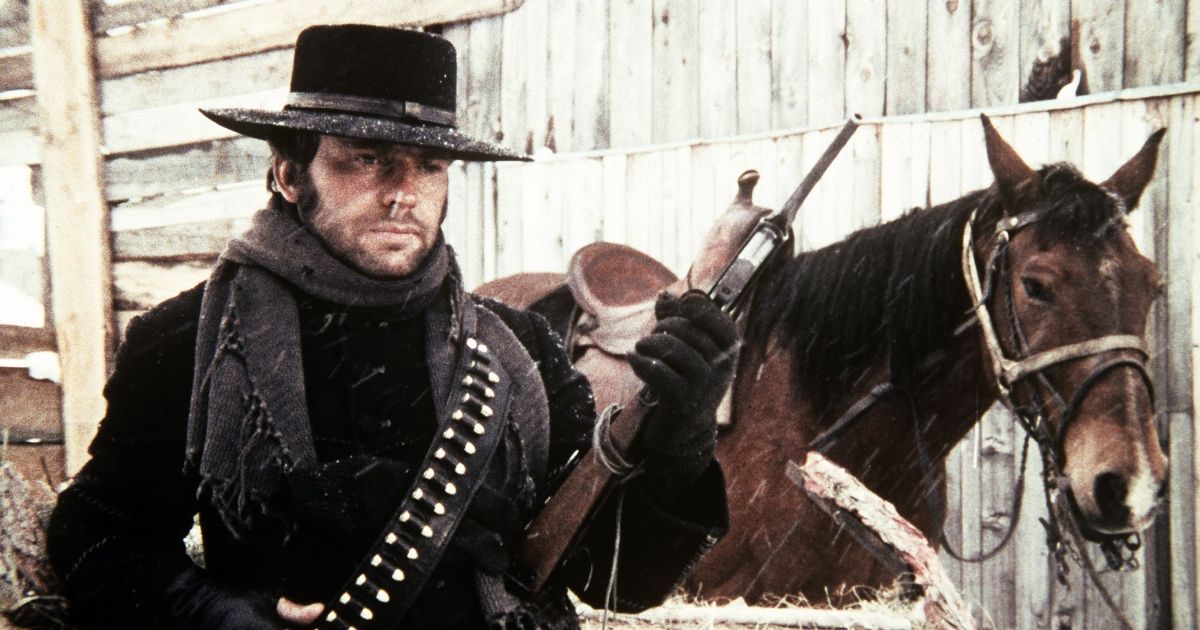 The Great Silence is a moody spaghetti Western from Sergio Corbucci. Although not as famous as Sergio Leone, Corbucci made a number of excellent westerns that are every bit as good as Leone's popular hits. The Great Silence is one such work – a classic Western painted in darker shades and taking place in a world where good doesn't always succeed over evil.
Ennio Morricone scored this film and did a wonderful job making music to go well with the dreary tone of this atypical Western. Despite being much more melancholy and eerie than his more well-known compositions, Morricone considered his soundtrack for The Great Silence to be one of the best he ever put together.
5
The Magnificent Seven (1960)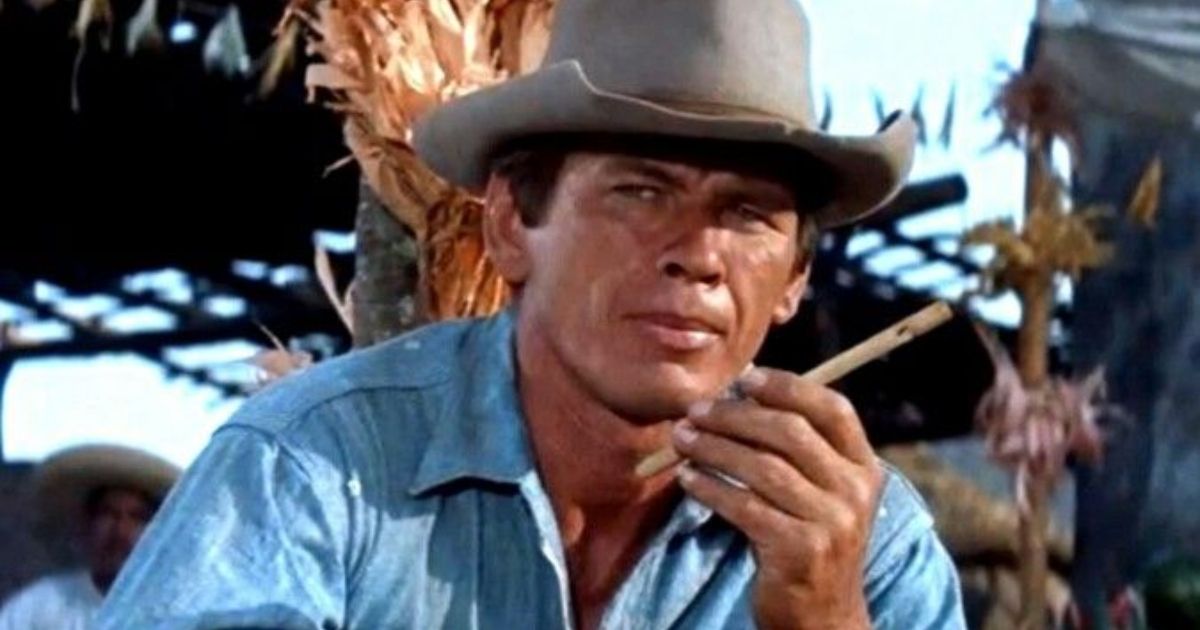 The Magnificent Seven is John Sturges' iconic Western remake of Akira Kurosawa's 1954 masterpiece Seven Samurai. It features an ensemble cast that includes Steve McQueen, Yul Brynner, Robert Vaughn, Charles Bronson, Brad Dexter, Horst Buschholz, and James Coburn as a team of heroic guns-for-hire tasked with taking down an army of vicious bandits.
An instant success upon its release, The Magnificent Seven is now considered to be a must-see movie for Western film fans. Its music was composed by legendary composer Elmer Bernstein, who got an Academy Award nomination for it. The memorable score was later listed on the American Film Institute's top 25 American film scores list.
4
Django (1966)
Sergio Corbucci's Django – not to be confused with Quentin Tarantino's 2012 hit Django Unchained – is an action-packed spaghetti Western about a mysterious gunslinger who rolls into a muddy town with a coffin in tow and revenge on his mind.
One of the defining films in the spaghetti Western genre cycle, the movie helped to bolster the European Western reputation for being hyper-stylized and ultra-violent. It also continued the genre tradition of having spectacular music, this time provided courtesy of composer Luis Bacalov. The unique soundtrack combines aspects of classical orchestration with shades of rock and roll, and is capped off with an awesome vocal ballad theme song sung by Rocky Roberts that was re-used in Django Unchained.
3
The Hateful Eight (2015)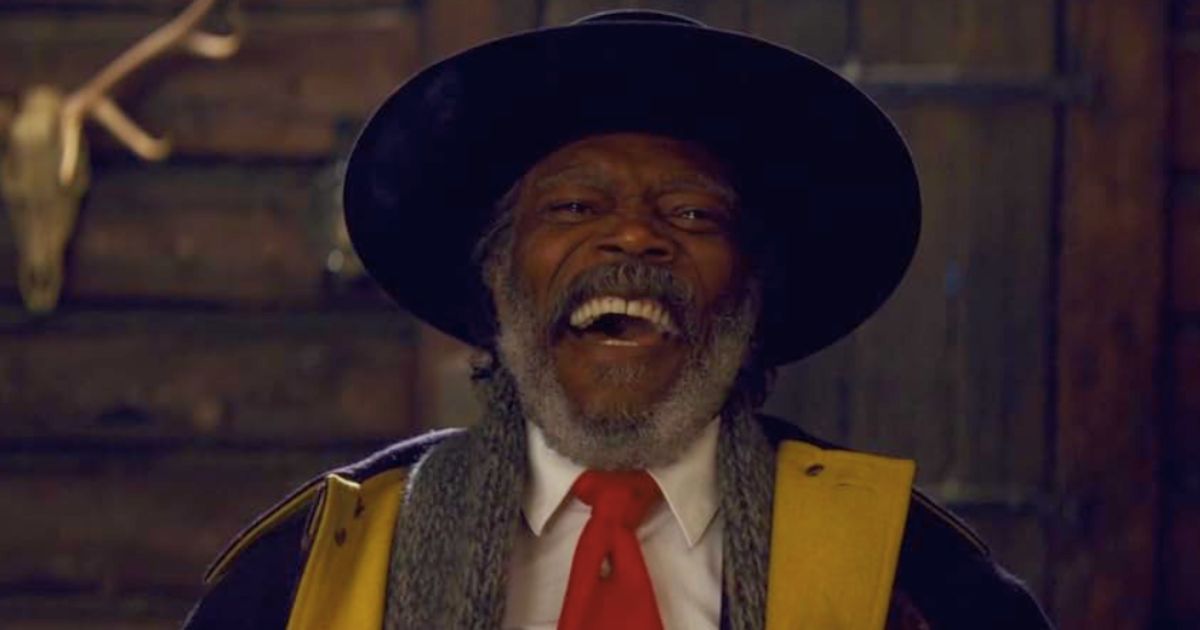 The Hateful Eight is Quentin Tarantino's second Western film following Django Unchained, and the first of his films to feature an original score.
The original score is by none other than the great and many times already mentioned Ennio Morricone. It was Morricone's first full Western soundtrack in more than 30 years, and the last before he died in 2020. In addition to a selection of new tracks, Morricone's score for The Hateful Eight features three unused pieces from his score for the 1982 horror film, The Thing. The soundtrack won an Academy Award and a Golden Globe, as well as a number of other awards.
Related: 5 Reasons Quentin Tarantino's The Hateful Eight Is a Western Masterpiece
2
Once Upon a Time in the West (1968)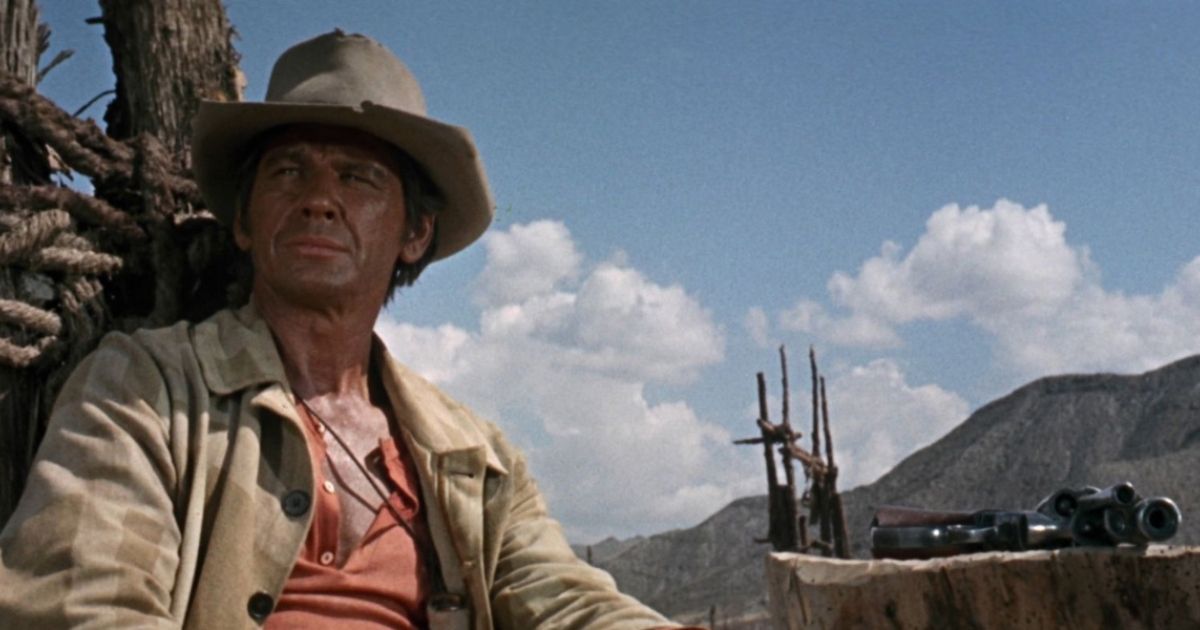 One of the best spaghetti Westerns ever made, Sergio Leone's epic Once Upon a Time in the West centers around a bloody conflict concerning a highly sought-after piece of land. The grand cinematography, amazing ensemble cast, and stunning compositions found in Once Upon a Time in the West make it one of the greatest films of the 1960s.
On top of all its previously mentioned stellar traits, the action of Once Upon a Time in the West is set to a rousing score by Ennio Morricone. Haunting harmonicas blend seamlessly with stinging guitars and exhilarating horns in this delightfully complex and layered masterpiece of a soundtrack.
1
The Good, the Bad, and the Ugly (1966)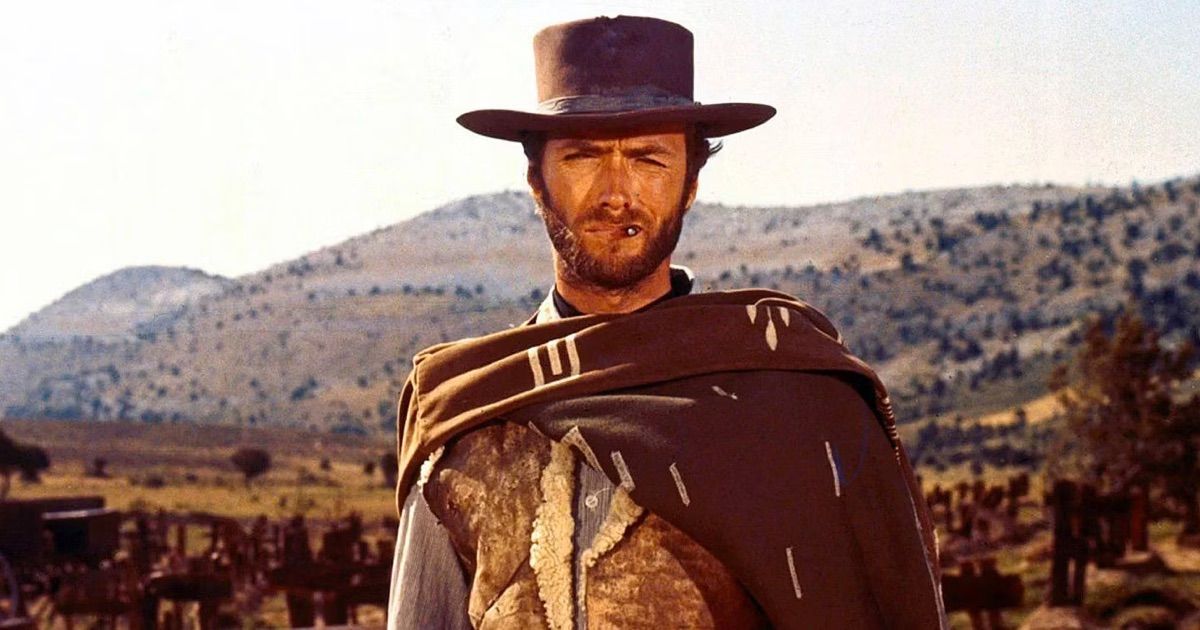 The Good, the Bad, and the Ugly is easily the most iconic spaghetti Western of all time, and its soundtrack is one of the main reasons for its classic status.
Frequently touted as Ennio Morricone's greatest work, the score to The Good, the Bad, and the Ugly was put together before filming for the movie began. This made it so that rather than scoring the music to match the action on-screen, Leone let the music inspire the filming. The many times re-used, referenced, sampled, and parodied main theme – with its catchy cacophony of whistling and howling – is hands-down the greatest and most instantly recognizable piece of music from the Western film genre. The soundtrack to The Good, the Bad, and the Ugly is a masterpiece in and of itself, as well as a pitch-perfect accompaniment to the deftly directed film it lives in.