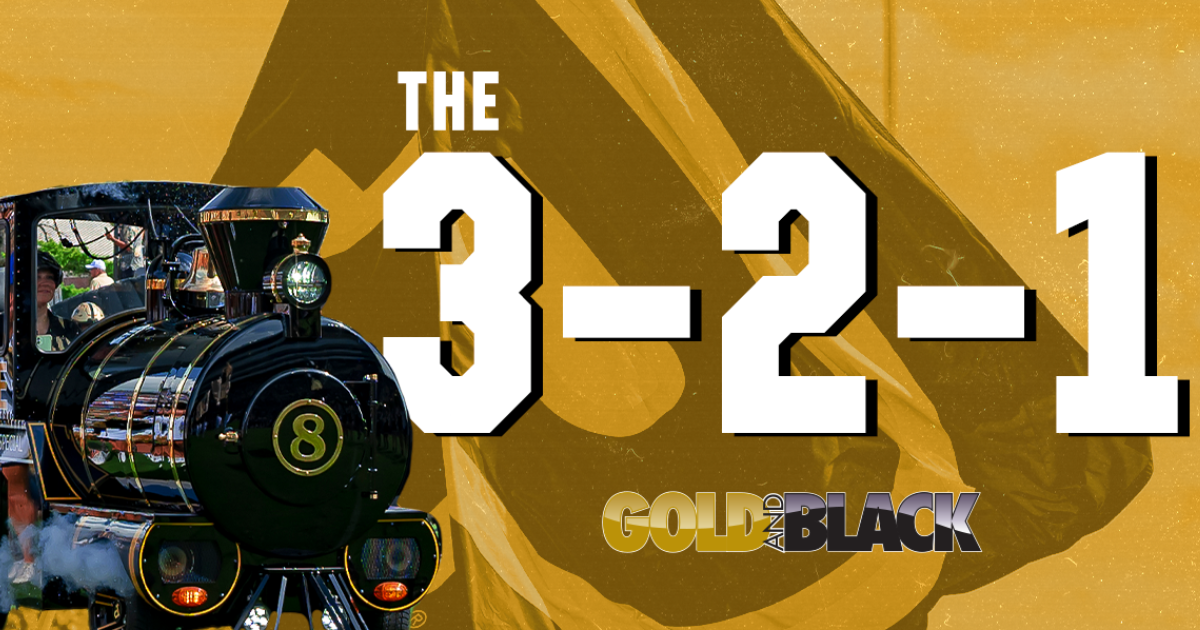 Three things learned. Two questions. One prediction. It's time for the 3-2-1, an inside look at Purdue football.
Three things learned
1 – Purdue needs more Deion Burks
That may seem like a silly request for a guy who is No. 3 in the Big Ten in receiving yards with 221 (on just nine catches) to go along with three TD grabs. That's 24.6 yards per catch!
But on a roster devoid of many top-end playmakers, Burks needs to be a featured star week in and week out. He's Purdue's freakiest offensive player, a unique blend of speed, power and quickness.
We have seen glimpses, like in the opener when he made a great 84-yard catch/run for a TD. And Burks had four receptions last week vs. Syracuse. Good stuff.
Burks must be fed the ball early and often … and in a variety of ways. (He has just one carry for 10 yards.) Yes, he will be the focus of defenses each week. Still, it's incumbent on the staff to be creative in getting No. 4 the ball. He's the one true game-breaker this attack has on a receiving unit that essentially plays just two other wideouts: T.J. Sheffield and Abdur-Rahmaan Yaseen, who has been targeted a team-high 23 times; Burks is second with 21 targets.
"There are a couple guys we would like to get more touches," said Ryan Walters. "I think Deion is one; Tyrone Tracy is another. Those are things we are evaluating constantly and trying to come up with creative ways to do so."
2 – Hudson Card has been all that and a bag of chips
The hype swelled around the Texas transfer all offseaon. And, he has played well.
Card is No. 2 in the Big Ten in passing yards (825), hitting 66 percent of his attempts with three touchdowns. No conference signal-caller has thrown (110) or completed (72) more passes. And he has just one interception, which came on a tipped ball last week.
Card even has become more involved in the run game, on designed runs, RPOs or just scrambles, notching 41 yards on the ground with two TDs on 26 totes.
He's been poised under pressure. He doesn't get rattled. He has great arm talent and is athletic enough to get you out of some situations and make plays.
Remember: Card had made just five starts before arriving at Purdue. He's still developing.
"He'll continue to improve, as well," said Walters. "This is his first year in the system. But I'm happy he's our quarterback."
3 – The urgency is real
Purdue exits non-conference play with a 1-2 mark. Not ideal, as must prognosticators figured the Boilermakers would be at least 2-1 after opening vs. Fresno State, at Virginia Tech and vs. Syracuse. September closes with home games vs. Wisconsin and Illinois.
Getting bowl-eligible with a 2-3 record in the opening month will be a challenge, with Purdue likely favored in just two games the final two months … the final two of the season: at Northwestern; vs. Indiana.
Two questions
1 – Is OLB Kydran Jenkins OK?
He missed the second half of the Syracuse game with an injury. Purdue needs No. 4, who has been the best player on the defense and one of the top pass rushers in the nation this first month.
The lone silver lining if KJ is out an extended stretch is the fact the defense has depth at outside linebacker, with Will Heldt, Khordae Sydnor and Scotty Humpich bolstering a spot that is anchored by Nic Scourton.
"Still going through the rehab process," said Walters. "If he's ready to go, he'll go. If he's not, he won't, and it'll be next man up.
"Obviously, he's a great player and definitely hurt not having him in the second half."
2 – Dillon Thieneman, team MVP?
Let's give him the honor for non-conference play.
Thieneman has been a revelation, playing with moxie the belies his true freshman status. He has notched a double-figure tackle total in each game this year and tallied an interception in each of the first two games. His 31 tackles rank fourth in the Big Ten and his 26 solo stops are tied for first.
Thieneman looks poised to be a star … and maybe an all-time great.
One prediction: Tyrone Tracy will get more carries
Devin Mockobee's ball security issues vs. Syracuse may have created an opportunity for the sixth-year Tracy, who has taken to his position switch from receiver to running back. To wit: This week's depth chart shows an "or" between Mockobee and Tracy at running back. Mockobee has a team-high 49 carries (186 yards/3.8 ypc); Tracy has had 17 (92 yards/5.4 ypc).
The former Iowa Hawkeye runs with toughness and a burst, gaining 92 yards on 17 carries (5.4 ypc) with a team-high three TDs. And who can forget the speed he showed on his 98-yard kickoff return for a TD in the opener?
MORE: First look: Wisconsin | First and 10: Wisconsin at Purdue | Three Thoughts From The Weekend: Three-game assessments, Purdue basketball and more | Gold and Black Radio: Purdue looks for fixes ahead of Wisconsin visit | Turnovers, penalties must be reduced if Purdue wants to end 16-game skid vs. Wisconsin
The post The 3-2-1: More Deion Burks, please appeared first on On3.