Following the latest On300 rankings and releases from other recruiting services, the On3 Industry Ranking has updated and features three new five-star prospects.
As the cycle progresses forward, the number of five-stars in the On3 Industry Ranking increases as scouts in the industry have more data, information and scouting opportunities to evaluate better and project prospects. The On3 Industry Ranking currently features 32 5-stars to reflect the numbers of players selected in the first round of the NFL Draft.
The On3 Industry Ranking is a proprietary algorithm that compiles ratings and rankings from all four primary recruiting media services. It is also the industry's most advanced, complete and unbiased measurement.
It weights the primary recruiting media services based on past performance data, and overall scouting and recruiting coverage investment. For football, the algorithm is weighted as follows: On3 (35%), 247Sports (35%), Rivals.com (20%) and ESPN (10%). 
After the latest updates, those 32 prospects are listed below: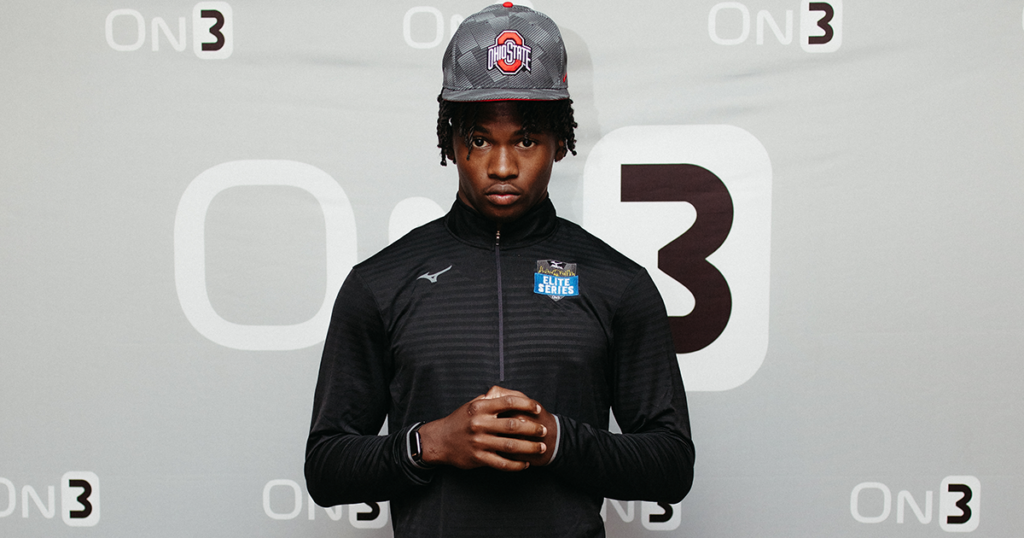 School: Hollywood (Fla.) Chaminade-Madonna Prep
Status: Committed to Ohio State
Previous Ranking: No. 1
On3 NIL Valuation: $462,000
Expert's Take: "One of the more talented and well-rounded receiver prospects in recent cycles. The highest-rated wide receiver prospect from Florida in well over a decade. A big, skilled receiver with fluidity and savvy for the position. Measured in at 6-foot-3 and around 200 pounds with a 32.5-inch arm prior to his senior season. Had a breakout junior season, catching 58 passes for 1,073 yards and 20 touchdowns while leading Chaminade-Madonna to a state title. A very polished route-runner at this stage with rare ability to change directions at his size. Smooth mover with technical refinement that allows for separation. Regularly stacks cornerbacks off the line. Pairs his route-running ability with advanced ball skills. Has strong hands and comes down with catches in traffic. A high-level ball tracker with the ability to locate the football over his shoulder. Capable of making fantastic one-handed grabs. Also flashes ability after the catch. Has the size to run through contact and a long stride to pull away in the open field. Also a strong track athlete winning state titles in the 110-meter and 400-meter hurdles as a junior. An extremely well-rounded prospect with a high floor and ceiling. Looks like a prototypical X wide receiver prospect with considerable traits and skills that point to an upside as a high draft pick."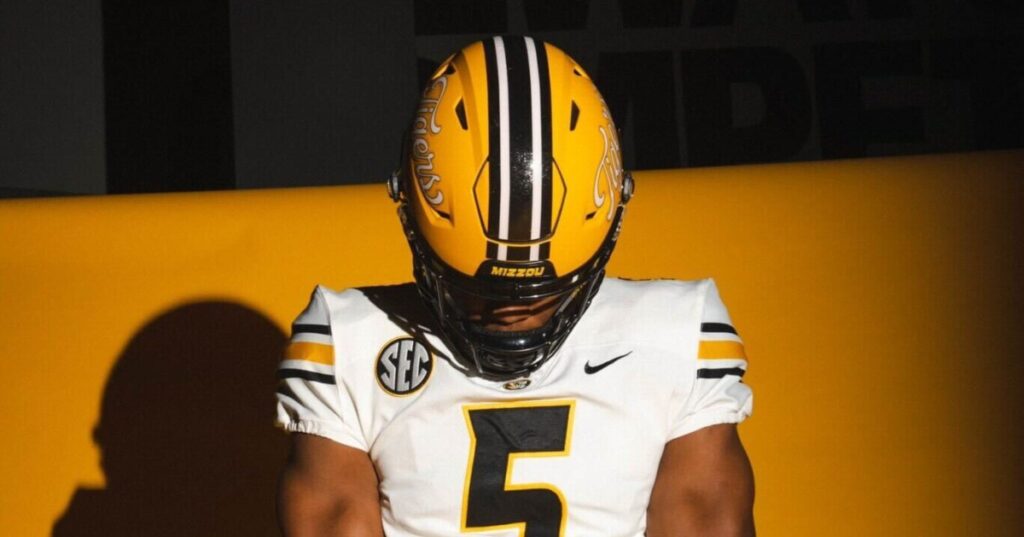 School: Lee's Summit (Mo.) North
Status: Committed to Missouri
Previous Ranking: No. 3
On3 NIL Valuation: $385,000
Expert's Take: "The most physically gifted defensive line prospect in the 2024 cycle. Has an elite frame, measuring in at over 6-foot-6, 260 pounds and an 11-inch hand. Has elite length, with arms that measure in at over 36 inches. Moves very well for his size. Backed that up with a very strong 1.72 second 10-yard split at the UC Report's Kansas City camp prior to his senior season. Also shows fluidity with change of direction in the camp setting. Flashed some of his high-end potential as a sophomore, but took a step as a junior. Finished his junior campaign with 22 tackles for loss and 12 sacks while helping his team to the state title game. Shows the ability to create disruption from multiple spots on the defensive line. The elite combination of length and athleticism creates mismatches, particularly as an interior pass rusher. Has improved his hands over time, flashing a budding swim move as a junior. Possesses the ability to neutralize linemen with his length. Displays very good flexibility with the ability to dip and bend around the edge. A loose, fluid mover in pursuit. Has the range and athleticism to run down skill players from behind. Improving his technical skill at the position but has immense upside and capacity for improvement. Can also continue to improve as a run defender and edge setter. Could project to a number of spots along the defensive front including along the edge, but looks to be a defensive lineman long-term given his frame and potential to add substantial mass."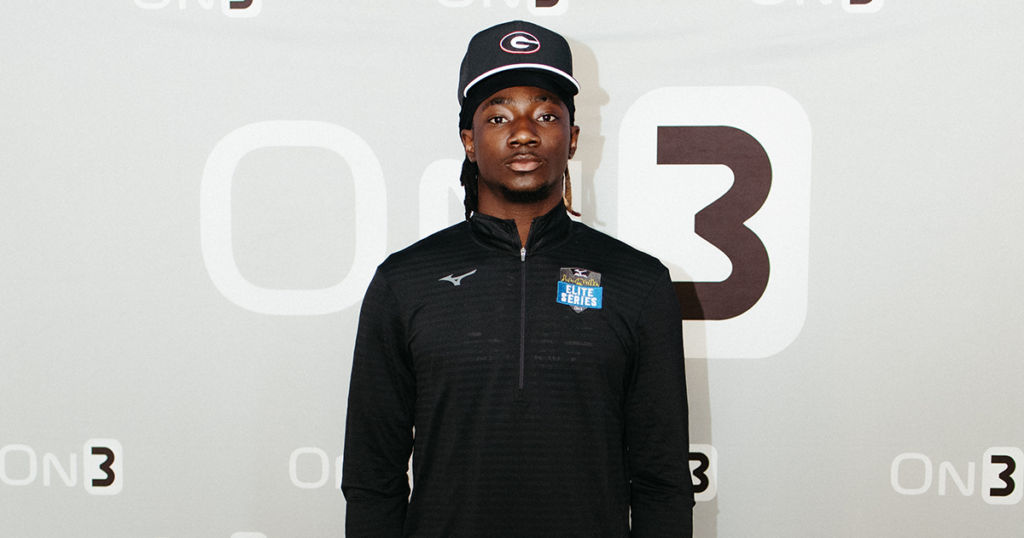 School: Bradenton (Fla.) IMG Academy
Status: Committed to Georgia
Previous Ranking: No. 4
On3 NIL Valuation: $433,000
Expert's Take: "Ball-hawking cornerback with plus length, ball skills and refined movement skills. Has shown the ability to make high-level plays on the ball throughout his high school career. Measured close to 6-feet, 175 pounds prior to his senior season. Has plus length for the position with arms that measure a shade under 33 inches. Dominated competition in New York's Catholic league as a sophomore, bringing in eight interceptions. Made several impressive, acrobatic picks. Moved to IMG Academy as a junior, where he looked like the top defensive back on the Ascenders' loaded roster. Made strides as a junior relative to his technical skills. Pairs his length and ball skills with refined footwork. Understands routes and generally stays in phase. Embraces matchups against top receivers and is willing to get physical at the line of scrimmage. Also tests as a good athlete in the combine setting. While his speed is good, he does not register as elite for the position. Can continue getting stronger and adding good mass once in a college strength program."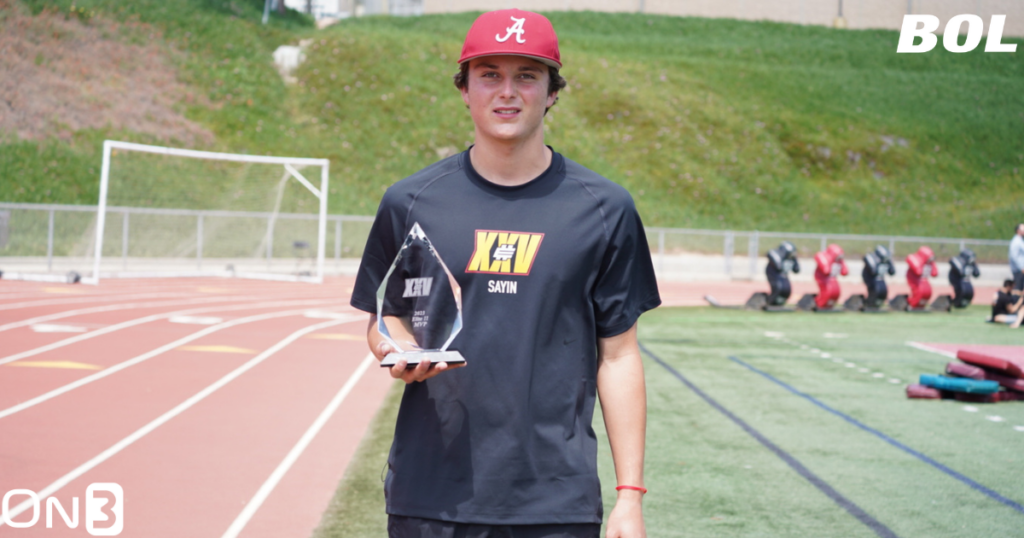 School: Carlsbad (Calif.)
Status: Committed to Alabama
Previous Ranking: No. 5
On3 NIL Valuation: $781,000
Expert's Take: "The most refined and accurate passer in the 2024 cycle. Measured in at over 6-foot-1, 195 pounds with a 9.25-inch hand prior to his senior season. Touts one of the quickest releases in the cycle with a tight, compact throwing motion. Has outstanding overall mechanics. Consistently throws in rhythm, marrying his eyes, upper body and feet. Generates good zip on short and intermediate passes. The ball gets out quick. Layers his passes with ease, delivering with advanced touch. Hits receivers in stride. A good deep ball thrower. Comfortable passer on the run with the ability to deliver from off-platform. Navigates the pocket with ease and with intention. Plays on his toes and has quick, reactive feet. A surgical passer on Friday nights. Decisive passer who reads the field quickly and efficiently. Turned in an efficient junior season, completing 66.5% of his passes for 2,708 yards (11.1 yards per attempt) and 27 touchdowns against 4 interceptions. Also rushed for 154 yards and three scores. A standout in neutral settings, as he was named the On3 MVP at the Elite 11 Finals and OT7 Finals prior to his senior season. Does not possess the eye-popping physical traits of some of his highly-touted peers. Can continue building on his improvisational skills and overall creativity as he often wins from within structure. Considered a very safe quarterback prospect with a high floor at the next level."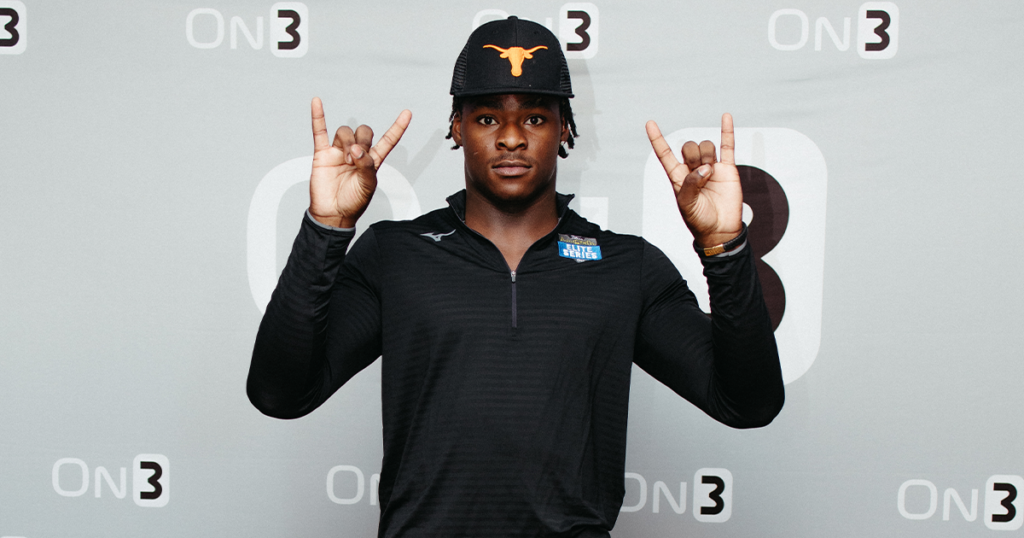 School: Duncanville (Texas)
Status: Committed to Texas
Previous Ranking: No. 6
On3 NIL Valuation: $474,000
Expert's Take: "Speed rushing dynamo who stars for one of the top high school programs in Texas. Arguably the most dominant defensive player in the 2024 cycle, registering 22.5 sacks as a junior while playing in Texas' highest classification. Measured at around 6-foot-2.5, 225 pounds with a 34-inch arm prior to his senior season. Grew around an inch as a sophomore. Primarily lines up at defensive end for Duncanville. Uses first-step quickness, play speed and dip to create issues for opposing offensive tackles. Shows good curvilinear movement with his ability to turn corners as a pass rusher. Length aids in disengaging from offensive linemen, finishing plays and disrupting passing lanes. Looks to play with a very strong effort level. Has an innate knack for disrupting passing lanes, batting down a number of passes as a junior. Took over the state title game in a key second-half sequence that led to Duncanville's win. Has a smaller frame than most elite EDGE prospects and will need to put on weight early on in college to aid in his ability to hold up against the run."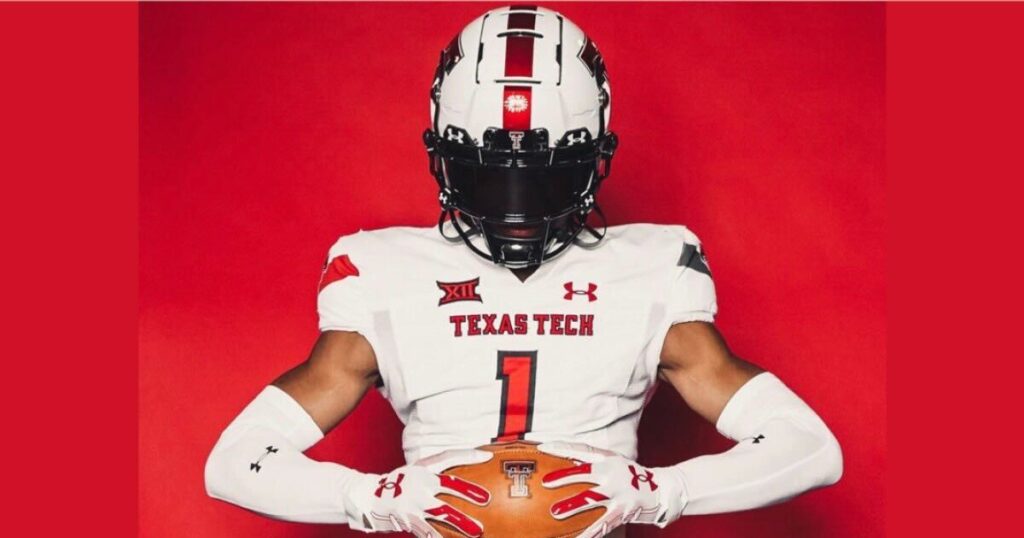 School: Temple (Texas) Lake Belton
Status: Committed to Texas Tech
Previous Ranking: No. 7
On3 NIL Valuation: $354,000
Expert's Take: "Playmaking receiver who wins in every phase. Arguably the best wide receiver after the catch in the 2024 cycle. Measured at around 5-11.5, 195 pounds prior to his senior season. Has good length, with a 32.5-inch arm. A high-volume target on the high school level who makes plays in a variety of ways. Finished his junior season with 1,198 receiving yards and 14 touchdowns on 65 catches. Also carried the ball 32 times for 243 yards and two scores. An above-the-rim athlete who is capable of skying to come down with spectacular acrobatic grabs. A shifty route-runner. Uses his lateral agility and coordination to shake defenders mid-route. A menace in the open field, taking short passes to the house. Uses his change of direction and balance to force missed tackles. Uses his stout build to become a running back after the catch. Capable of lining up anywhere within the formation, even in the backfield. Highly competitive on Friday nights. Also participates in basketball and track. While is long speed in the open field is good, he can continue improving the top gear and stride length."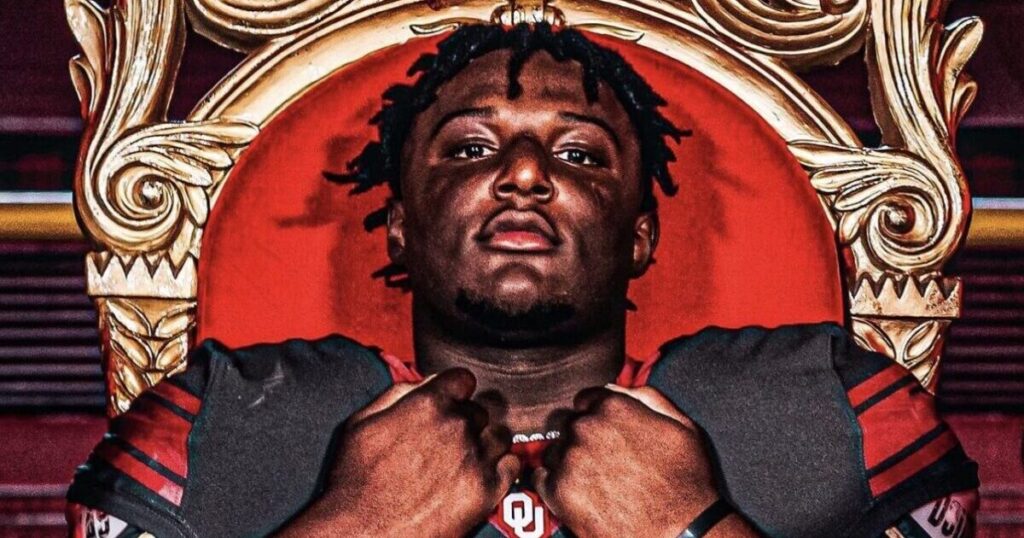 School: Bradenton (Fla.) IMG Academy
Status: Committed to Oklahoma
Previous Ranking: No. 8
On3 NIL Valuation: $374,000
Expert's Take: "Twitched up disruptor along the interior defensive line with outstanding short area quickness and burst. Measures at around 6-foot-4, 280 pounds with elite length for the position with arms that register around 35 inches. Tested extremely well during the summer camp circuit at the UC Report's IMG Pro Day prior to his senior season. Jumped 28 inches in the vertical, ran a 5.00 40-yard dash and ran an impressive 4.41 shuttle. Violent off the snap, can split gaps with ease. Shoots his hands quickly and with precision off the line. Excellent hand usage and very slippery as a pass rusher. Uses his elite length and quick hands at the point of attack. Makes it tough for offensive linemen to ever get a hand on him. Stout against the run, with excellent ability to disengage from blockers. Not looking to stack and shed, wants to get off of blocks immediately. Can convert speed to power. Also a strong bull rusher. Can play a bit erratic at times and work himself out of plays. Just needs to play with more discipline and see the field better, but will come with time. High floor prospect who will always be a threat on passing downs. Will become a complete three-down player with further development. Transferred to IMG Academy after his first two seasons at Del City High School in Oklahoma."
8. Five-Star Plus S KJ Bolden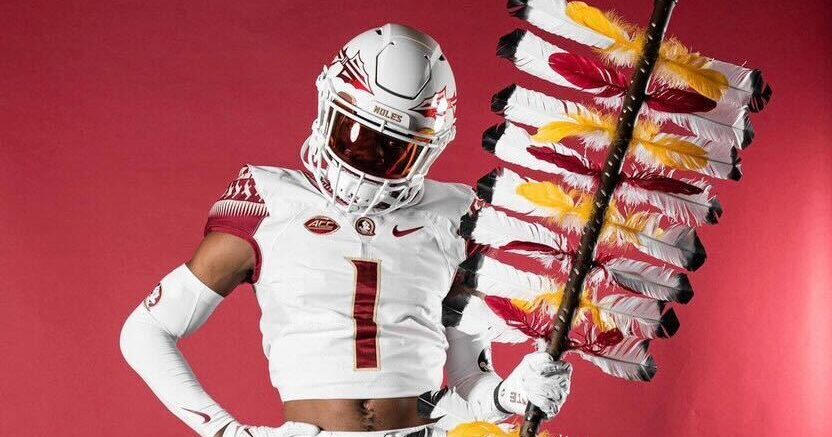 School: Buford (Ga.)
Status: Committed to Florida State
Previous Ranking: No. 9
On3 NIL Valuation: $436,000
Expert's Take: "One of more versatile athletes in the 2024 cycle with considerable upside as a safety. Measured in at 6-foot, 185 pounds prior to his senior season. Has good length with 32-inch arms. Posted strong track marks as a high school underclassman with a personal best of 10.76 seconds in the 100 meters. Also tests well in the combine setting. Plays both ways for Georgia powerhouse Buford High as a receiver and defensive back. Projects as a defensive back and likely at safety long-term, where his combination of athleticism and length makes him one of the nation's best. Flashes outstanding play speed on Friday nights. Closes quickly with physicality in defending the flats. Has shown good deep range in coverage both on Friday nights and in 7-on-7. Played a bunch of offense as a junior. Shows good playmaking ability and overall athleticism on that side. While his ball skills are good for a safety, they would need to improve were he to play offense in college. Has not replicated his impressive track times later in his high school career. Has a relatively smaller sample size relative to some of his highly-touted peers on defense heading into his senior season."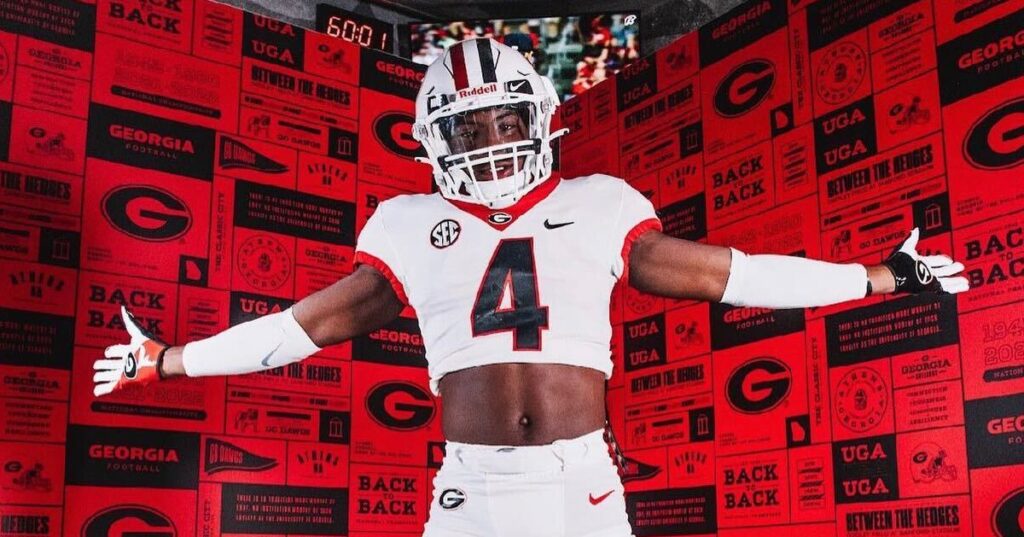 School: Conroe (Texas) Oak Ridge
Status: Committed to Georgia
Previous Ranking: No. 10
On3 NIL Valuation: $367,000
Expert's Take: "Rangy linebacker with elite speed that makes him a near prototype at the position. Measured in at around 6-foot-2, 210 pounds prior to his senior season. Added very good weight as a junior. Owns plus length for the position with arms a shad under 33 inches. The fastest top linebacker in the combine setting in 2024. Ran an absurd electronically-timed 4.44 40-yard dash, 4.39 short shuttle and jumped a 9-foot-10 broad jump at the UC Report's Houston camp. Backed that up on the track with a stellar 11.01-second mark in the 100 meters. Transfers that high-end athleticism over to the field. Originally a safety, he to linebacker full-time as a junior and had a very productive season, notching 105 tackles, 18 tackles for loss and 8.5 sacks. Lines up as a mike backer for his high school. Shows the ability to stack and shed incoming blockers. Excels bringing down ball players from sideline to sideline and in the backfield. Flashes an elite first step and ability to close. Draws on his experience as a safety to aid in coverage and playing in space. Will need to continue adding mass and strength. A strong tackler in his first year as a linebacker but can improve the pop in his hands and overall play strength. Flashes considerable upside given his high-end combination of athleticism, length and range."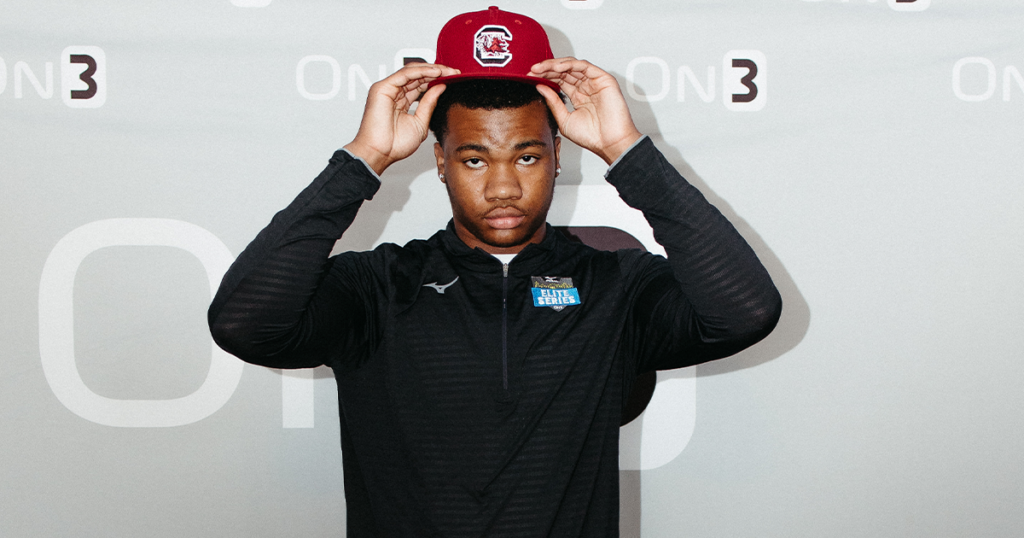 School: Washington (D.C.) Friendship Collegiate Academy
Status: Committed to South Carolina
Previous Ranking: No. 11
On3 NIL Valuation: $307,000
Expert's Take: "Big, athletic pass rusher with the most complete physical skill set among 2024 EDGE prospects. Measured at 6-foot-5, 250 pounds with a 33.5-inch arm and 10.5-inch hand prior to his senior season. Added around 20 pounds of mass during his junior year. Clocked 40 yard dashes in the 4.6-second range at college camps as a rising junior. Has rare movement skills at his size. Flies around the field with a burst that pops off the screen. Lines up all over the front seven at his high school. Often plays in a two-point stance, both as a stand up rusher and off-ball linebacker. Shows high-end flexibility as a pass rusher. Stays low and turns the corner at high speeds with strong curvilinear movement. Dangerous on stunts and twists. Closes extremely quickly behind the line of scrimmage. Strong finisher in part due to his combination of speed and size. Finished his junior season with 16 sacks, which stacks up on the high end among his peers. Will need to continue developing to maximize his considerable talent."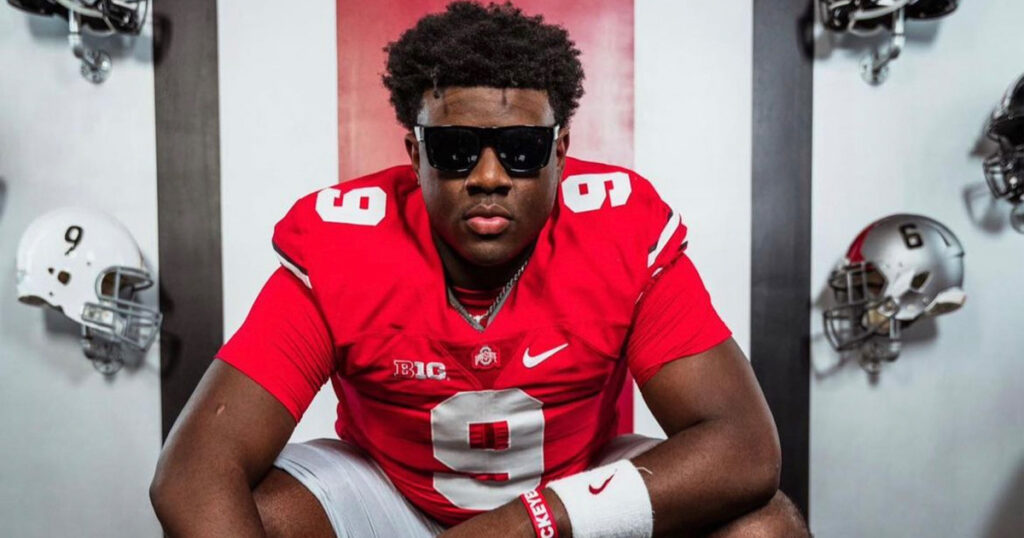 School: Chicago St. Ignatius
Status: Committed to Ohio State
Previous Ranking: No. 12
On3 NIL Valuation: $314,000
Expert's Take: "Naturally-gifted defensive tackle with rare movement skills. One of the more unique jumbo athletes early on in the 2024 cycle. Considered the top prospect from Chicago in several cycles. Measured in at 6-foot-4 and close to 315 pounds prior to his senior season. Has solid length with 33-inch arms. A light-footed, nimble athlete who moves like a much smaller player. Lines up both on the interior and the edge for his high school. Creates regular disruption with his quickness and ability to convert speed to power. Chases down plays from the back side and runs sideline-to-sideline with ease. A loose, fluid mover with natural flexibility. Shows his natural explosion as a finisher. Also doubles as a dominant offensive lineman. Could be one of the top offensive line prospects in the cycle, as well. Relatively new to football, playing his first season at the varsity level as a sophomore. Has a background as a soccer and basketball player. Will need to continue developing from a technical aspect, particularly with his hands. Rapid ascension and quick improvement point to a high ceiling."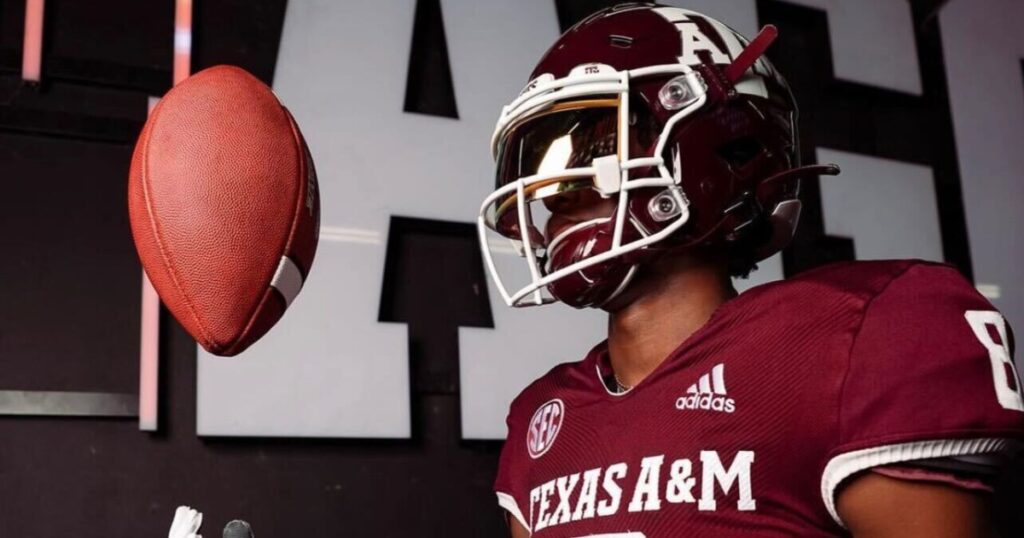 School: Phenix City (Ala.) Central
Status: Committed to Texas A&M
Previous Ranking: No. 13
On3 NIL Valuation: $316,000
Expert's Take: "Twitched-up receiver with projectable size and length who is arguably the most physically-gifted pass catcher in the 2024 cycle. Projects as a dynamic X wide receiver. Measured in at 6-foot-3.5, 185 pounds with a 33.5-inch arm in the spring prior to his senior season. Tested as a rare athlete at Under Armour's Atlanta camp, running an electronically-timed 4.46 second 40-yard dash, a 4.19-second short shuttle along with a 10'8" broad jump. Pairs his athleticism and length to result in a large catch radius. Shows the ability to make eye-popping acrobatic grabs in contested situations. Adjusts to low and wide throws. Frames the ball at the catch point, using good technique. Flashed a relatively advanced release package off the line of scrimmage in the camp setting along with the burst and long-speed to separate on Friday nights. Has the long speed to separate downfield against top corners. Runs with toughness after the catch. Has a shorter stride length for a taller wide receiver. Doubles as an electric above-the-rim athlete on the basketball court. Young for the cycle, not turning 18 years-old until his freshman season of college. Does not have the same level of gaudy production as some other top-ranked 2024 wide receivers as he split targets with Michigan signee Karmello English as a junior. Has shown several signs of a very high developmental upside along with a rapid spike in his development over the course of his junior year."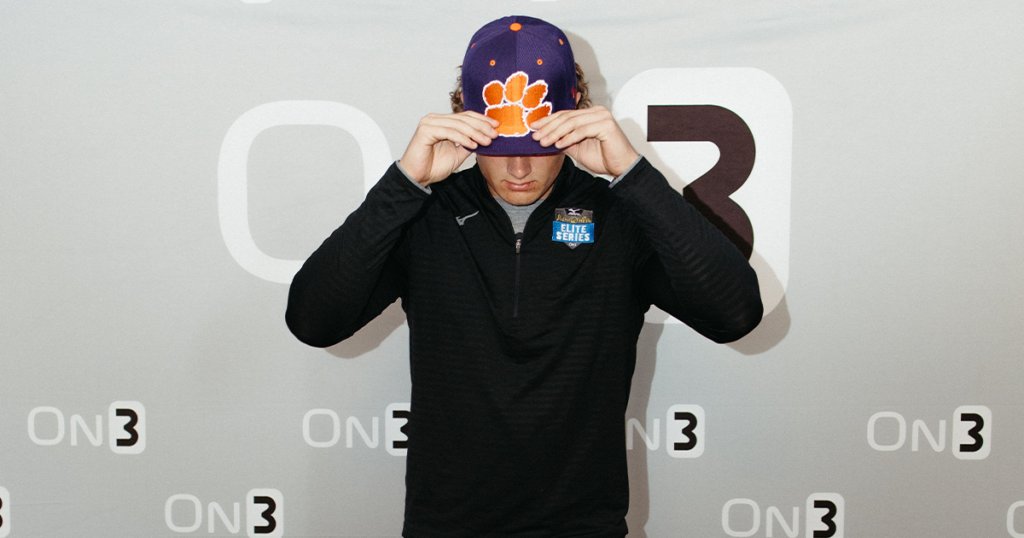 School: Jefferson (Ga.)
Status: Committed to Clemson
Previous Ranking: No. 18
On3 NIL Valuation: $320,000
Expert's Take: "Physically developed two-way star with an elite combination of size and athleticism. Has measured in at 6-foot-2.5 and around 230 pounds. One of the top jumbo athletes in the 2024 cycle with eye-popping marks as a sprinter. Was a state finalist in the 100 meters as a junior, consistently running in the 10.8-10.9 second range. Transfers that speed over the field where he stars as a running back and linebacker. A twitchy, fluid mover. Lines up as an inside linebacker for hi s high school. Flashes his top-end speed as an excellent pursuit defender. Runs sideline to sideline with ease. Showed improvement as a take-on defender as a junior. Closes quickly and finishes with physicality. Shows outstanding conditioning and effort level as a two-way player. Has the long speed to pull away from defenders in the open field as a ball carrier. Good enough to play running back at the college level. Finished his junior season with 1,459 rushing yards and 21 touchdowns and 113 tackles and 1 interception on defense. A standout wrestler in addition to his exploits on the football field and track. Won a heavyweight state title as a junior. Extremely strong in the weight room with lifts that have gone viral. Very developed physically and may be closer to his ceiling than some others who have considerable room for growth. Has not looked overly instinctive in coverage in camp settings. One of the more established prospects at the position in the 2024 cycle given his elite athletic and multi-sport profile."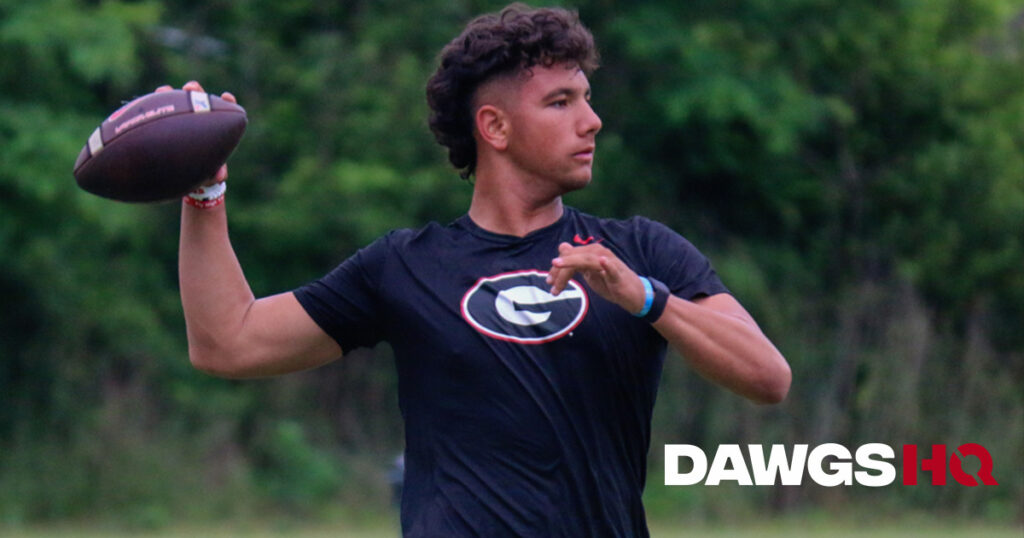 School: Buford (Ga.)
Status: Committed to Georgia
Previous Ranking: No. 2
On3 NIL Valuation: $904,000
Expert's Take: "Advanced arm talent with the ability to make a wide variety of high-level throws as a high school signal-caller. Was identified as a top arm talent and quarterback in the 2024 cycle early on in his high school career. Physically developed at around 6-foot-3, 220 pounds with a 9.75-inch hand. Has continued to add mass later on in his high school career. Owns a natural, loose throwing motion with arm dexterity to deliver off-platform and from multiple arm slots. Showed a deep catalog of throws as a sophomore. Easily drives the ball to all levels of the field. Showed off one of the cycle's best deep balls at the Elite 11 Finals. Played both under center and in the shotgun as a junior. Ahead of the curve as a ball-handler and in the quick passing game. Shows good footwork and awareness in the pocket. Capable of creative plays in the face of pressure. Completed 64% of his passes for 2,287 yards (8.7 yards per attempt) and 21 touchdowns against 5 interceptions as a junior. Primarily a pass-first quarterback as a junior, not running for many yards and finishing with -92 yards rushing – an anomaly for a top quarterback prospect. Will need to show more mobility and playmaking ability and up his overall play as a senior. Can let his throws hang at times. Transferred to his fourth high school prior to his senior season. The son of 14-year NFL center Dominic Raiola. Also a standout baseball player as a pitcher and catcher early in his high school career."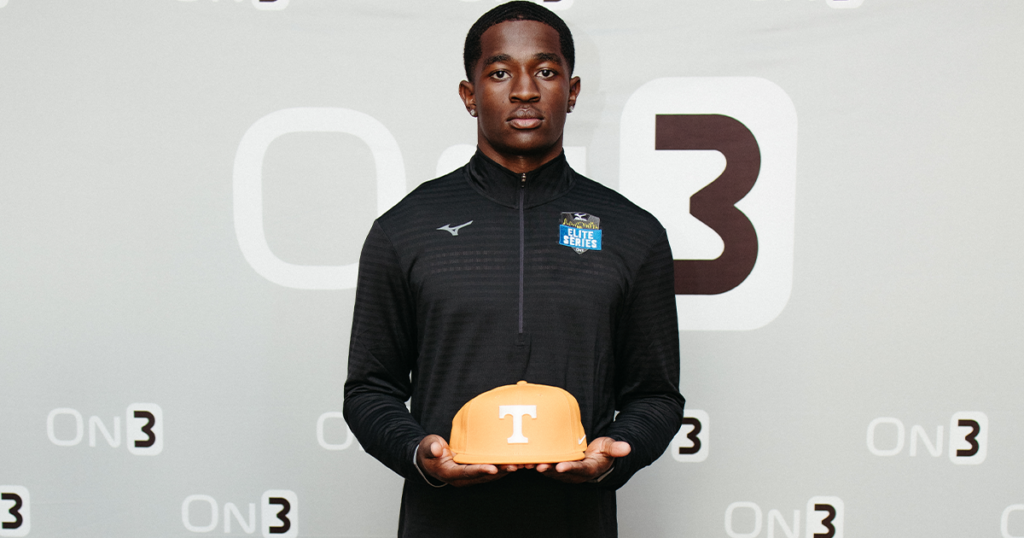 School: Lilburn (Ga.) Parkview
Status: Committed to Tennessee
Previous Ranking: No. 14
On3 NIL Valuation: $364,000
Expert's Take: "Two-way playmaker with high-end athleticism, length and coordination who has blossomed into one of the better receiver prospects in the 2024 cycle. Measured at 6-foot-0.5, and close to 190 pounds prior to his senior season. Has a big frame and very good length for the position with a 32.75-inch arm and 9.75-inch hand. Tested as a top athlete in the combine setting at Under Armour's Atlanta camp, running an electronically-timed sub-4.5-second 40-yard dash. Lines up at both receiver and safety for Parkview High. Pairs that length with advanced coordination to result in a considerable catch radius. Has shown the ability to win in contested situations on Friday nights and in 7-on-7 settings. Makes difficult catches and adjusts to poorly thrown balls. Has the burst and speed to separate on vertical routes. A bouncy athlete who doubles as a standout basketball player in high school and on the AAU circuit. Had a number of big games against top competition as a junior. Caught 48 passes for 1,030 yards and 9 touchdowns in 2022. Throws down impressive dunks on the hardwood. Still developing as a route-runner, given he was more of an athlete and safety prospect early on in his high school career. Had some concentration drops as a junior. Upside for the position is high given his overall skill package and room for continued development."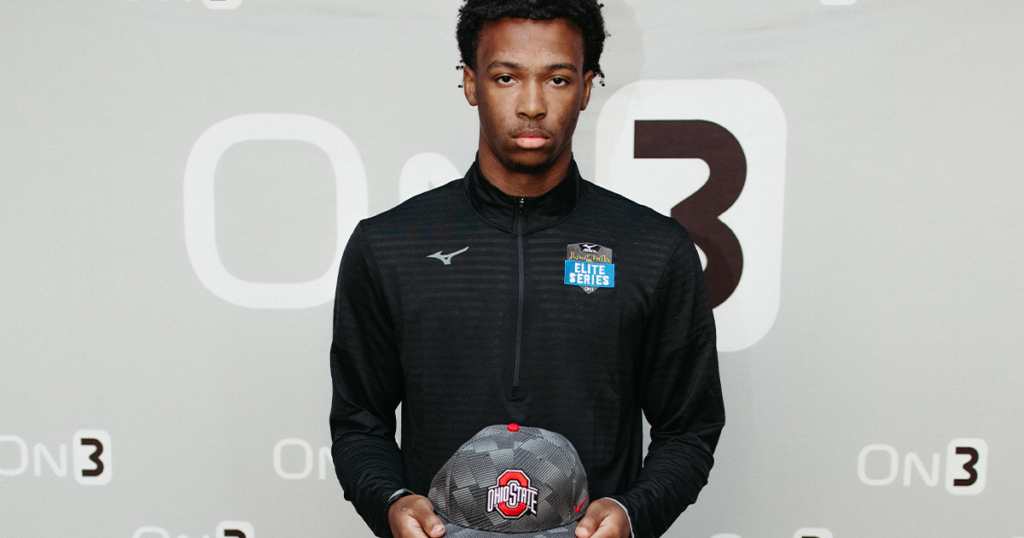 School: New Haven (Ind.)
Status: Committed to Ohio State
Previous Ranking: No. 15
On3 NIL Valuation: $317,000
Expert's Take: "The definition of a technician at the wide receiver position. Has a case as the best route-runner in the 2024 cycle. Measured in at 6-foot-0.5, 185 pounds with a 32.5-inch arm prior to his senior season. Test well in the combine setting, running an electronically timed 4.55-second 40-yard dash at Under Armour's Ohio camp. Has the ability to separate from defenders in a phone booth off the snap. Capable of winning off the line of scrimmage without being touched. Explosive and twitchy when coming off the line and out of his breaks. Loose hips who can sink at the top of his routes with ease. Rarely touched when has the ball in his hands in open space, extremely tough to bring down in the open field. Comfortable catching the football away from his frame, natural ball tracker downfield. Has the ability to high point and win 50-50 balls. Terrific in the return game as well. Has a leaner, athletic build, but has added weight prior to his senior season. Shows the position-specific skills traits to become a top receiver. Turned in a productive junior season, catching 48 passes for 1,149 yards and 13 scores, racking up 23.9 yards per catch. One of the most technically sound prospects at the position to come out in the last few recruiting cycles. Projects as a Z-type or X-receiver at the next level and beyond."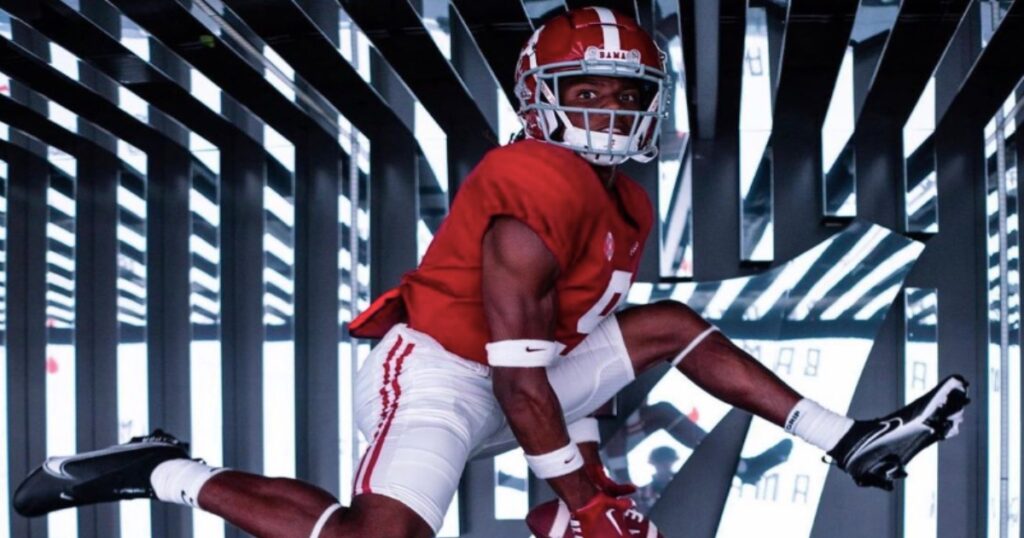 School: Pinson (Ala.) Clay-Chalkville
Status: Committed to Alabama
Previous Ranking: No. 16
On3 NIL Valuation: $271,000
Expert's Take: "One of the more dynamic two-way athletes early on in the 2024 cycle. Has starred on both sides of the ball for one of the top high school programs in Alabama. Measured at a shade under 5-foot-11 and around 170 pounds with a 30.5-inch arm and 8.25-inch hand. Has outstanding play speed, which he backs up on the track. Won the Alabama state titles in the 100m (10.70 seconds) and 200m (21.57 seconds) as a junior. Pulls away in the open field, easily out-running defenders. Dynamic with the ball in his hands both as a receiver and return man. Also shows the ability to separate on vertical routes. Has several kicks for touchdowns. Spent much of his time on offense as a junior, despite projecting as a cornerback long-term. Was a productive defensive back as a sophomore with high level ball production, totaling 4 interceptions and 12 pass breakups. Has a smaller, slighter frame and will need to continue honing his technique once he fully focuses on playing cornerback."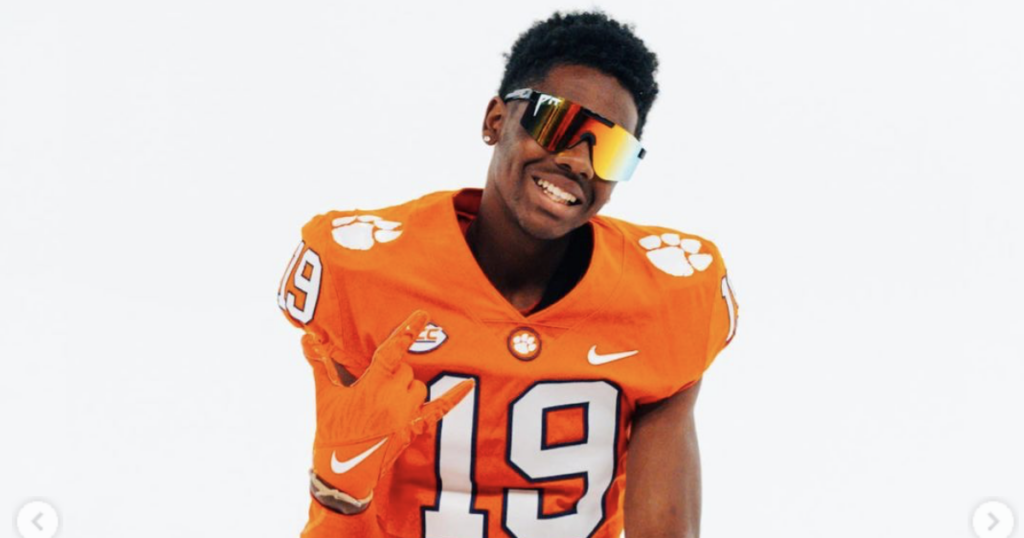 School: Midlothian (Texas)
Status: Committed to Clemson
Previous Ranking: No. 17
On3 NIL Valuation: $275,000
Expert's Take: "Silky smooth route runner who can win at every level of the field due to his fluidity and explosiveness. Has a thin frame, measuring around 6-foot-2, 170 pounds with arms over 32 inches. Tests as a top athlete in the combine setting. Also displays his explosiveness in track and field with outstanding marks in the high jump (6-6) and triple jump (48-6) as a junior. Managed to put up big numbers as a junior, despite playing in an option offense. Caught 58 passes for 1,160 yards and 14 touchdowns in 2022. Has positional versatility who can line up at the X, Z or inside at the slot. A loose, pigeon-toed mover who breaks off defenders with his change of direction. Extremely flexible and limber in his lower body. Stacks corners off the line with his releases. Has the speed to take quick passes to the house. Shows the ability to elevate and win contested catches. Skies to make in-air grabs. Has a thin, streamline frame that may not be conducive to adding much weight. Does not always attack the ball with proper hand placement. Has strong athletic genes with his father being an All-American track athlete at Louisiana Tech."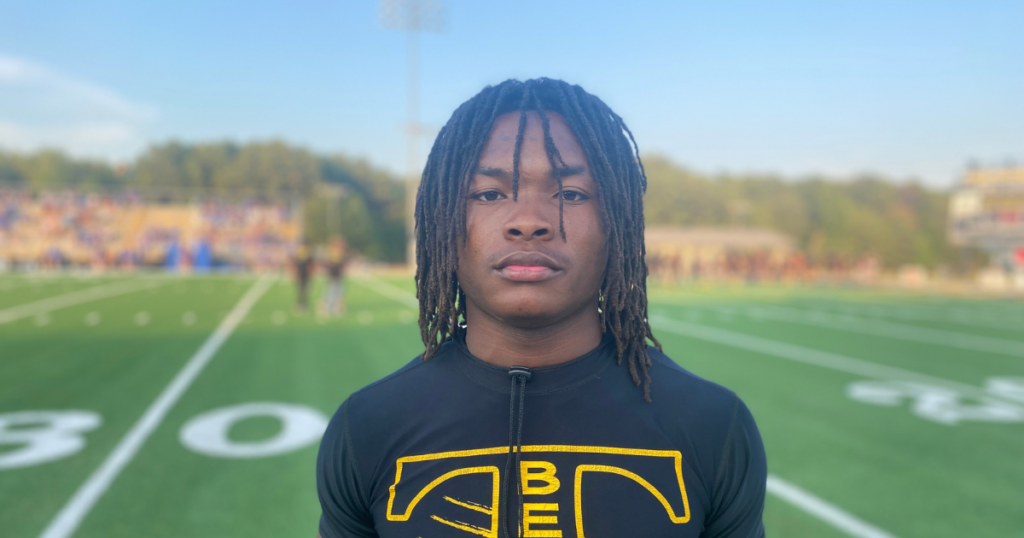 School: Timpson (Texas)
Status: Texas A&M 94.8%, Texas 1.5%
Previous Ranking: No. 19
On3 NIL Valuation: $249,000
Expert's Take: "Do-it-all athlete who is arguably the best high school football player in the state of Texas. Measured a shade over 5-foot-10 and around 180 pounds prior to his senior season. A top athlete, both in the combine setting and on the track. One of the fastest prospects in the 2024 cycle. Ran a personal best of 10.66 seconds in the 100 meters as a sophomore, finishing 3rd in the state meet. Posted strong marks in the long jump (23-4.75 feet and triple jump (45-11 feet) as a junior. Lines up at quarterback and defensive back for Timpson. Has eviscerated the level of competition dating back to his freshman season. Boasts a rare combination of top-tier explosiveness and fluidity. Gashes defenses with his legs. Shows range while working as a defensive back, both as a safety and corner. Does a nice job staying in phase in man coverage. Physical defender and is willing to stick his face into traffic. Shows the ability to track the ball as a receiver. A dominant player on Friday nights with elite production. Finished his junior season with 4,773 yards and 72 touchdowns from scrimmage en route to being named Mr. Texas Football. Also picked off five passes, returning four for touchdowns. A four-sport athlete with a sterling multi-sport profile. Averaged 19.6 points per game in basketball and has the ability to throw down dunks at 5-foot-10. Has genuine positional ambiguity at the next level, with his highest upside appearing to be as a defensive back given his natural athleticism and playmaking ability. Is not overly refined as a receiver and would need time to develop as a route-runner. May lack some size, but is an elite athlete with an undeniable body of work as a high school player."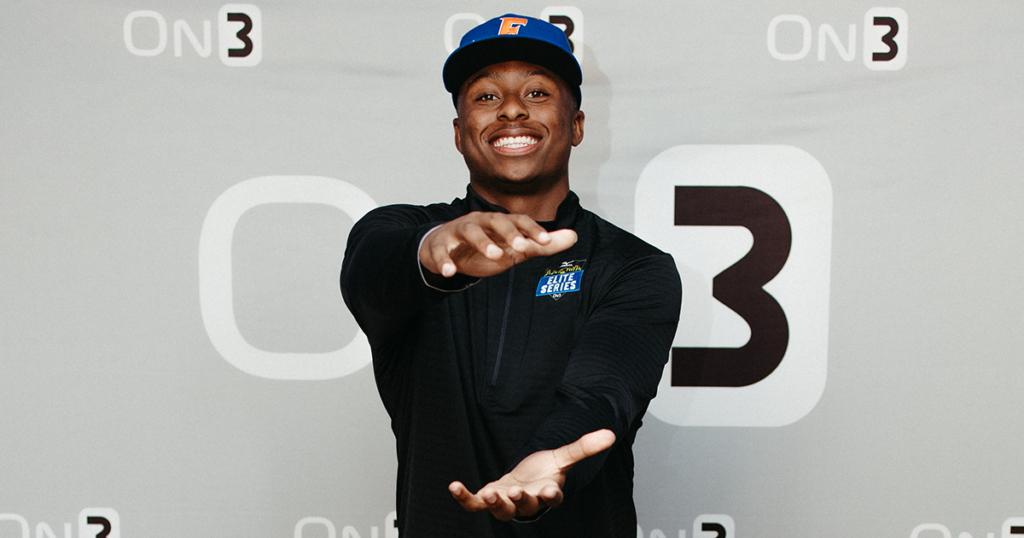 School: Willis (Texas)
Status: Committed to Florida
Previous Ranking: No. 31
On3 NIL Valuation: $556,000
Expert's Take: "Thickly-built quarterback prospect with one of the better combinations of arm talent and athleticism in the 2024 cycle. Has measured at around 6-foot-2.5, 230 pounds with a 9.5-inch hand. Tests as a good athlete in the combine setting. Flashes palpable arm strength, with the the ability to make throws to every level of the field. The ball pops out of his hand. Hits far hash throws with relative ease. Arm talent shines when forced to throw from multiple arm slots or off-platform. Makes some very impressive reactive plays. Efficient with his movements in the pocket and comfortable working outside the pocket. Owns some of the best mobility among top 2024 quarterbacks. Has quick feet and is able to extend plays and pick up yards on the ground. Ripped off a number of big gains on scrambles as a junior. His size and athleticism also provide the makings of a dangerous between the tackles threat on designed quarterback runs. Productive in a smaller sample as a junior, passing for 2,081 yards at 10.4 yards per attempt for 24 touchdowns and 5 interceptions. Rushed for 517 yards and 7 scores on 50 carries. Shows some outstanding flashes, but needs to be more consistent on a throw to throw and week to week basis. Accuracy and performance can waver at times, with a wider than desired variance from game to game. Has yet to lead his team to a winning record entering his senior season. A touted two-sport athlete who has also received multiple offers as a baseball player."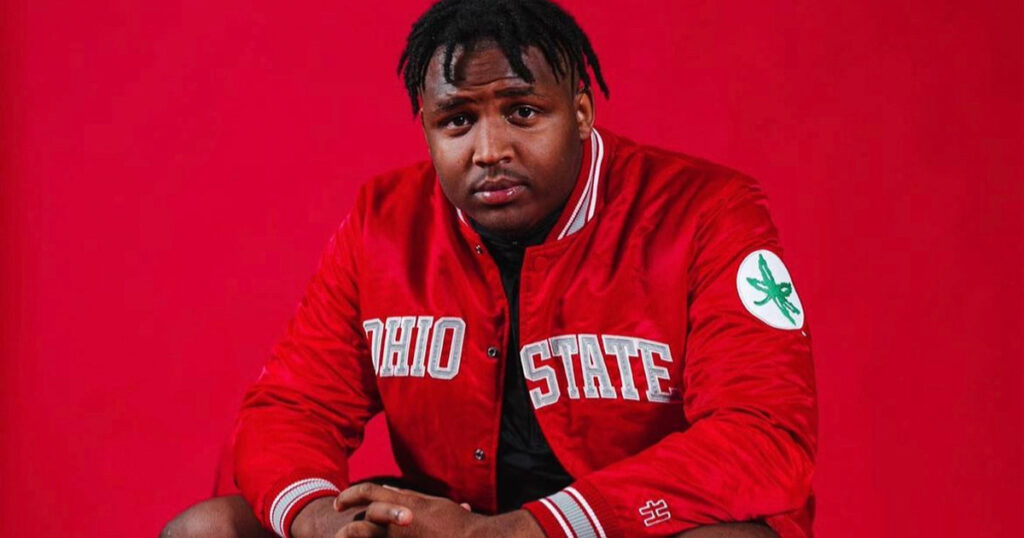 School: Buford (Ga.)
Status: Committed to Ohio State
Previous Ranking: No. 21
On3 NIL Valuation: $258,000
Expert's Take: "Powerful, versatile defensive lineman who imposes his will on opposing offensive linemen. Measured in at a shade under 6-foot-4, 275 pounds prior to his senior season. Added significant mass during his junior season. Has a naturally large frame with plus length for the position with arms that measure 34 inches. Primarily lines up as a defensive end in a 3-man front for Georgia power Buford High, where he faces strong competition.. A physical, high effort player who is active as a run defender. Capable of setting the edge. Shows the motor and athleticism to make high level plays in pursuit. Primarily a straight line pass rusher at this point. Looks to overpower offensive linemen with his bull rush. Has the length and speed to power to walk offensive linemen back to the quarterback. More of a linear athlete at this time. Will need to improve his bend flexibility if he's to stick on the edge long-term. Could grow into a defensive tackle or play as a 4i in a 3-man front. Also has a wrestling background and runs track. Has a wrestling background and also runs track."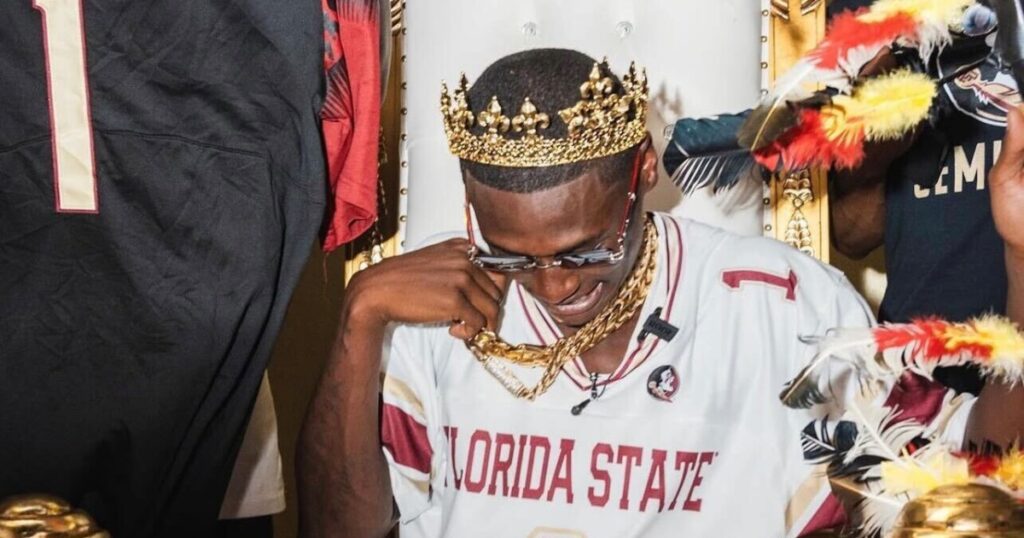 School: Venice (Fla.)
Status: Committed to Florida State
Previous Ranking: No. 20
On3 NIL Valuation: $325,000
Expert's Take: "Two-way standout as a receiver and cornerback who has one of the more intriguing upsides among the 2024 cornerback group. Measured at around 6-foot-1, 170 pounds prior to his senior season. Has unverified length. Hip fluidity and ball skills stand out. Shows the ability to consistently and naturally catch the football away from his frame. Can flip his hips with ease in man coverage. Breaks on the ball quickly in zone coverage. Flashes a high-quality short area quickness and excellent trigger to the football. A willing tackler with solid physicality and ability to play in the box. High level ball production as a junior, picking off five passes. Also makes plays at receiver, showing off his ball skills and change of direction. A tough runner with the ball in his hands. Lacks verified top end speed."
School: Santa Ana (Calif.) Mater Dei
Status: Texas 79.1%, Ohio State 15.6%
Previous Ranking: No. 23
On3 NIL Valuation: $212,000
Expert's Take: "High floor offensive tackle who is battle-tested against top competition while playing at one of the nation's top high school programs. Measured in at 6-foot-4.5, 300 pounds as a rising senior. Has good length for the position with a 34-inch arm. Lines up at right tackle for powerhouse program Mater Dei. Technically advanced and proficient as a run blocker. Understands technique, angles and hand placement. Shows developed footwork as a puller when working to the second level. Keeps his feet moving and uses his size and strength to create a push. Further along as a run blocker than pass protector at this stage but has the ability to improve on that front. Has a tendency to lunge at times in pass protection. Not overly flashy from an athletic standpoint and can continue to improve his lower body flexibility. Projects as a steady, safe offensive tackle prospect who could potentially play multiple spots on an offensive line."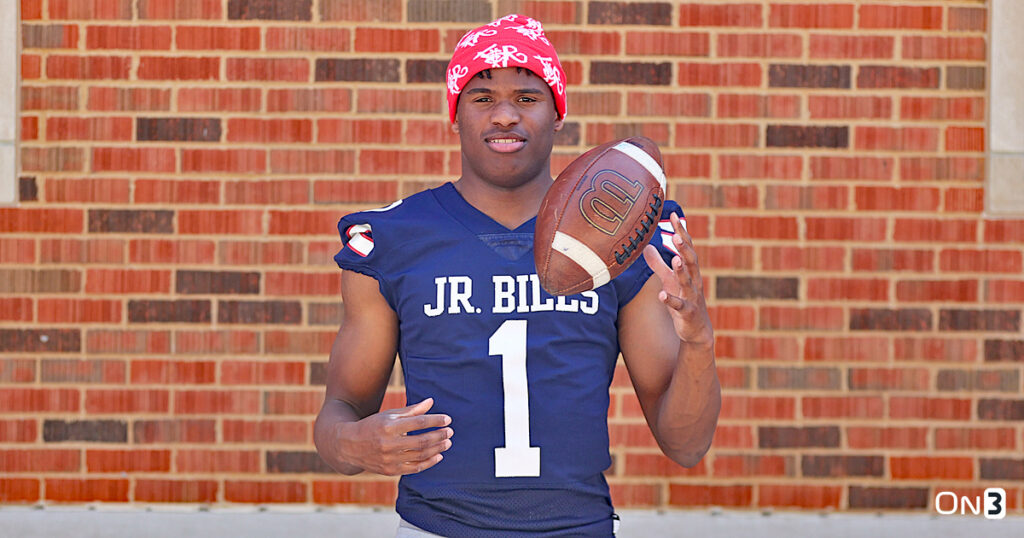 School: Saint Louis University
Status: Texas 48.6%, Missouri 29.4%, Tennessee 12%, Notre Dame 1.2%
Previous Ranking: No. 25
On3 NIL Valuation: $228,000
Expert's Take: "An electric playmaker who picks up yards in a hurry. Ran a 10.64 100m, 21.46 200m and a 50.72 400m in 2022. The ability to defeat the angle with the ball in his hands is among the best in the 2024 cycle early on. Can take the top off of defenses with ease but is not just a straight-line player. His ability to make defenders miss in tight spaces and finish runs is rare for someone with his long speed. Has a chance to be an impact player at the next level. Older brother is former Arkansas running back Ronnie Wingo."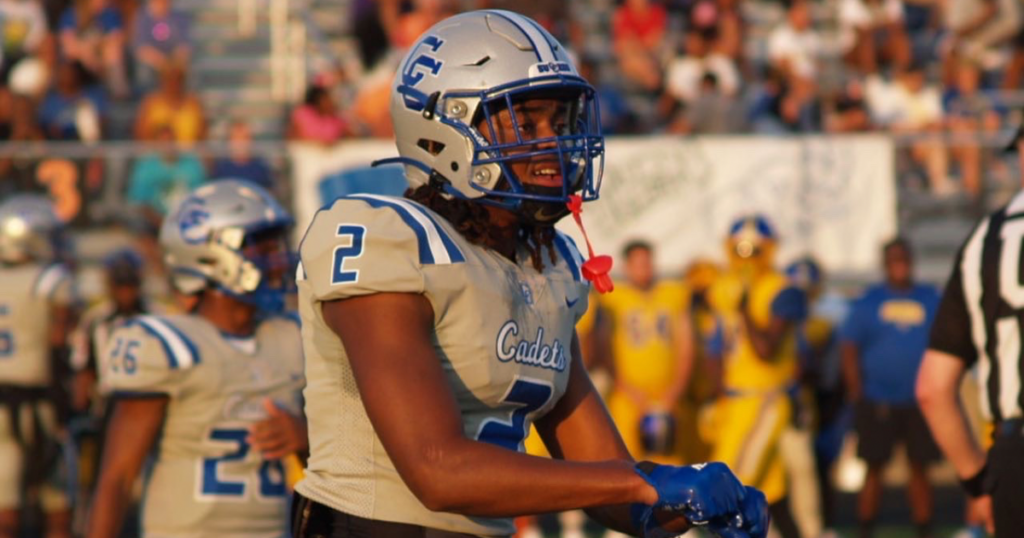 School: Waco (Texas) Connally
Status: Texas 93.5%, Texas A&M 1.7%, Oklahoma 1.1%
Previous Ranking: No. 24
On3 NIL Valuation: $226,000
Expert's Take: "Big-bodied defensive back with coverage instincts and ball skills. More filled out than most of his highly-rated peers at the position. Checked in at 6-foot-1 and around 185 pounds prior to his senior season. Has plus length for the position with a wing-span over 6-foot-7. Displays strong change of direction in the camp setting, highlighted by a 4.15-second short shuttle at Under Armour's Dallas camp. Works as an outside corner on Friday nights. Instinctive in coverage. Reads and jumps routes. Technically sound in coverage relative to this stage. Smooth in his movements. Has the length, size and strength to reroute receivers at the line. Projects as a plus run defender. Shows ball skills and made plays on the ball as a junior with 9 pass breakups and 2 interceptions. Also lined up at wide receiver for Waco Connally where he showed playmaking skills and overall coordination. Tracks the football over his shoulder and comes down with high-point grabs in traffic. Not an overly twitchy athlete relative to most high-end cornerback prospects. Quicker than fast. Could also project at safety long-term given his strengths and physical skill set. Also plays basketball and runs track. Very young for the cycle with a late June birthday."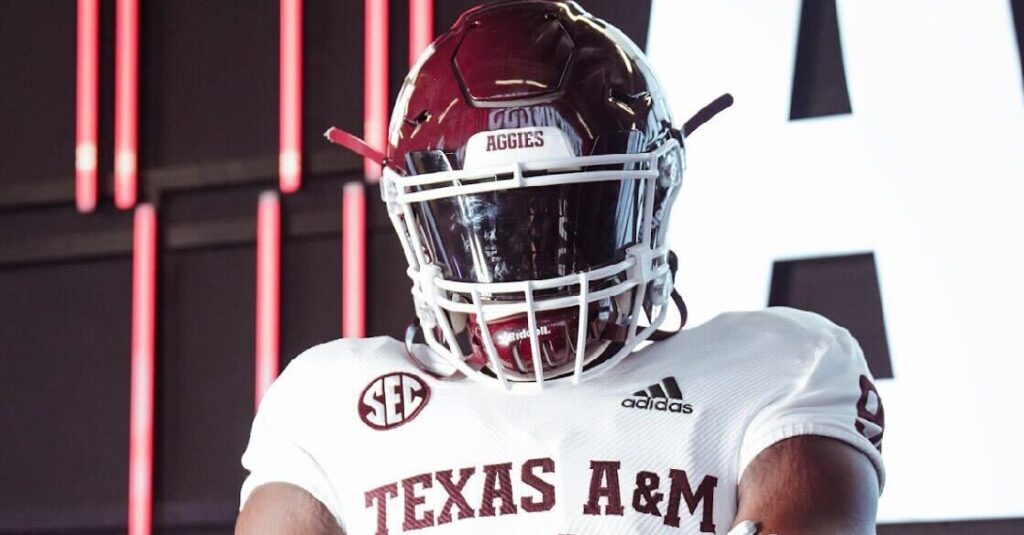 School: Lafayette (La.) Acadiana
Status: Committed to Texas A&M
Previous Ranking: No. 22
On3 NIL Valuation: $252,000
Expert's Take: "Imposing interior defensive line prospect who combines pure power with impressive explosiveness and hand usage at the point of attack. Stature immediately catches your eye. Measures in at 6-foot-5, 280-plus pounds with tremendous length. Jumped 30 inches in the vertical and ran a sub-5.0 40-yard dash during the summer camp circuit prior to his junior season. Threw 47-foot-11 in the shot put as well during his junior track and field campaign. Plays with outstanding leverage for someone his size. Possesses the ability to anchor at the point of attack. Uses his length effectively in order to gain control of his opponent. Sheds blockers with ease in the run game. Can really dig in and unlock his hips in order to maintain control at the point. Disruptive player who can knife between opponents and live in the backfield. Excellent get off and ability to penetrate off the snap. Finished his junior season with 18 tackles for loss and 10 sacks. Not very nuanced as a pass rusher but will come with time and reps. High upside prospect with the potential to develop into an early-round draft pick."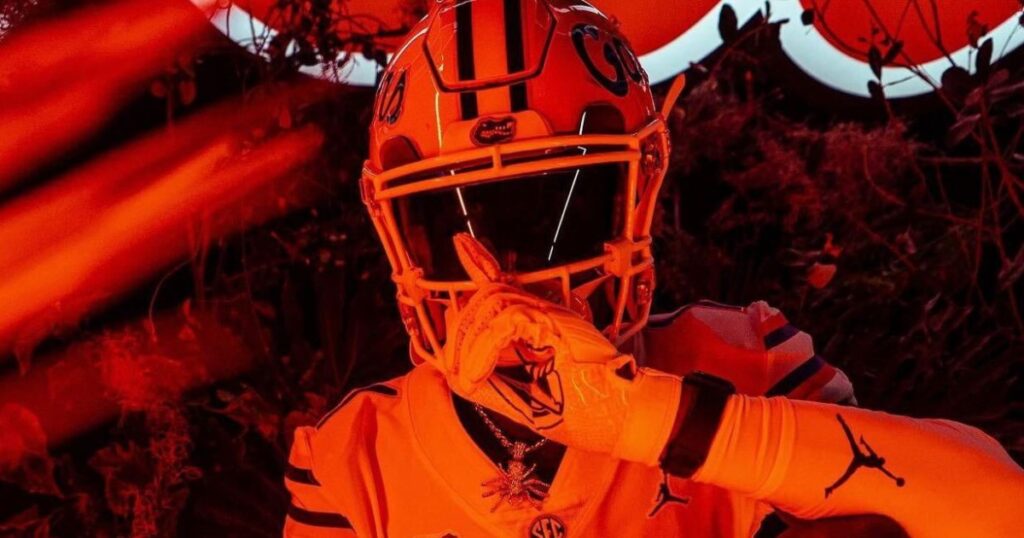 School: McKinney (Texas)
Status: Committed to Florida
Previous Ranking: No. 28
On3 NIL Valuation: $242,000
Expert's Take: "Athletic, physical safety with versatility on the back end. Measured at over 5-foot-11.5, around 180 pounds prior to his junior season. Has average to below average length for the position with a 30.75-inch arm. Turned in very strong track times as a sophomore, with multiple sub-11.0 second marks in the 100 meters, highlighted by a personal best of 10.52 seconds. Primarily worked as a safety as a junior, lining up deep and in the slot. Makes most of his plays as a cover down defender. Physical and throws his body around. Shows pop as a striker. Closes quickly when moving forward. Sniffs out quick passes. Plays with some attitude. Has the speed and fluidity to line up on receivers in man coverage. Did not have much ball production as a junior at safety but was a wide receiver as a sophomore, alleviating questions about ball skills. Did not replicate his sophomore track times as a junior. Younger for the class with an April birthday."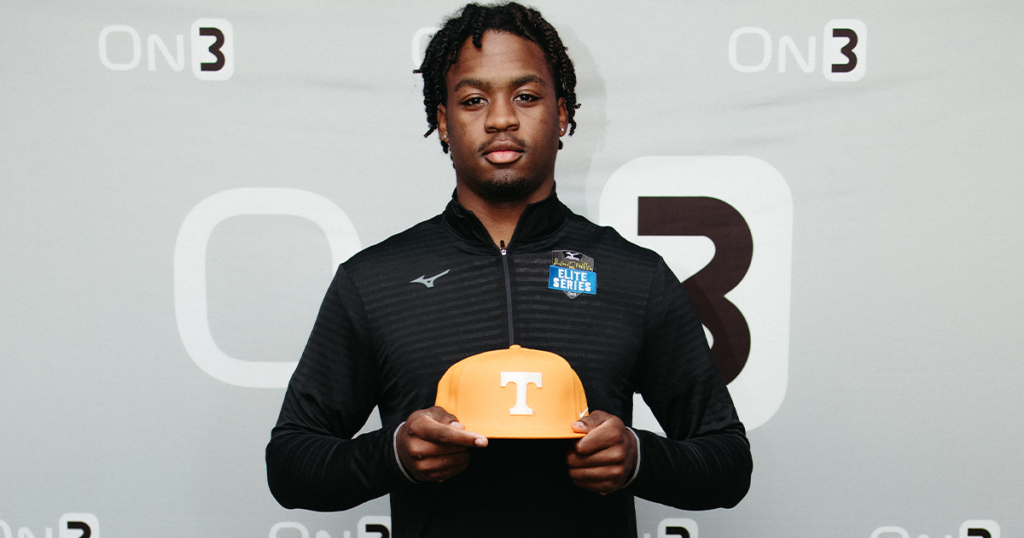 School: Birmingham (Ala.) Vestavia Hills
Status: Committed to Tennessee
Previous Ranking: No. 34
On3 NIL Valuation: $208,000
Expert's Take: "Athletic EDGE prospect with the physical ability to develop into a dangerous pass rusher. Measured in 6-foot-4.5, 215 pounds with a 33.5-inch arm prior to his senior season. Registers as a top athlete in the combine setting. Posted a 4.68-second electronically-timed 40-yard dash at Under Armour's Atlanta camp prior to his senior season. Lines up all over the field for his high school. Works on the edge and as an off-ball linebacker at times. Makes most of his plays as a pursuit defender, using his athleticism and range to track down plays from sideline-to-sideline. Has palpable burst and play speed. Needs to improve his technical skill as a pass rusher and increase his play strength, base and anchor. Flashes his athleticism as a basketball player. Younger for the cycle with a May birthday."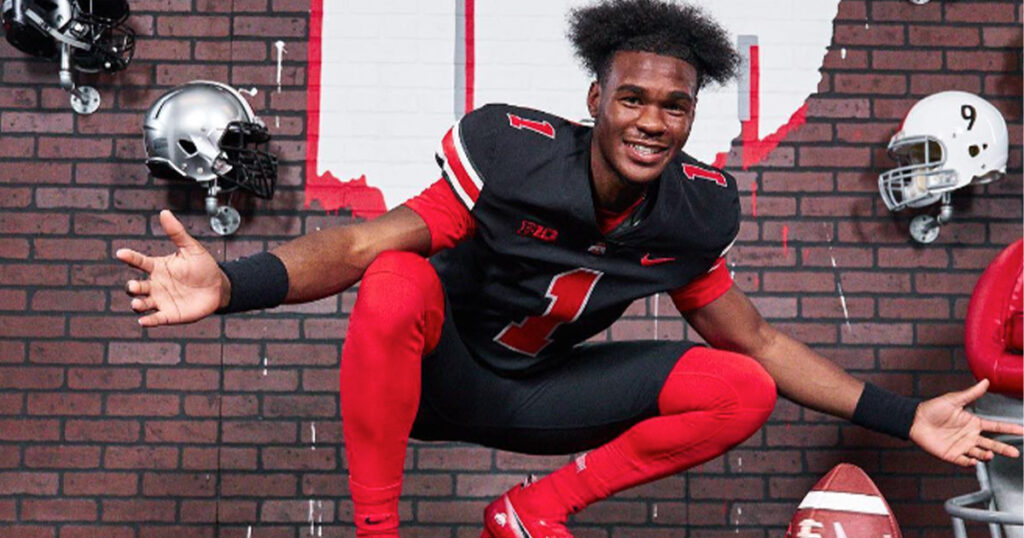 School: Fairburn (Ga.) Langston Hughes
Status: Committed to Ohio State
Previous Ranking: No. 29
On3 NIL Valuation: $618,000
Expert's Take: "Instinctual, accurate southpaw passer who shredded opposing defenses through the air as a junior. Was the most productive passer among top 2024 quarterbacks. Measured in at around 6-foot-2, 185 pounds with a 9-inch hand in the spring prior to his senior season. Has a streamlined frame with thinner shoulders. Had a monster junior season, completing 73.1% of his passes for 4,095 yards (12.7 yards per attempt) for 55 touchdowns against four interceptions. Led Langston Hughes to a state title in a high classification and helmed an offense that set the state record for most points scored. Shows high-end field vision with the ability to go through his reads and find open receivers. At his best as a reliable distributor to talented skill players. Throws with timing and touch. Accurate to all levels and shows the ability to layer the football and locate throws into small windows. Arm strength is solid, but may not be on the level of some of his highly-ranked peers. Plays with an advanced feel and shows a nice internal clock against the pass rush. A pass-first quarterback but has some creativity and mobility when needed. One of the safest bets among quarterbacks in the 2024 cycle given his on-field success and production relative to his peers."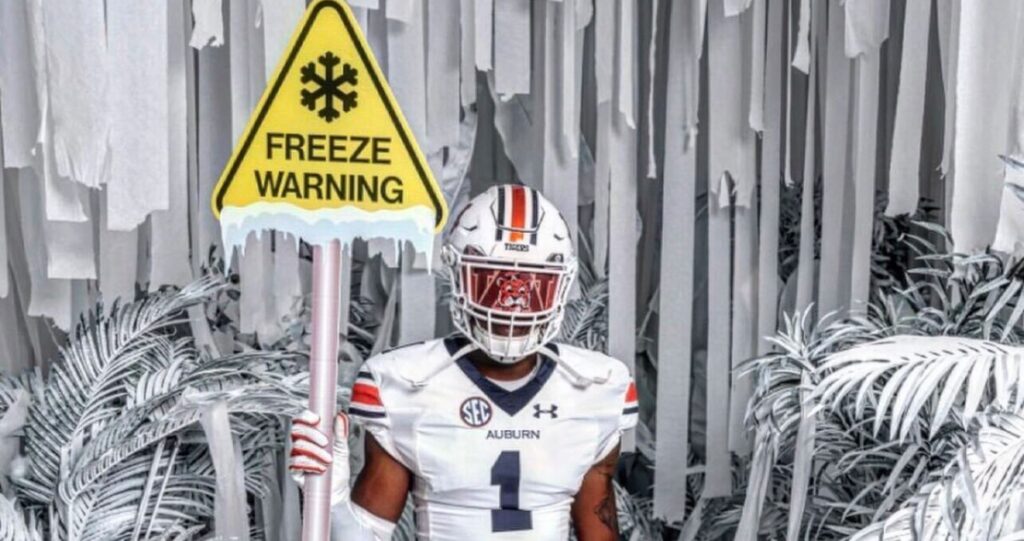 School: Foley (Ala.)
Status: Committed to Auburn
Previous Ranking: No. 30
On3 NIL Valuation: $253,000
Expert's Take: "Big-framed pass catcher with some of the best physical tools among receiver prospects in the 2024 cycle. Measured at 6-foot-3, 205 pounds prior to his junior season. Has high-end length for the position with a 33.5-inch arm. Runs well at his size, showing the separation skills to get vertical and beat double coverage. Tracks the ball well with the ability to locate the ball over his shoulder for high difficulty grabs. Makes plays from the outside and in the slot. Flashes good change of direction as a route-runner on Friday nights and in the 7-on-7 setting. Makes plays after the catch and as a return man. Shows competitiveness and toughness as a two-way player. Productive in a high-volume role as a junior, catching 87 passes for 1,059 yards and nine touchdowns. Does not benefit from a loaded supporting cast. On the lower end of yards per catch among his highly-touted peers with 12.2 yards per reception as a junior. Has turned in some encouraging personal best track times over high school career but can continue to consistently transfer that over to the field with his play speed and the track as the times tend to vary. Still putting his tools together but has the upside to be one of the better receivers in a strong crop at the position in the 2024 cycle."
School: Tucson (Ariz.) Salpointe Catholic
Status: Committed to Arizona
Previous Ranking: No. 33
On3 NIL Valuation: $184,000
Expert's Take: "Tall, angular pass rusher with the ability to get after the passer due to his quickness and length. Measured between 6-foot-5 and 6-foot-6 and around 230 pounds as a junior. Has solid length for the position. Productive pass rusher who feasts on mismatched offensive linemen. Primarily lines up wide both in a three-point stance and as a stand-up rusher. Plays with good quickness. Shows an effective long arm getting his hands inside the body of opposing offensive linemen. Plays with a good effort level and chases the ball as a pursuit defender. Productive as a junior, notching 11.5 sacks. A solid, not spectacular athlete at the position. Can play high and stand to add functional strength. Was neutralized when facing Power 5 offensive line prospects as a junior."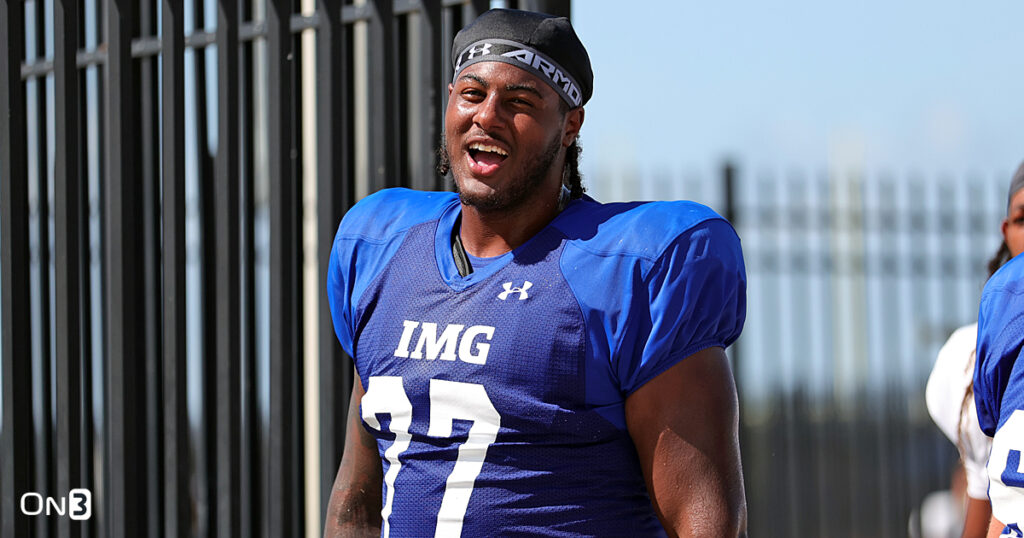 School: Bradenton (Fla.) IMG Academy
Status: Ohio State 56.7%, Alabama 19.3%, Florida 9.7%
Previous Ranking: No. 41
On3 NIL Valuation: $179,000
Expert's Take: "Polished offensive tackle who is one of the more battle-tested prospects at the position in the 2024 cycle. Measured at over 6-foot-5, 295 pounds prior to his senior season. Has a big frame and plus length for the position with arm length over 34 inches and a verified 10.75-inch hand. Dropped considerable weight as a junior after previously weighing over 330 pounds. Technically sound and well-rounded from a skill perspective. Looks ahead of the curve in pass protection. Flashes good reactive quickness. Understands pass rush plans and works to neutralize rushers. Uses his redirect skills to mirror and quick, strong hands to neutralize at the point of attack. Drops his weight and anchors on contact. Also show some physicality and nastiness as a run blocker. Looks to move much better as a junior with the weight loss. Lined up at left tackle for St. John's College and faced top competition on a weekly basis. Transferred to IMG Academy for his senior season. Does not have positive athletic markers other than film. Can also continue to improve his ankle flexion. Overall polish and experience against top competition makes him one of the more ready-to-play offensive linemen in the cycle."