Something is wrong. It is noticeable in the environment. "The comments among the students were evident from the first moment," says a secondary school teacher from the Ruta de la Plata charter school in Almendralejo mid-morning. In a classroom at this educational center, some of the more than twenty minors, between 11 and 17 years old, were sitting. who have been victims of image manipulation created by artificial intelligence, in which they were seen naked, prepared and disseminated by a group of children from this town of just over 30,000 residents, where almost everyone knows each other. If they don't meet in the square, they run into each other at Mercadona, at the Carolina Coronado cinema, in the center or in Las Mercedes park. In this school, according to investigation sources, it happens that some of the victims coexist with one or more of the alleged authors of the montages or their dissemination. The case continues under investigation under scrupulous silence. They are all minors. One victim is even 11 years old. The oldest has done 17 this year.
What is known so far is that a group of kids from the municipality has captured the photos of the Instagram and WhatsApp profiles of at least 20 girls from the town And even, according to the mother of one of the affected minors, they have even photographed another during a volleyball practice in a municipal pavilion and then uploaded all these images to the application. And so, within a few seconds, as if by magic, they were completely undressed. As if they were real. Later someone created a video with images of seven of them. There has also been a case of extortion of a minor with a snapshot through a fake Instagram profile. Another source in the case says that the alleged perpetrators had two WhatsApp groups; one for the kids, where they shared these images, and another where boys and girls from the town mixed. In this last chat there were 31 participants. This was where one of the first photographs supposedly appeared. And the case began to spread like wildfire through the Almendralejo gangs.
Although most of the girls found out last week with the return to school, other voices suggest that perhaps the first knowledge of this matter occurred in the summer. The case, of course, has turned this town of Badajoz upside down in the last 48 hours, when a mother, a gynecologist and with more than 130,000 followers on Instagram, told about the case on her social network last Sunday. Her daughter was one of the victims:
—Mom, look what happened. They have done it to many girls.
The minor, 12 years old, showed him the photo of herself naked. Up to 27 mothers from four different educational centers have organized themselves through a WhatsApp group to coordinate. They have filed 11 complaints in seven days. Four, in the last 24 hours. "But we believe there are many more," says a police source in the investigation. Television cameras are constantly seen in the streets of the center of Almendralejo. The press conference of the mayor and the delegate of the Government of Extremadura this Tuesday in the building where the poet José de Espronceda was born was attended by more than ten media outlets.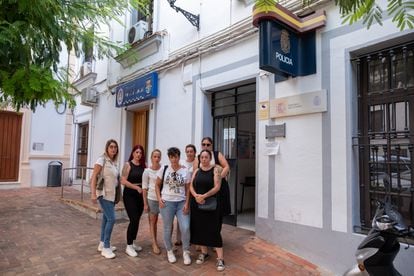 Here, at the Ruta de la Plata educational center, two teachers have agreed to speak as long as they do not say their name. One of them gave a talk about the media early in the morning in a classroom where boys and girls involved in the case were sitting. "There was an atmosphere of tension and disgust, of not knowing. It has also been seen during recess, which is the place where this can best be observed."
The teacher has explained to them in a class on communication that artificial intelligence cannot be used haphazardly, that it must always be used well. And after a while, he says, there was a brief loud dialogue between him and the kids:
—Do we feel manipulated by the messages?
-Yeah.
—Do I need to give an example?
-No.
"I have told you," the tutor continues, "that the same thing happens with montages with illustrations; If we tell artificial intelligence to paint us a picture of a certain era, it does it for us in a matter of seconds, but they cannot present this to me as a job. You always have to make good use of it." He has also told them that they will barely escape prison. If this happens to them in the following year, they would have prison sentences. "The damage to society and to your colleagues has already been done, but this cannot happen again." The tutor believes that those who were involved are already aware of the seriousness of the events: "They are not kids. They deserve a lesson. With jobs for the community? Well, with jobs for the community. "They are not small children."
The center has disciplinary measures, but as long as these types of acts occur inside the center, and this has not been the case. The school also offers prevention talks on social networks with civil guards and police throughout the year. "But each family," points out one of the tutors, "must also work at home. All parts of society must walk together. "This is not kid stuff."
Just seven minutes by car from here is the Santiago Apóstol public school, with more than 500 students. "Unfortunately, it is rare in a year that we do not have a case of gender violence or cyberblackmail with an underlying sexual undertone at school," says the head of studies, Ricardo Hurtado, 36 years old. "This is a shocking case, but we have been noticing a constant increase and trickle with cases like this in recent years." For now, they are not aware of any students who have been victims of this case. "But it is likely." Hurtado teaches a pioneering subject in Extremadura and also one of the first in Spain: Education for Gender Equality. He is a third-year ESO elective. The number of students has been increasing since 2016. This year there are already 51. "We have not had class yet this week, but we are going to discuss this matter. Many girls and boys have not reported it out of fear because this has repercussions on their circles of friends." In all educational centers in Almendralejo the use of mobile phones in class is prohibited, but according to the directors and heads of study of four of them, very few forget it at home. Or as one of the teachers at the Ruta de la Plata center says:
—It is the star gift of communions.
Subscribe to continue reading
Read without limits