Two planes collided this morning on the runways located next to the terminal area of ​​the Son Sant Joan airport in Palma without any injuries. The event occurred after half past nine in the morning when a company plane Air Europe, coming from Barcelona, ​​brushed one of its wings against the back of a plane of the German company Condor which was stopped waiting to take off for Frankfurt. The incident has not produced any type of alteration in the operation of the Son Sant Joan airport.
According to Aena sources, the crash occurred when the Air Europa plane, which had just landed, headed down the runway toward the landing area. fingers or walkways to unload the passenger. At that moment, the left wing of the aircraft grazed the rear of the Condor plane, which was stopped in the same area of ​​​​the runway while waiting for authorization to begin taxiing towards the takeoff runway. The Air Europa plane has continued taxiing towards the gangplank to proceed to disembark the passage that was housed inside.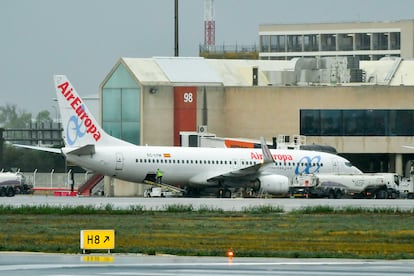 The event has not caused any injuries, but both aircraft have been disabled waiting to be repaired. As can be seen in the images captured by some of the passengers, firefighters have gone to the scene to assess the damage and remove some of the pieces that have come loose in the crash. The Air Europa plane, which was to have headed to Barcelona later, has remained at the airport waiting to be repaired while the Condor flight has been rescheduled for 5:50 p.m. Aena has explained that the incident will be analyzed by the corresponding body, in this case the Civil Aviation Accident and Incident Investigation Commission.
The last serious accident recorded at the Majorcan airfield took place in 2002, when two pilots from the Tadair company lost their lives when the freight plane in which they were traveling landed at the airport.
What affects the most is what happens closest. So you don't miss anything, subscribe.
Subscribe to continue reading
Read without limits