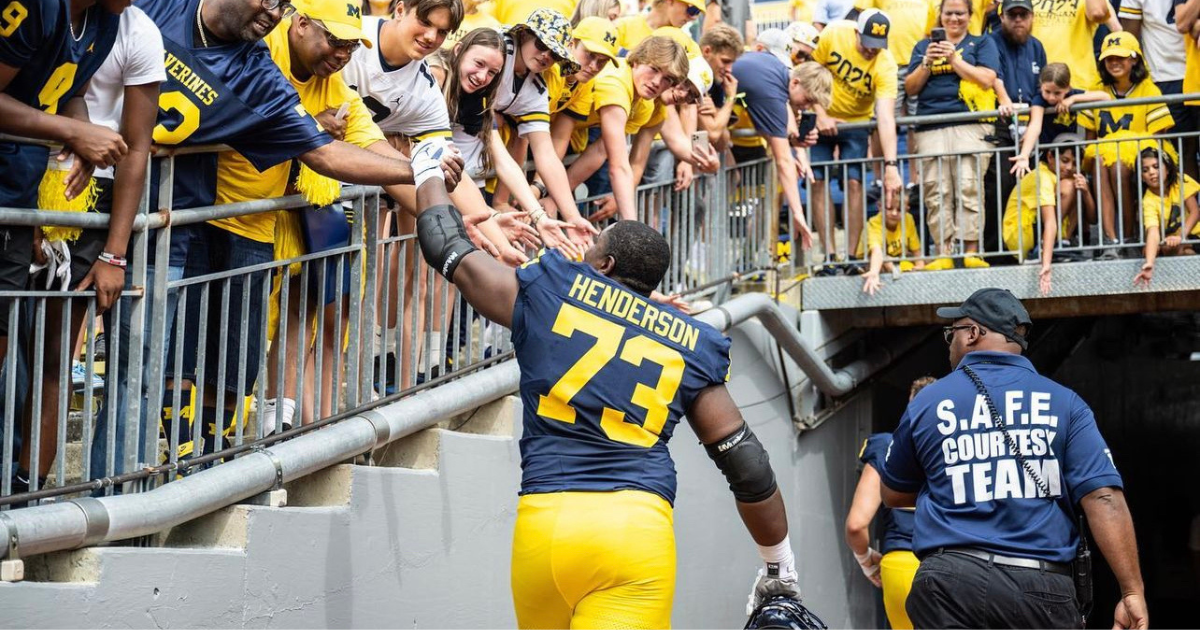 ANN ARBOR, Mich. — On Michigan Wolverines football's second drive of the second half Saturday night against Bowling Green, interim head coach, offensive coordinator and line coach Sherrone Moore made a move. He inserted graduate LaDarius Henderson at left tackle, shifted graduate Karsen Barnhart over from that spot to right tackle and took out senior Myles Hinton.
Michigan's offensive line (and a running back) had given up some pressures, and there were a few miscues in run blocking. In the third quarter, before other backups joined Henderson on the field in the lopsided affair, the Wolverines ran for 53 yards on 11 carries, with significant push on the left side of the line. Head coach Jim Harbaugh spoke positively about Henderson's performance during his Monday press conference while declining to comment on whether or not the move was permanent. Henderson was also satisfied with the way he played.
"First of all, it was a lot of fun," Henderson said after practice Tuesday night. "I feel like, obviously, you want to start off every play thinking about, 'Did I do my assignment?' And then, you just want to be dominant every time you're out there with the opportunities that you get. It was a lot of fun. My coaches and teammates were happy about it, and I was happy about it, as well."
RELATED
• Wolverine TV: LaDarius Henderson, Jaylen Harrell discuss strong performances against BGSU, more on Michigan football
• Highlights from Michigan coach Jim Harbaugh on B1G Today: Team goals, area that's exceeding expectations, barber choice, more
While the offensive line shuffling wasn't pre-planned, Henderson, an Arizona State transfer, had played during garbage time in the first two games, wins over East Carolina and UNLV, and was ready when his number was called.
"I'm never really surprised," the Michigan lineman said. "I just stay prepared, and whenever things happen, I'm excited that they do happen."
Henderson joined the Michigan team in the summer, after moving to Ann Arbor in the winter. He couldn't participate in winter workouts or spring practices because he had a singular credit to finish up online for his Arizona State degree. He's loved his time in Ann Arbor so far.
"Coming to Michigan has been awesome," Henderson said. "A program like this with so much prominence and so much potential, just being able to attack the day with like-minded guys every single day on the same mission and goal, it's been phenomenal. I love it here."
The 6-4, 315-pounder had started 29 career games at Arizona State — 10 at left tackle and 19 at left guard. He could have entered the NFL Draft this spring but chose to transfer to Michigan, where a starting spot wasn't guaranteed. The challenge was part of what attracted him to U-M, though.
"I obviously could've gone many a places where it was just handed," Henderson said. "In the recruiting process, we talked about competing for it. I 100 percent knew that, that was a possibility. But as a player, you can never be afraid of competition. If you are, then you might need to take a look down within yourself. I wouldn't be ready for the NFL in the future or life if I was afraid of competition.
"I feel like God led me here, to be completely honest. But I knew if I was going to go back to college, I wanted to go play with the best offensive line. What guys are better than these guys? That's what I wanted to do, and I was like, hey. My mindset was, if I'm not good enough to play with these guys, then you gotta dig deep and look within yourself like, I've got some getting better to do. It's never a bad thing to realize you gotta get better."
His biggest surprise since becoming a Michigan player: "How much people actually care about football and Michigan."
"People care about Michigan football," Henderson emphasized. "I've been places; you guys know where I've been. I can go around Tempe and people don't really care that much. It's true. 'You play for who?' But here, people know who you are, people want to see the blue win, and I love that. These fans are awesome."
This is Henderson's final season of college football before he takes his shot at the NFL. He received feedback from the league and actually accepted an invite to play in the East-West Shrine Bowl last November before backing out. The NFL remains a goal at the top of his list.
"I want to show that I can play left tackle at a high level, as well as, I've played guard before," Henderson said. "I want to show that the things that were my weaknesses are no longer my weaknesses. I want to show that I'm not afraid to compete."
While he's yet to start at Michigan, Henderson has remained upbeat and continues to compete. His time could come Saturday against Rutgers — "you gotta wait," the lineman said with a smile, saying he doesn't want to "help" the Scarlet Knights out by revealing any secrets — and he'll be ready if called upon.
"I feel like you can either crumble and get real sad and walk around like your world's over, or you could get better every single day, and when your opportunity comes be very prepared for it," Henderson said of being a second-stringer to start the year. "That's the route I choose to take."